These Mexican hot chocolate cookies are perfect for the holiday season!

Last week my daughter Abby got into a conversation with a classmate about who could make the best cookies. They decided to do a bake-off and bring the cookies to the end-of-school party, letting their classmates vote on their favorite. The teacher handed them this recipe and told them both to use it for the contest.
The recipe featured white flour, so we had to make a few adjustments. First, we reduced the sugar by 1/2 cup. It just seemed like too much sugar! Then we replaced the white flour with our favorite nut-free blend: 1/3 cup coconut flour, 1/3 cup tapioca flour and 1/3 cup arrowroot flour (for my full chart on adaptations, check out Chapter 2 of The Grain-Free Family Table). We also left out the chili powder since we didn't have any on hand.
I suggested Abby not tell anyone they were grain-free since many people have the impression that grain-free baking doesn't taste good. Abby baked her cookies and proudly served them to her classmates. Guess what? The kids voted her grain-free cookies as the favorite.
This exercise provides a good reminder that we can proudly offer allergy-free or grain-free food, without apologies, and you never know – everyone might think it's better than the original!
When we have guests over for dinner, I've stopped telling anyone if it's grain-free, dairy-free, etc. I want them to enjoy some food good and company. Some friends came last week and I served them apple blueberry skillet pie. The kids raved and no one even knew it was made with grain-free ingredients. That's a win in my book!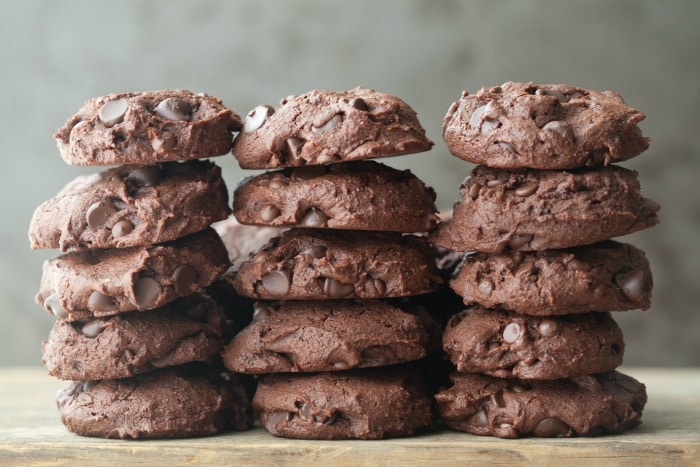 I think you're going to love these Mexican Hot Chocolate cookies. They're rich and chocolaty with a hint of heat. I usually use coarsely ground Celtic Sea Salt in my baking for a nice salty-sweet combo.
Print
Mexican Hot Chocolate Cookies (Grain-Free, Paleo)
Prep Time:

10

Cook Time:

25

Total Time:

35 minutes

Yield:

Makes about 18 cookies

Category:

Dessert

Diet:

Gluten Free
Instructions
Preheat oven to 325 degrees F and adjust the rack to the middle position. Place the butter and chocolate in a bowl over a double boiler over medium heat. Let the chocolate melt and then cool for 10 minutes.
Place the coconut sugar, vanilla and eggs in a large mixing bowl. Whisk until smooth. Whisk in cooled chocolate mixture.
Sift the coconut flour, tapioca flour, arrowroot, cocoa, salt, baking soda, cinnamon and cayenne over a medium mixing bowl. Add the dry mixture to the wet mixture and stir until combined. Stir in the chocolate chips.
Using a 1 1/2″ cookie scoop, scoop cookie dough onto a baking sheet lined with parchment paper. Bake for 11 minutes.
Note: I only test the recipes on my site with the listed ingredients and measurements. If you would like to try a substitution, you are welcome to share what you used and how it turned out in the comments below. Thanks!
Keywords: Mexican hot chocolate cookies