This Milky Way tart features a subtle chocolate crust, sticky sweet caramel, a soft, cloud-like nougat topping, and a dusting of cacao. It really does taste like a Milky Way bar. I think it's great for kids, adults, a dinner party, a casual get-together – honestly I can't think of a situation where this rich dessert wouldn't be welcome.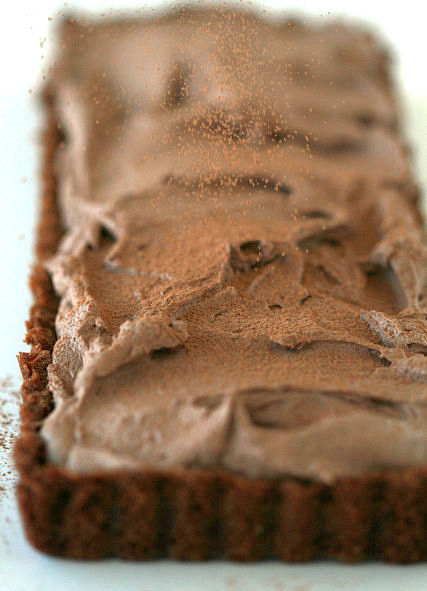 Ingredients
Whipped Chocolate:

3 ½ ounces bittersweet organic chocolate, chopped
1 ½ cups heavy whipping cream

Crust:

2 cups almond meal (ground almonds)
2 tablespoons coconut flour
3 tablespoons cocoa powder
1/2 cup organic whole cane sugar or sucanat, ground until fine in a spice mill or coffee grinder
1/2 teaspoon unflavored gelatin (I prefer Bernard Jensen)
1 teaspoon arrowroot
3/4 teaspoon Celtic sea salt
1 stick unsalted butter, cold, cut into tablespoons

Caramel:

½ cup heavy cream
4 tablespoons unsalted butter
½ cup plus 2 tablespoons coconut sugar
3 tablespoons water
Cacao powder (for dusting)
Instructions
Place chocolate in medium bowl. Simmer 1 ½ cups cream in a small saucepan. Pour hot cream over chocolate; let stand 1 minute, then whisk until melted and smooth. Cover and chill in the refrigerator until cold, at least 4 hours. (This can be done the day before)
Place almond meal, coconut flour, cocoa, whole cane sugar, gelatin, arrowroot and sea salt in the bowl of a food processor. Pulse 2-3 times to combine. Add butter and process until dough forms a ball. Form into a flat disk, wrap tightly, and chill for 30 minutes.
Preheat oven to 350 degrees F and adjust rack to middle position. Butter a 9-inch tart pan with removable bottom and press crust onto bottom and up sides of pan. Bake for 11 minutes.
Place cream and butter in small saucepan and st?ir over medium heat until butter melts. Remove from the heat. Stir coconut sugar and 3 tablespoons water in another medium saucepan. Heat over medium-low heat until sugar dissolves, stirring frequently. Increase the heat and bring sugar to a low boil without stirring. Boil until temperature reaches 235°F swirling pan frequently. Immediately whisk in hot cream-butter mixture (mixture will bubble vigorously). Remove from heat and whisk until smooth. Transfer caramel to small bowl and chill until slightly firm (semi-soft), stirring often, about 40 minutes.
Spread caramel in an even layer over cooled crust. Set aside.
Beat chilled milk chocolate-cream mixture with an electric mixer until soft peaks form. Spread evenly over caramel and chill at least 2 hours. Just before serving, lightly sift cacao powder over tart. The tart can be made 8 hours ahead and kept in the refrigerator.
7.8.1.2
3408
https://deliciouslyorganic.net/milky-way-tart/
Copyright 2016 Deliciously Organic