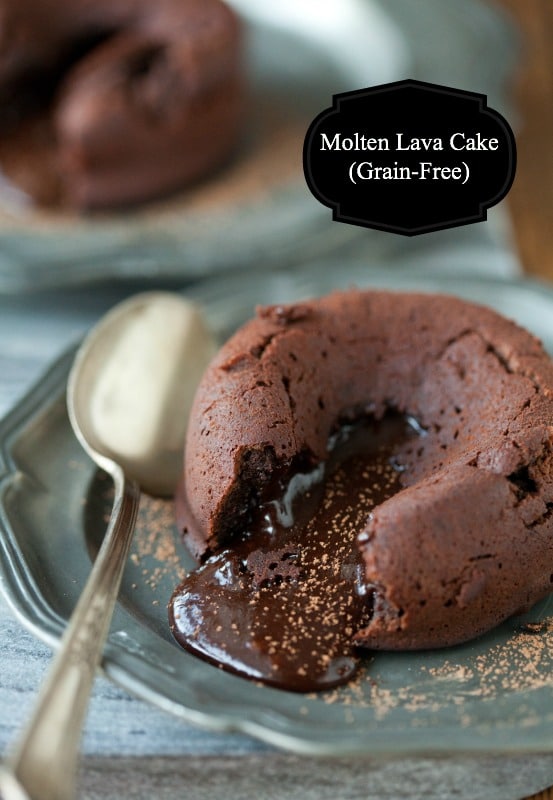 Molten lava cakes are a great way to pamper your special loved one on Valentine's Day – or really any time you have company coming – because most of the work is done ahead of time. After you mix the batter and pour it into the ramekins, the cakes are baked straight from the freezer – a dessert you can prepare weeks ahead of time!
It's imperative that you follow the directions exactly. The cakes should bake for exactly 18 minutes. Then you'll let them cool for exactly two minutes and then invert the cakes onto the plates. If they bake longer, or are allowed to cool any longer, the center of the cake will not be "molten." I tested these cakes with Enjoy Life Chocolate Chips and 71% dark chocolate. The dark chocolate bar produced a far superior molten cake, with better flavor and a perfectly smooth center. I think the cocoa content of the chocolate is very important – I recommend a chocolate bar with 71% cocoa or higher.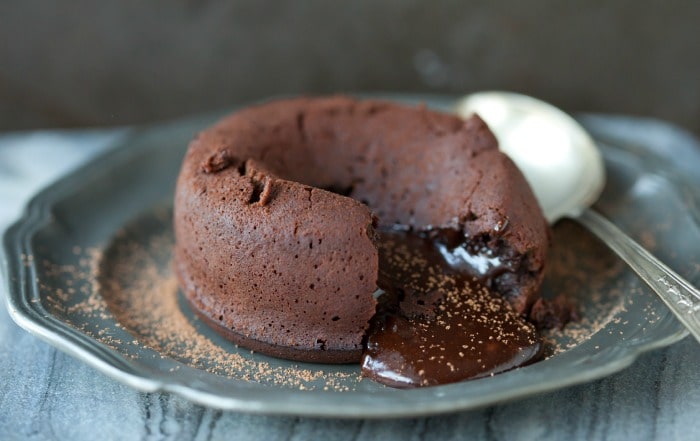 With a delicious cake exterior and a molten chocolate center, you'll have everyone oohing and ahhing over this dessert!
Molten Lava Cake (Grain-Free)
Ingredients
To prepare the ramekins:

1 tablespoon unsalted butter
2-3 tablespoons cocoa powder (plus additional for dusting cakes when serving)

For the batter:

5 ounces dark chocolate 71% or higher (see description in post above)
10 tablespoons unsalted butter
1 cup coconut sugar
3 tablespoons arrowroot flour
3 large eggs
3 large egg yolks
2 tablespoons coconut flour
Instructions
Butter six (6-ounce) ramekins and dust with cocoa powder. Place the chocolate and the butter in a large glass bowl and set over a pot of simmering water. Melt and whisk until smooth. Remove the chocolate mixture and let it cool for 5 minutes. Grind the coconut sugar in a coffee grinder or spice mill until it becomes a powder. Add the powdered coconut sugar, arrowroot, eggs, egg yolks and coconut flour to the chocolate mixture and whisk until smooth. Spoon batter evenly into ramekins . Freeze for at least 5 hours or overnight.
Preheat the oven to 450 degrees F and adjust the rack to the middle position. Place the frozen cakes on a baking sheet and bake for 18 minutes. Remove cakes from the oven and let them cool for exactly 2 minutes (while they cool, get out your serving plates and a dinner knife). Run a knife around the edge of the cake and then invert each cake onto a serving dish. Sprinkle with cocoa powder if desired and serve immediately.
7.8.1.2
4270
https://deliciouslyorganic.net/molten-lava-cake-grain-free/
Copyright 2016 Deliciously Organic