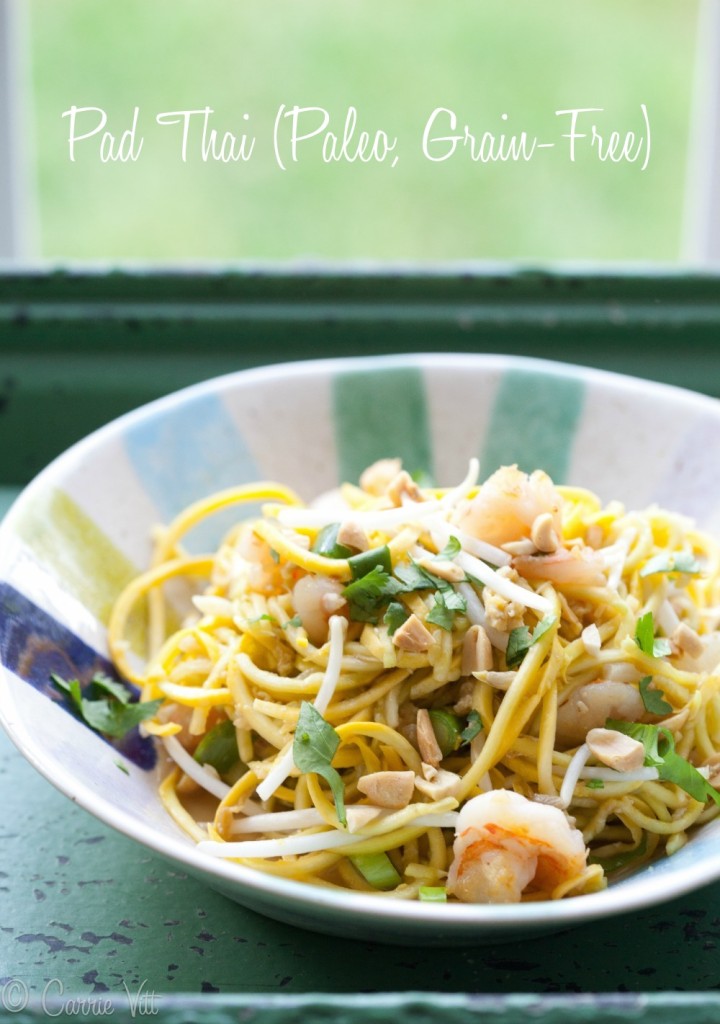 Pad Thai is a classic take-out favorite and is quite easily made at home. You'll need to do a bit of chopping and mixing, but once you prep all the ingredients, it only takes 15 minutes to cook on the stove.
My very favorite recipe for Pad Thai comes from Cook's Illustrated. I adapted their recipe a bit to make it grain-free. I used palm shortening in this recipe because it has a neutral flavor, is a healthy fat and can withstand high heats. I buy palm shortening from Tropical Traditions because they purchase from a sustainable farm. So next time, skip the take-out and whip up a batch of  homemade Pad Thai. The flavors are vibrant and it's a much healthier option!

Pad Thai Recipe (Grain-Free, Paleo, Gluten Free)
To stretch the shrimp a bit further, I like to cut the shrimp in half lengthwise. Adapted from Cook's Illustrated .
Ingredients
For the Sauce:

2 tablespoons tamarind paste (or 1/3 cup water combined with 1/3 cup lime juice)
3/4 cup boiling water (omit if using lime and water mixture)
3 tablespoons fish sauce
1 tablespoon coconut vinegar
2 tablespoons raw honey
1/4 teaspoon cayenne (you can add more if you like it spicy)
4 tablespoons palm shortening , divided

For the Stir-Fry:

2 large eggs
1/4 teaspoon Celtic sea salt
12 ounces medium shrimp, peeled and deveined
3 cloves garlic, minced
1 medium shallot, minced
8 yellow squash cut into noodles with a spiralizer or julienne peeler
6 tablespoons chopped unsalted peanuts (omit for Paleo)
3 cups bean sprouts
5 scallions, sliced thin at an angle
1/4 cup fresh cilantro leaves, chopped
Lime wedges (omit if not using tamarind)
Instructions
Place tamarind in a bowl and cover with boiling water. Let sit for 10 minutes, then strain through a fine-mesh sieve. Stir in fish sauce, vinegar, honey, cayenne and 2 tablespoons shortening (the shortening might clump but will melt when added later to the pan).
Beat the eggs and 1/8 teaspoon of sea salt in a small bowl.
Heat a 12-inch skillet over medium-high heat for 2 minutes. Add 1 tablespoon of palm shortening and swirl the pan to coat. Add the shrimp and sprinkle with the remaining 1/8 teaspoon of sea salt. Cook, stirring occasionally, until shrimp are opaque and browned about the edges, about 3-4 minutes. Transfer the shrimp to a plate and set aside.
Remove the pan from the heat and add the remaining palm oil and swirl to coat. Add the garlic and shallot to the pan. Set the skillet over medium heat and cook, stirring constantly, until the garlic and shallots are light brown, about 2 minutes. Add the eggs to the skillet and stir vigorously with a wooden spoon until scrambled and still a bit moist, about 20 seconds. Add the squash noodles to the pan and pour fish sauce mixture over noodles. Increase the heat to medium-high and toss constantly until noodles are hot and coated with the sauce. Stir in 1/4 cup peanuts, sprouts, all but 1/4 cup scallions and cooked shrimp over noodles. Toss to combine. Serve immediately with remaining scallions, peanuts, cilantro and limes (if using).
7.8.1.2
4256
https://deliciouslyorganic.net/pad-thai-grain-free-paleo/
Copyright 2016 Deliciously Organic