Peppermint Bark is an iconic Christmas treat, so I tweaked things a bit to bring you a real food and dairy-free version!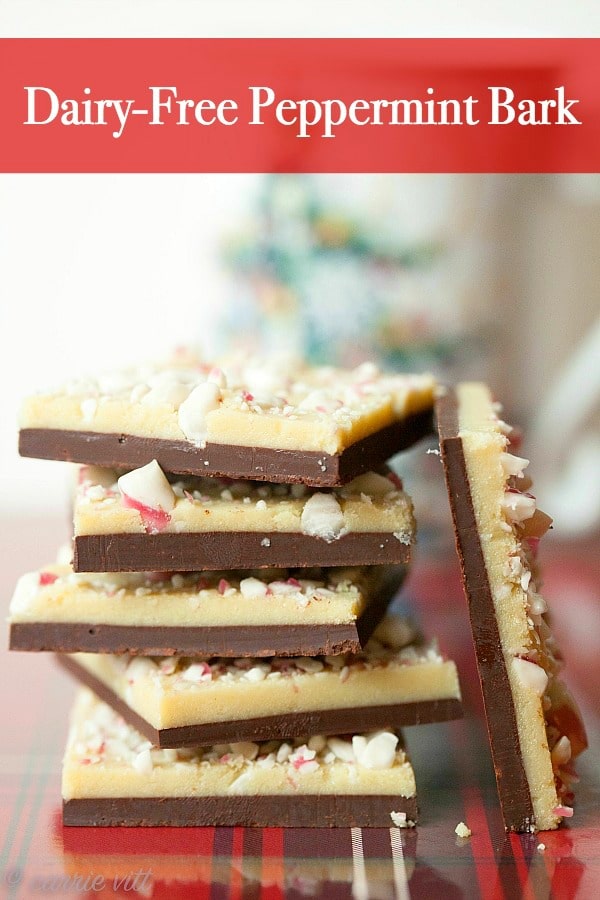 There are lots of different options with this recipe. First, you can follow the recipe as is. Or, if you can't do brown rice syrup, then you can omit the candy canes and use all-natural red sprinkles to make the candies look festive. Just choose whichever version works best for you.
I highly recommend using a food grade peppermint essential oil for this recipe. Peppermint extract contains some peppermint oil, but is combined with alcohol, so you won't get as big of a peppermint flavor. I personally use doTERRA Peppermint essential oil and I find it lends the perfect flavor!
Another thing to note is that the white chocolate will remain mostly firm at room temperature, but isn't quite as solid as regular white chocolate. So, I recommend storing the candies in the fridge and then leaving them out at room temperature for an hour before serving.
I hope you enjoy!
Print
Dairy-Free Peppermint Bark
Author: Carrie Vitt
Prep Time:

20 minutes

Cook Time:

1 hour

Total Time:

1 hour 20 minutes

Yield:

Makes one 11x7 pan of peppermint bark
For the dark chocolate layer:
For the white chocolate layer:
For the peppermint topping:
Instructions
Line an 11×7 baking dish with parchment paper (the paper needs to come up the sides of the baking dish. Place all, but about 3/4 cup of chocolate chips in a heatproof bowl and set the bowl over a pot with simmering water (or use a double boiler) until melted. Remove the bowl from the heat and add 1/3 of the remaining chocolate chips to the hot chocolate, and whisk until the chocolate chips are melted. Repeat this two more times with the remaining chocolate until all of the chocolate is melted. If your chocolate isn't melting, you can place the bowl back over the hot water for about 10 seconds at a time. Whisk in the peppermint essential oil and the pour the chocolate into the prepared baking dish.
Let the chocolate sit for 10 minutes at room temperature and then place it in the fridge for about 20 minutes.
Meanwhile, place the cocoa butter in a heatproof bowl and set the bowl over a pot of simmering water (or use a double boiler) until melted. Remove from the heat and whisk in the cashew butter, maple syrup, vanilla and peppermint oil. Let the mixture sit for 20 minutes to cool.
Remove the baking dish from the refrigerator and pour the white chocolate mixture over top of the dark chocolate. Place back in the refrigerator for 20 minutes, then remove and sprinkle the crushed candy canes overtop, gently pressing them into the white chocolate. Refrigerate for another hour. Cut into squares and serve.