I absolutely love serving pulled pork with cornbread topping during the fall. The sweet and tangy shredded pork hides under buttery, golden "cornbread." It's great for potlucks, when you're having lots of friends over to watch a football game, or for Sunday dinners.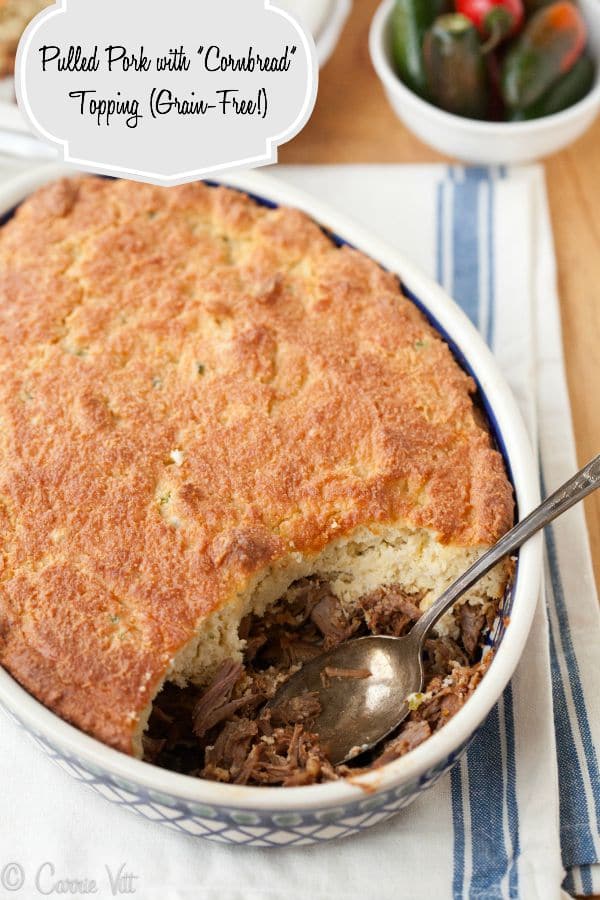 The pork is cooked with homemade BBQ sauce in the slow-cooker, shredded and then topped with the reader-favorite Grain-Free "Cornbread" batter and baked until golden. When I made this the other day, I then poured all the juices left over in the slow-cooker into a small saucepan and simmered them until reduced. I served the reduced sauce with dinner and everyone raved!
It's important to remember that conventional pork is usually fed genetically modified grains and given antibiotics. because they're raised in close quarters instead of being allowed to roam on the pasture. That's why I prefer to purchase pork from an organic farm. If you'd like to find a farm in your area, check out the site Eat Wild (www.eatwild.com).
Print
Pulled Pork with "Cornbread" Topping
Prep Time:

10 minutes

Cook Time:

8 hours 40 minutes

Total Time:

8 hours 50 minutes

Category:

Main Dish

Diet:

Gluten Free
For the Pulled Pork:
For the Topping:
Instructions
Place the pork roast in a slow-cooker and cover it with the BBQ sauce. Cook on low heat for at least 8 hours, until the meat is falling off the bone.
Preheat the oven to 350ºF and adjust the rack to the middle position. Remove the meat from the slow-cooker and shred. Place the shredded pork in an 11 x 8 – inch baking dish. Spoon the cornbread batter out of the mixing bowl and place it on top of the pork. Evenly spread the batter over the pork using a spatula. Bake for 35-40 minutes until golden brown.
While the casserole is baking, pour the remaining drippings and sauce from the slow-cooker into a small saucepan. Bring to a simmer and cook for about 10 minutes, until reduced by about 1/4. Serve sauce with pork and cornbread.
Keywords: pulled pork with cornbread topping