Today I'm happy to give you a recipe from Kelly who writes the blog, The Nourishing Home. Kelly is a sweet lady with a passion for family and helping others learn how to lead a healthy life. She recently went grain-free and has been sharing her ideas and new recipes on her site. The raspberry crumble bars she is sharing today are dynamite – not too sweet with a crumbly coconut-almond topping. Please take a few minutes to go check out her site.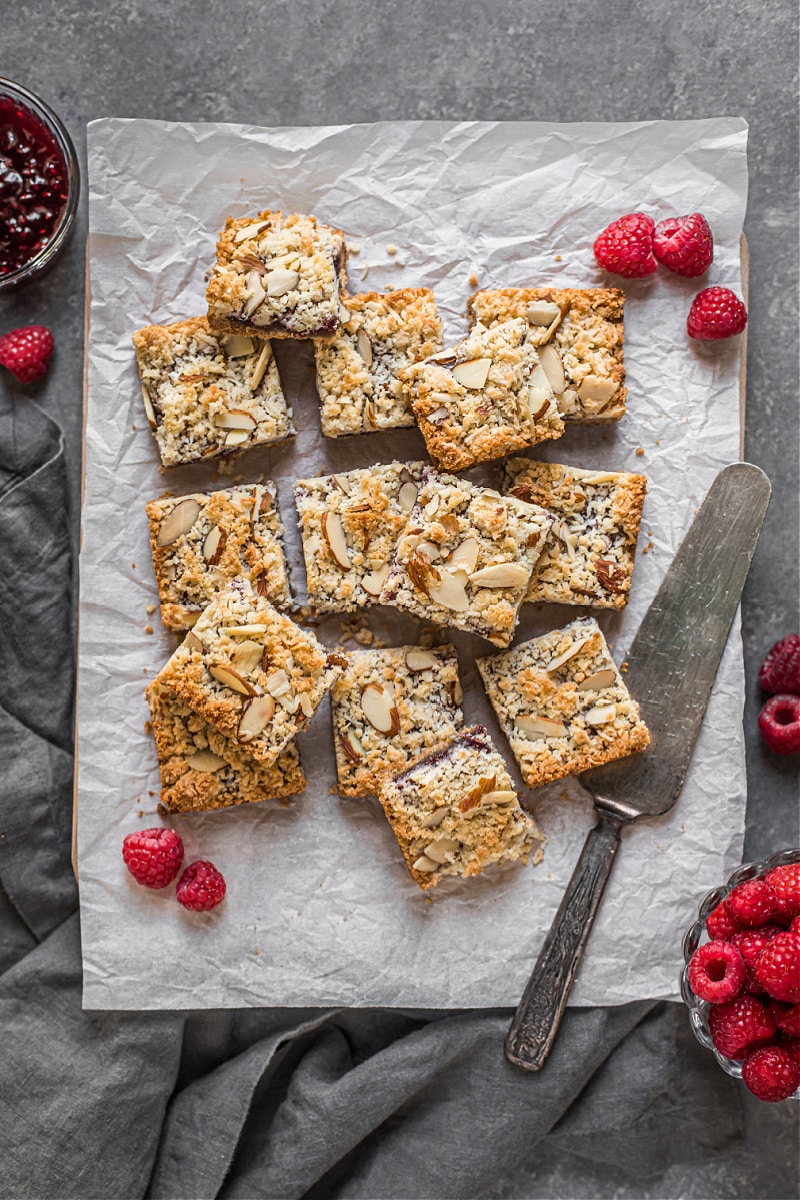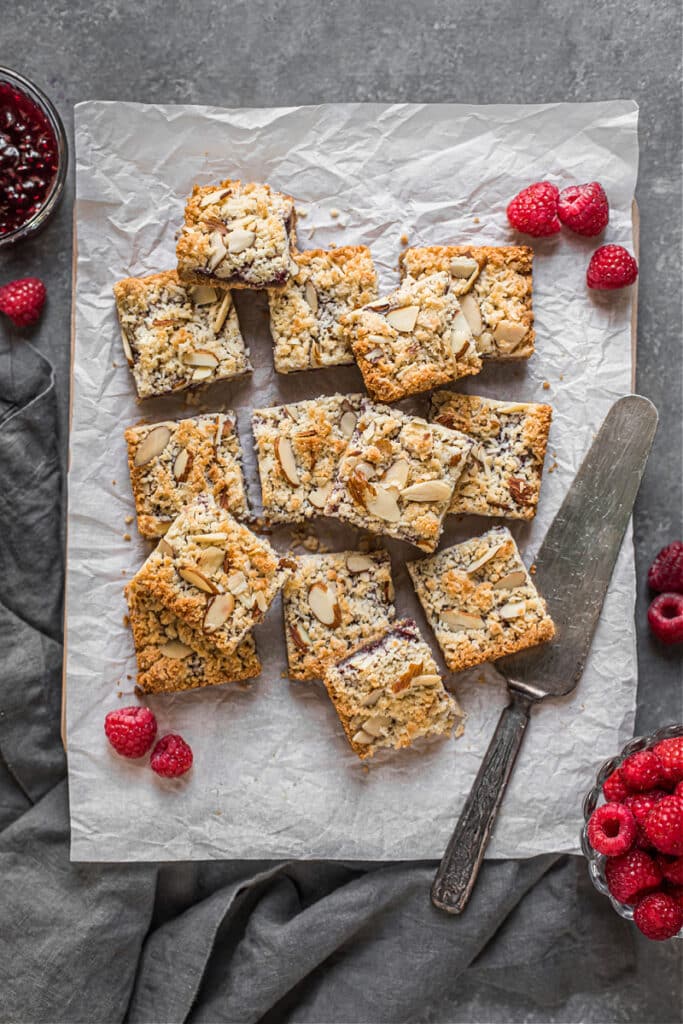 As an adoring fan of Carrie and her beautiful site, it's a blessing to share a little of my passion for real food cooking with you. Carrie has been one of those instrumental real food pioneers who helped me tremendously when I first set out on my gluten-free journey several years ago, and it's been a joy to come to know her as a friend.
Prior to her move to Florida (which coincidently is where I grew up), Carrie and I were able to meet for lunch. As you can imagine, our conversation was filled with talk of good food, family and you – our readers. Her concern for helping people live well not only spans the pages of this blog, but pours out in her conversations as well. That's why it's such a special privilege for me to engage with you through Deliciously Organic.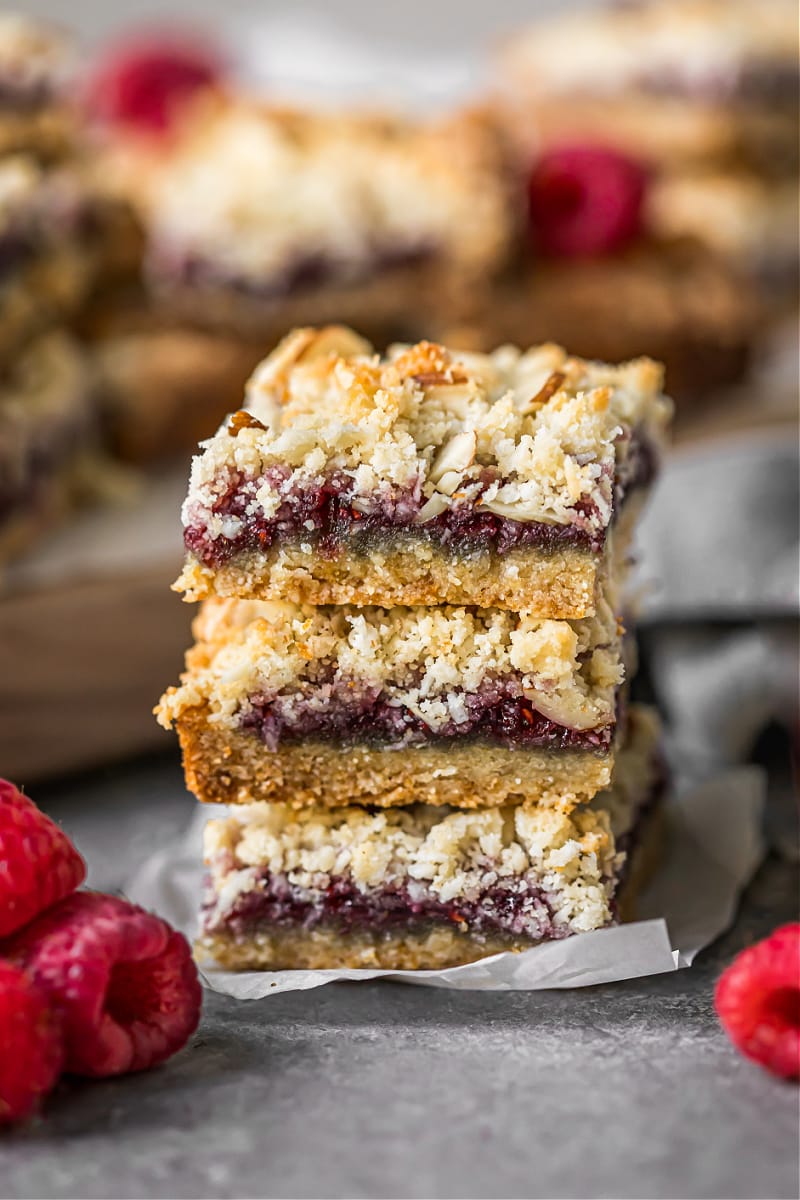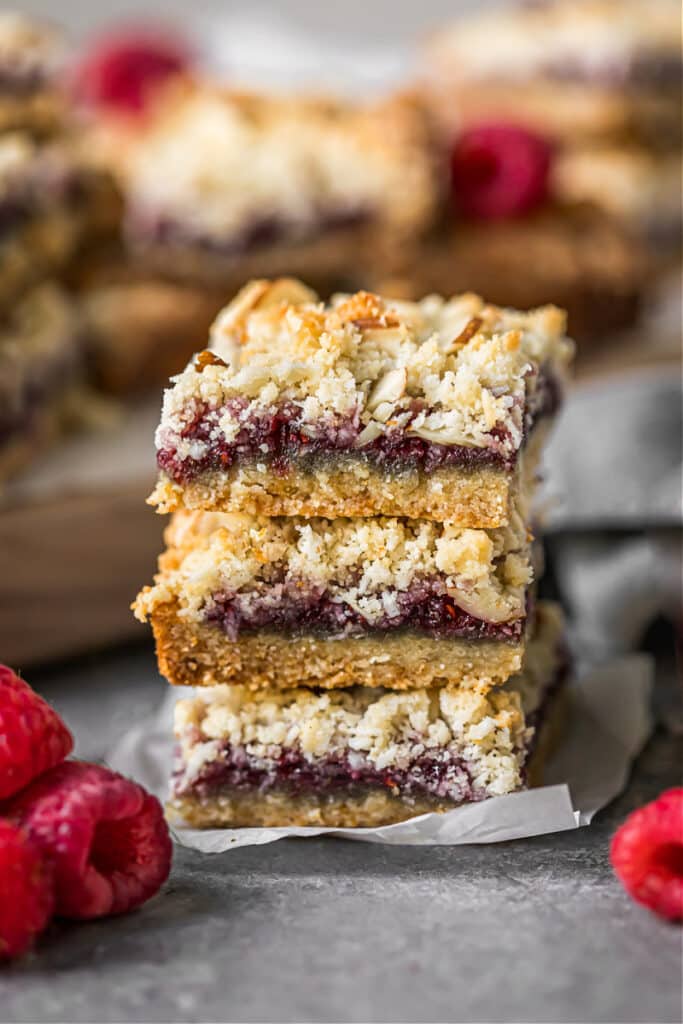 As Carrie knows from her time in California, we see fresh ripe raspberries as early as May, although the heart of raspberry season runs June through August. That's the perfect time to start stockpiling these delectable treats, as well as other delicious berry favorites, like organic strawberries and blueberries.
In fact, once berry season is in full gear, we enjoy almost daily doses of fresh-from-the-field berries in homemade yogurt parfaits and atop grain-free granola. Of course, as the berries become overripe, they're perfect for freezing and for making wonderful homemade preserves – both of which can be enjoyed year-round.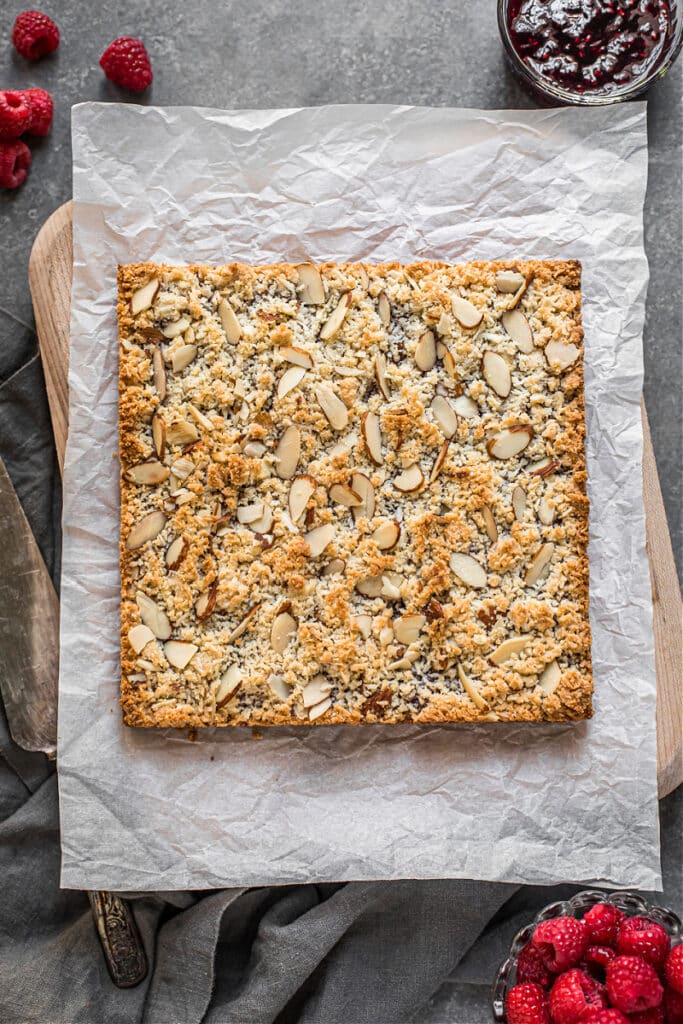 In anticipation of the upcoming berry season, I created this special recipe to highlight the sweet-n-tangy flavor of raspberries, although it's absolutely delightful with your favorite fruit preserves of choice. The slightly sweetened cookie crust keeps the rich flavor of the raspberry preserves center stage.
Although there are several steps, these bars come to together very easily, making them a fun recipe for cooking with kids. They also freeze well, if you can resist the temptation of eating them all in one sitting!
Print
Raspberry Bars (Grain-Free, Paleo)
Prep Time:

15 minutes

Cook Time:

30 minutes

Total Time:

2 hours 45 minutes

Yield:

Makes 16 bars

Category:

Dessert

Diet:

Gluten Free
For the crust:
For topping:
1/3 tablespoons

butter (or coconut oil), melted

1 teaspoon

pure honey

3/4

cup

blanched almond flour

1/2

cup

unsweetened finely shredded coconut

1/4

cup

sliced almonds
Instructions
Preheat the oven to 325ºF and adjust rack to middle position. Oil an 8×8-inch baking dish with coconut oil. Line the bottom with two pieces of parchment paper, making sure the paper extends over two sides of the dish. (This will allow you to lift the bars out of the dish once baked and cooled.)
In a small bowl, combine the almond flour, baking soda and salt. In a medium mixing bowl, whisk together the melted butter (or coconut oil), honey and vanilla. Then whisk in the coconut flour. Stir in the blanched almond flour mixture to the butter mixture. Mix with a spoon until well combined. (The dough will be crumbly, but should be moist enough that it sticks together when you pinch it.) Spoon the dough into the prepared baking dish, and press it evenly along the bottom to form the crust. Bake the crust for 5-6 minutes, just until it rises a bit. Remove from oven. Spoon the preserves over the hot crust and spread evenly making sure to leave about 1/4-inch of bare crust on all sides. This prevents the preserves from seeping under the crust.
In the same bowl you used for the crust, whisk together the melted butter (or coconut oil) and honey. Using a spoon, stir in the blanched almond flour and shredded coconut until incorporated but still a bit crumbly. Using your fingers, evenly crumble the coconut topping over the top of the preserves. Then evenly scatter the sliced almond across the top. Gently press the almonds into the crumble topping a bit.
Bake the bars for 18-20 minutes, until the crumble topping is lightly golden brown. Cool completely When the bars are completely cool cover and transfer to the refrigerator to chill, about 2-3 hours. Once bars are cold, remove from fridge and run a knife along the two sides without parchment. Using the parchment, gently lift the bar flat out of the dish and place on a cutting board. Cut the bar in half. Then cut each half in half lengthwise. Repeat on opposite side to form 16 square bars.
Kitchen Notes: Be sure to wait to cut the bars until they are cold. Otherwise, they will be quite crumbly and not hold together well. Wrap any leftover bars and store in the fridge or freezer.
*Also note, you can use any preserves you'd like to create these delicious cookie bars. Some of our other favorites are apricot, mixed berry and strawberry. Enjoy!
Keywords: raspberry crumble bars