I love this red pepper, corn and potato soup! I was inspired to make it after this past week when my husband and I took the kids to Disney World. We had a fabulous time watching the girls eyes fill with wonder and excitement, eating all sorts of new foods, and being away from the distractions of daily life.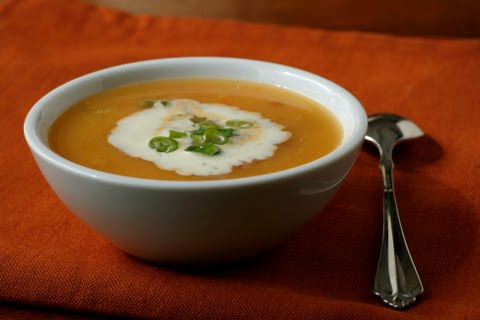 On Monday we went on a ride that was about the "land we live in" and the message sent to us on the ride really surprised me. They talked about how wonderful it is that we have new technologies that enable us to grow all sorts of crops no matter what the climate and to also yield huge amounts of foods quickly. They talked about genetically modified foods, hybrid produce and fish, and fish farming. They talked about plants such as the tomato tree that was a "new" type of tree that lasts longer than any other tomato plant and produces more tomatoes. They also talked about how the farming methods of old are damaging and now we have new ways of farming that are bigger and better.
This was all coming from the perspective that all of these things are enabling us to produce more food and that the food is also "safer" to eat. I was intrigued that millions of people ride this ride each year and are told only one side of that story. We aren't told about the modifications to the cells that are made and the studies that are coming out almost monthly proving they are harmful for us. We aren't told about the antibiotics that are fed to the farmed fish since they aren't in their normal environment. We aren't told about the countries like Africa that won't even take America's "new and improved" (gm) crops because of health concerns.
The interesting thing is that Disney is sending this message. From what I could tell, they are really trying to improve things, but I don't know if taking fish out of their natural environment and changing the structure of the cells of plants improves our food supply. It seems to me it makes it more processed and not the way nature intended. Genetically modified foods, such as the roundup ready seed, are changed at the cellular level by adding roundup to the cell so that when the plant is grown roundup can be sprayed on the plant and the plant won't die. This type of genetic modification is being done to: corn, potatoes, canola seed, alfalfa, papaya, soybean, and sugar beets. How can plants that have traces of roundup in them be healthy for us to eat?
You may be reading my blog today for the first time and haven't thought about organics much or whether gmo foods are good for us or not, and I'm glad you're here reading today. Seven years ago, before I began my journey down the path of organics I'd never thought about any of these things either and since reading and studying about them I've learned that you can't believe the all of latest studies about health or the advertising on that package of cereal in the pantry. I hope to encourage you to take a closer look at those ingredients in your pantry and fridge and dig deep to find out how those ingredients are made and where they are coming from.
So after a week of being away from the kitchen, I was ready for something nourishing and comforting and this soup fit perfectly. The soup is very simple to put together, keeps for several days in the fridge and also freezes well.
Red Pepper, Corn and Potato Soup
If you would like your soup to be spicier then add an extra chipotle or two.
Ingredients
3 pounds Yukon potatoes
3 cups chicken stock
1 bag frozen corn, thawed
1 red pepper, roasted and skins peeled*
1 (28 ounce) can diced tomatoes
1 chipotle in adobo
6 tablespoons fresh cream (omit for dairy free)
2 green onions, chopped
Instructions
Place potatoes in large pot; pour chicken broth over potatoes and then top off with water until liquid covers the potatoes by an inch. Cook until tender. Meanwhile, puree the red pepper, corn, tomatoes, and chipotle in bowl of food processor. Set aside. When potatoes are tender, pour corn mixture into pot. Using an immersion blender, blend soup until smooth (or process in batches in the food processor or blender). Season with salt and pepper. Serve with a drizzle of fresh cream and chopped green onions.

*To roast the pepper:

Heat broiler in oven on high. Place red pepper in oven and broil until skin turns brown. Rotate pepper. Repeat. Continue to broil until all sides are brown. Take out of the oven and immediately place in a bowl and cover tightly with plastic wrap. After 10 minutes, remove plastic wrap from bowl and the skins will peel right off of the pepper.
7.8.1.2
3196
https://deliciouslyorganic.net/red-pepper-corn-and-potato-soup/
Copyright 2016 Deliciously Organic