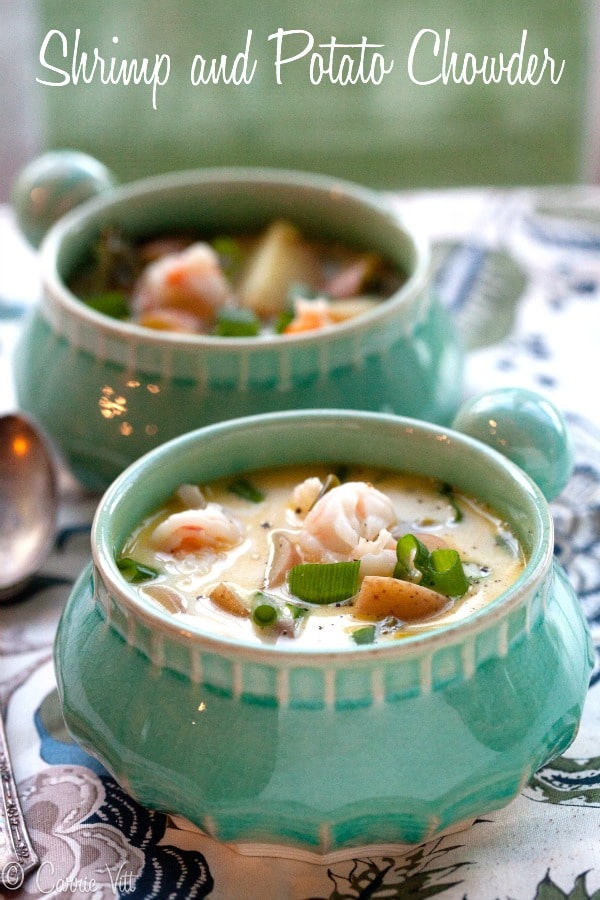 After many years of learning to use nutrition to help overcome health issues, I decided it was time to finally officially do some studying – so … I'm back in school! A couple months ago I started the Nutritional Therapy Practitioner program and I've been busy learning more about how to restore and heal the body with food. Right now, I'm knee deep in information about digestion, nutrient deficiencies and anatomy. I'm loving it!
I'll share with you what I learn and post more health and nutrition articles on the site so we can all grow together.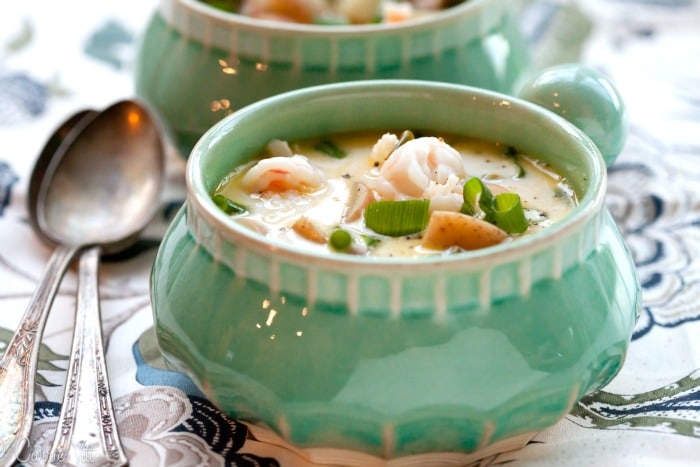 Good hearty soups and stews, like this shrimp and potato chowder, form the backbone of our family's diet. They're nutrient-dense and usually don't take a lot of hand's-on prep. The leftovers are easy to reheat and pack in a thermos or serve when we're in a hurry. Plus, doesn't soup or stew always taste better the next day?
Wild shrimp is a great source of selenium – a nutrient that's very important to people struggling with thyroid disease. If you can't find wild shrimp in your area, you can substitute chicken breasts in this recipe.
Here's another little tip – to help the shrimp go a little further, I cut each piece of shrimp in half length-wise. This is a sneaky way to double the volume of the shrimp in your chowder.
Shrimp and Potato Chowder (Grain-Free)
Adapted from Southern Living
Ingredients
2 tablespoons butter or coconut oil
2 bunches green onions, chopped
2 pounds baby potatoes, cut into bite-size pieces
6 cups chicken stock
2 teaspoons Celtic sea salt
1 1/2 cups heavy cream (I prefer raw cream, or for a dairy-free option, use coconut milk)
1 1/2 pounds wild shrimp
4 glugs of hot sauce
Instructions
Place the butter in a large pot over medium heat. Melt the butter and then add the onions. Cook the onions for 2 minutes, stirring occasionally. Add the potatoes, stock, and salt then bring to a simmer. Cook for about 10-15 minutes until potatoes are fork tender. Stir in the cream and cook until hot (but not boiling). Add the shrimp and cook until no longer pink, about 3-4 minutes. Stir in hot sauce, season to taste and serve.
7.8.1.2
3425
https://deliciouslyorganic.net/shrimp-and-potato-chowder-grain-free/
Copyright 2016 Deliciously Organic