Shrimp and Potato Chowder is an easy recipe that's packed with thyroid-healing nutrients!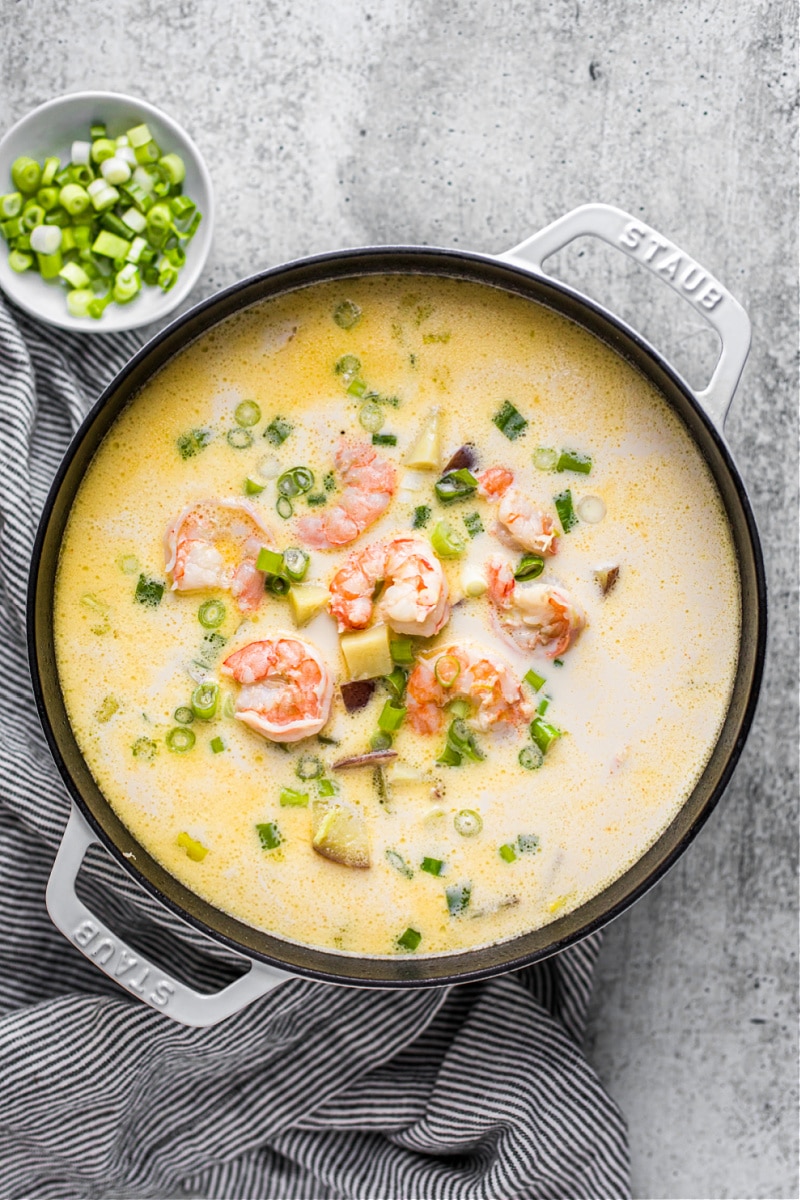 Let's break down some of the nutrients in this soup!
Wild shrimp is a great source of selenium – Selenium is important for the conversion of FT4 to FT3 in the liver. It also helps to support the thyroid in making thyroid hormones. Studies have also shown that selenium can help reduce TPO antibodies and support the immune system.
Bone Broth or Meat Stock are great choices to support overall gut health and they provide various levels of healthy amino acids, minerals, gelatin, and B Vitamins.
Butter contains Vitamin A (aka retinol), iodine and omega-3s which are all great for thyroid health. Vitamin A, in particular, is a very important fat-soluble vitamin for the thyroid. It helps balance the correct levels of thyroid hormones in the body, and is also needed for proper liver function (which plays a part in thyroid hormone balance).
Potatoes are an excellent source of many vitamins and minerals including: B6, potassium, manganese, folate, and phosphorus. We often think of white potatoes as a food that increases blood glucose. While this is true, when we pair it with a healthy fat, like the butter and cream in this recipe, it helps keep blood glucose levels more stable. This is why I always recommend eating your healthy carbs with healthy fats!
Raw Cream – Unpasteurized milk from grass-fed cows is full of nutrients and probiotics such as Lactobacillus acidophilus, B6, B12, vitamins A and D, calcium and CLAs (conjugated linoleic acids). If you can't get raw cream in your area, a non-homogenized cream or even coconut milk will work! Here's more info about the benefits of raw milk.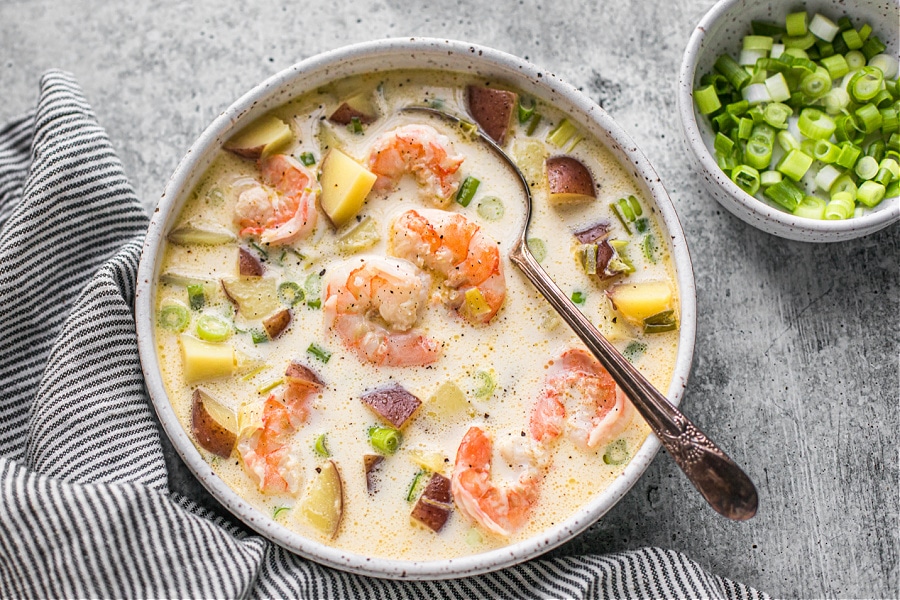 Good hearty soups and stews, like this shrimp and potato chowder, form the backbone of our family's diet. They're nutrient-dense and usually don't take a lot of hand's-on prep. The leftovers are easy to reheat and pack in a thermos or serve when we're in a hurry. Plus, doesn't soup or stew always taste better the next day?
And, here's another little tip – to help the shrimp go a little further, cut each piece of shrimp in half length-wise. This is a sneaky way to double the volume of the shrimp in your chowder!
Print
Shrimp and Potato Chowder (Grain-Free)
Adapted from Southern Living
2 tablespoons

unsalted butter or coconut oil

2

bunches green onions, chopped

2

pounds baby potatoes, cut into bite-size pieces

2 teaspoons

Celtic sea salt

1 1/2 cups

heavy cream (I prefer raw cream, or for a dairy-free option, use coconut milk)

1 1/2

pounds wild shrimp

4

glugs of hot sauce
Instructions
Place the butter in a large pot over medium heat. Melt the butter and then add the onions. Cook the onions for 2 minutes, stirring occasionally. Add the potatoes, stock, and salt then bring to a simmer. Cook for about 10-15 minutes until potatoes are fork tender. Stir in the cream and cook until hot (but not boiling). Add the shrimp and cook until no longer pink, about 3-4 minutes. Stir in hot sauce, season to taste and serve.