Black Bean Soup a comforting and nourishing dish that's economical, keeps in the fridge for several days, and also freezes well.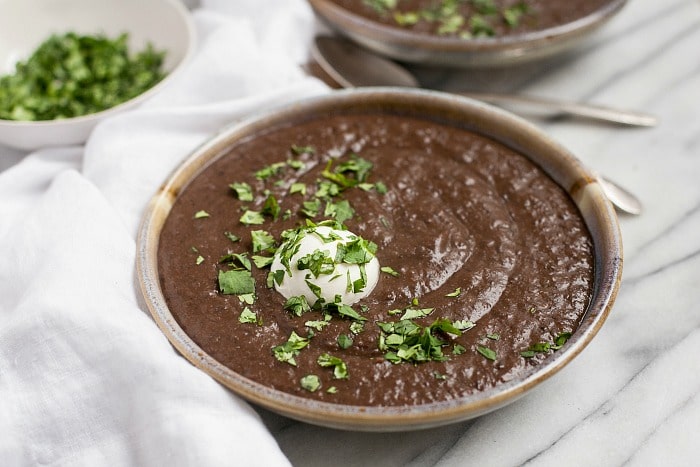 My recipes always call for dried beans that need to be soaked overnight before cooking. I realize that using canned black beans is quicker, but it's important to remember that beans, while a healthy food, need to be properly prepared to remove the anti-nutrients. It takes a little forethought to remember to soak the beans in water the night before, but the extra step is worth it!
The easiest way to puree this soup is with an immersion blender. Before I bought one of these, I use to ladle the soup in batches into the blender which left me with many more dishes to clean and drippings all over the counter. If you don't already have this small appliance, I highly recommend it! It can also be used to blend salad dressings and smoothies.
I like to serve black bean soup with Caesar salad and Grain-free white rolls. Enjoy!
Carrie Vitt
Spicy Black Bean Soup
10 minPrep Time
3 hrCook Time
3 hr, 10 Total Time
Ingredients
For the Soup:

2 cups black beans, soaked overnight, then drained
8 cups beef or chicken stock
1 28-ounce can diced tomatoes
1 teaspoon paprika
1 teaspoon onion powder
1 teaspoon garlic
1 heaping tablespoon Celtic sea salt
1 tablespoon tomato paste
1/2 bunch cilantro, plus 2-3 tablespoons more for garnish
1 jalapeño pepper, seeded and sliced
1 bunch green onions chopped
Sour cream for serving (omit for dairy free)
Instructions
Combine beans, stock, tomatoes, paprika, onion powder, garlic, sea salt and tomato paste in a large pot. Bring to a boil, then lower to a simmer and cook for 3 hours. Add cilantro, jalapeño and green onions to soup and let simmer for 5 minutes. Using a hand immersion blender , blend until smooth, or transfer to a blender in batches and blend until smooth. Serve with a dollop of sour cream and sprinkle with cilantro.
7.8.1.2
3197
https://deliciouslyorganic.net/spicy-black-bean-soup-recipe/
Copyright 2016 Deliciously Organic