I love making my strawberry coconut smoothie for breakfast or a midday snack.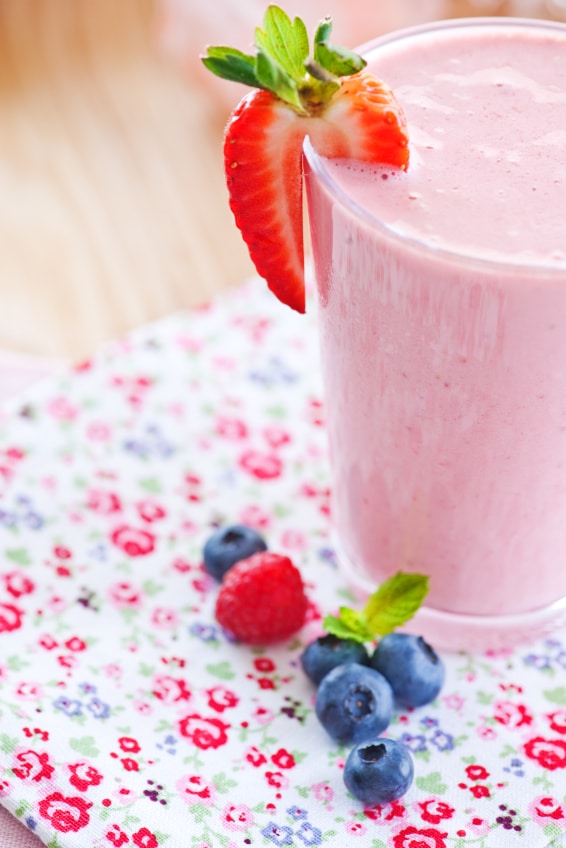 Wow, it feels good to be back. After 32 hours of driving, we finally made it to the desert of California. We are now living on an isolated Air Force Base that is completely barren. It's such a drastic contrast from our home in Florida that it actually causes me laugh when I look out the window.
Even though I'm not much for long road trips I had a great time traveling across the county. When traveling, we like to visit the restaurants that are featured on the show "Diners, Drive-Ins, and Dives" and we have never been disappointed. In Albuquerque we ate at "The Standard Diner" that had amazing onion-battered calamari and buttered bourbon burger (they served organic salads – an unexpected treat while on the road). We stopped the next day in Flagstaff and ate at a restaurant called "Salsa Brava". The menu was very extensive and they're known for their fresh salsa bar. After fat snowflakes in Flagstaff we began our drive towards the Mojave desert in CA. It was a bit depressing seeing the mountains slowly die away and the trees disappear until all that was left were Joshua Trees (they look something out of a Dr. Seuss book).
We brought in the New Year with boxes piled up to the ceiling and many warm welcomes from friends. The kitchen was completely unpacked on the first day so I could get back to cooking. I also made a trip to Trader Joe's– so thrilled to be able to shop there again!
Now is the time for resolutions and I encourage you to try and make changes to your eating habits in 2010. When I first learned about organics and eating whole foods I was completely overwhelmed. I came home, looked in my pantry and thought, "How am I ever going to change all of this?" So I began by making one change a week. After 6 months, most of my pantry and fridge was completely changed and I'd barely noticed. This is a simple method you can use to slowly change the ingredients and foods you use in your cooking.
This year, to help you make new changes I am going to continue to build on the information I've been sharing. I'm going to discuss topics like: soaking your grains, raw milk, healthy fats, etc. The first thing I wanted to share with you is my love for hemp seeds. I use them in this smoothie several times a week and can't get enough. Hemp seeds contain high amounts of protein (11 grams in 3 tablespoons) and omega-3 fatty acids. They are very neutral tasting so they go great in smoothies or sprinkled over salads (if you don't like seeds then you can use hemp oil) . It's best to use them in their raw form since cooking them can damage some of the nutrients. My favorite brand is Nutiva and I thought it only appropriate to give away some of their hemp seeds and hemp oil to help encourage you to make the change. All you need to do is leave a comment between now and Thursday, Jan 7th and I'll pick a name at random and then announce the winner.
Copyright 2016 Deliciously Organic