Teriyaki Salmon comes together in a matter of minutes!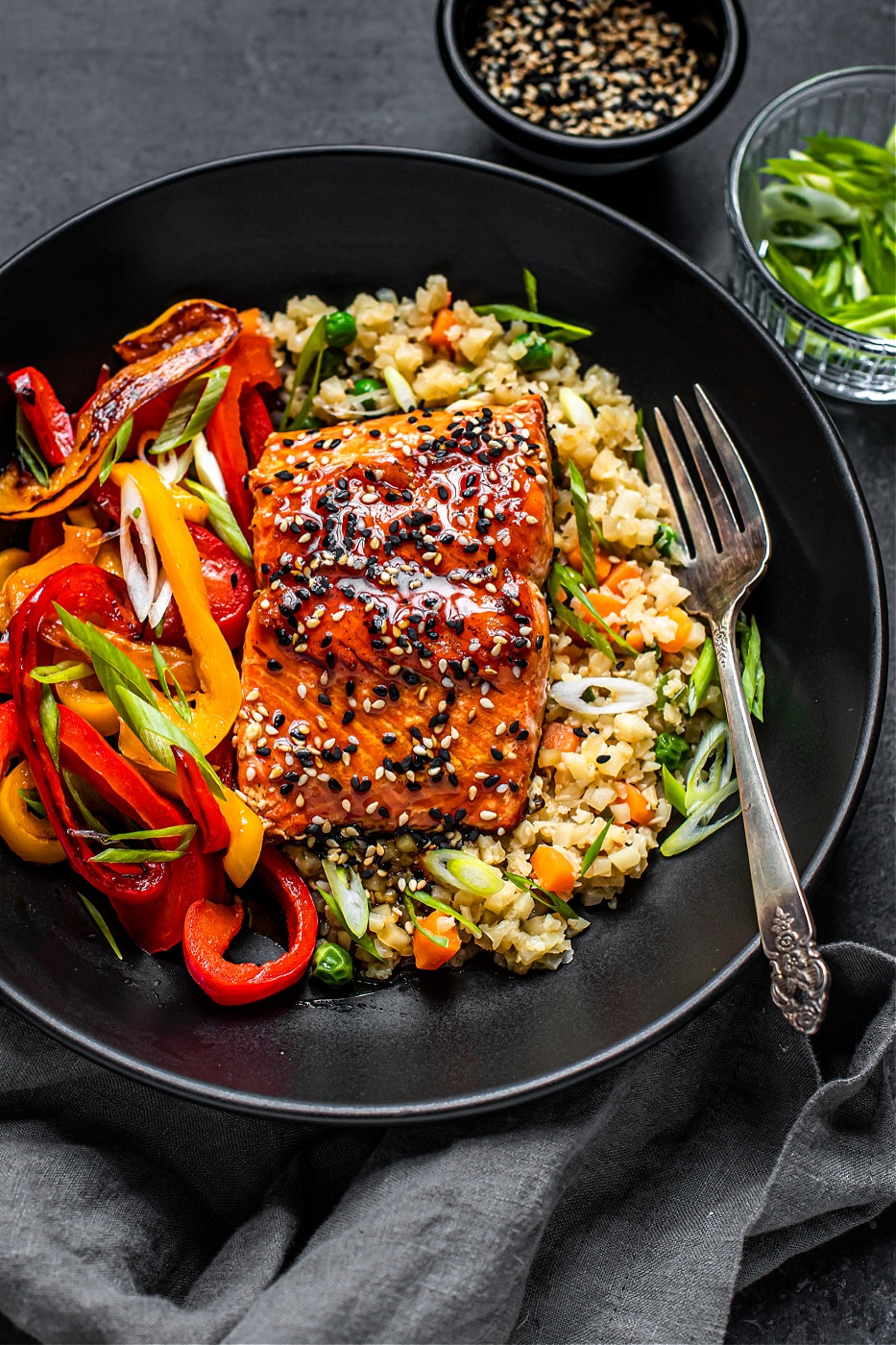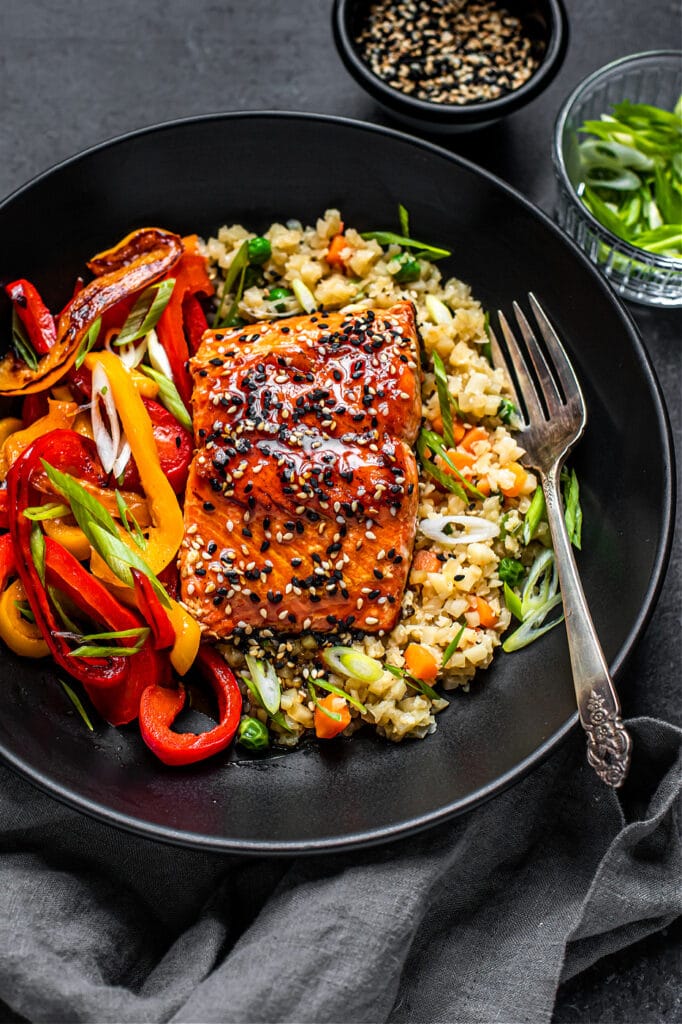 I like making salmon recipes because they're quick to prepare and salmon is rich in omega-3 fatty acids which can help reduce inflammation.
Wild salmon is preferable to farm-raised because of the fish meal often given to fish raised on farms. The fish meal is often made of ingredients like animal by-products from the milling and food processing industries or contains additives to color the salmon flesh.
When shopping for salmon, look for a fish that was caught in the wild and is free of preservatives. Marketers like to try and trick you, so always look for the word "wild" as opposed to "Atlantic" or "Pacific". Naming the waters they were raised in can be a way to trick you into thinking the fish is wild. For more information on shopping for fish, check out my friend Lisa's article, "How to Select Real Seafood."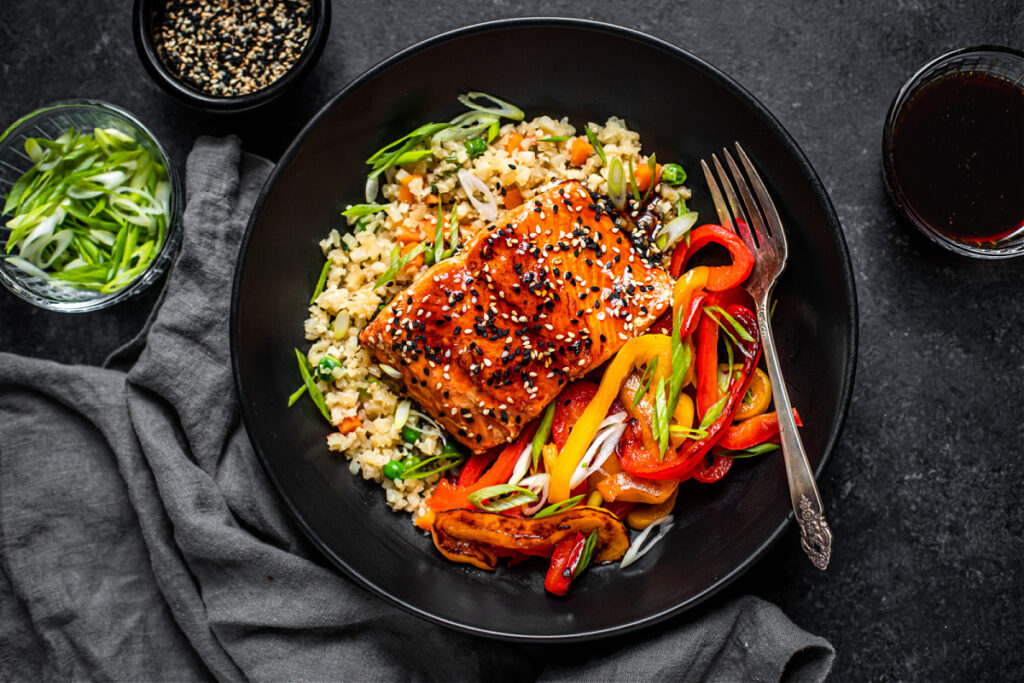 I like to serve the Teriyaki Salmon with Cauliflower Fried "Rice", or I sometimes chop up extra vegetables with the bell pepper for a more colorful meal.
Print
Teriyaki Salmon Recipe (Grain-Free, Paleo)
For the Sauce:
For the Fish and Vegetables:
2 tablespoons

coconut oil, divided

2

bell peppers, seeded and sliced thin

16 ounces

wild salmon, cut into

four

pieces

5

green onions, chopped

1 tablespoon

sesame seeds (optional)
Instructions
Whisk together all of the sauce ingredients in a small saucepan. Set over low heat and stir occasionally until thickened, about 5 minutes.
Meanwhile, heat a large sauté pan over medium heat for 2 minutes. Add 1 tablespoon coconut oil and swirl to coat. Add bell peppers to pan and cook, stirring occasionally, until spotty brown on the edges, about 5-7 minutes. Remove peppers from pan and set aside. Add remaining 1 tablespoon coconut oil to the pan and swirl to coat. Place salmon skin-side down on the skillet and let cook (without moving) until bottom is golden brown on the edges, about 3-4 minutes. Using a spatula, flip each piece of salmon over and cook (without moving) until second side is golden brown on the edges, about 3 minutes. Place each piece of salmon on a plate and drizzle with teriyaki sauce. Serve with bell peppers, cauliflower rice (if using), green onions, and sesame seeds.