I hesitated to make "fried rice" from cauliflower for many months. I just didn't think the taste would be comparable to "real" fried rice. I was wrong. The cauliflower picks up the savory and delicious flavors of the coconut oil and Tamari. The result is flavorful, protein-packed, and full of vegetables. This Chicken and Cauliflower Fried Rice is a complete dinner in a bowl which made my family very happy.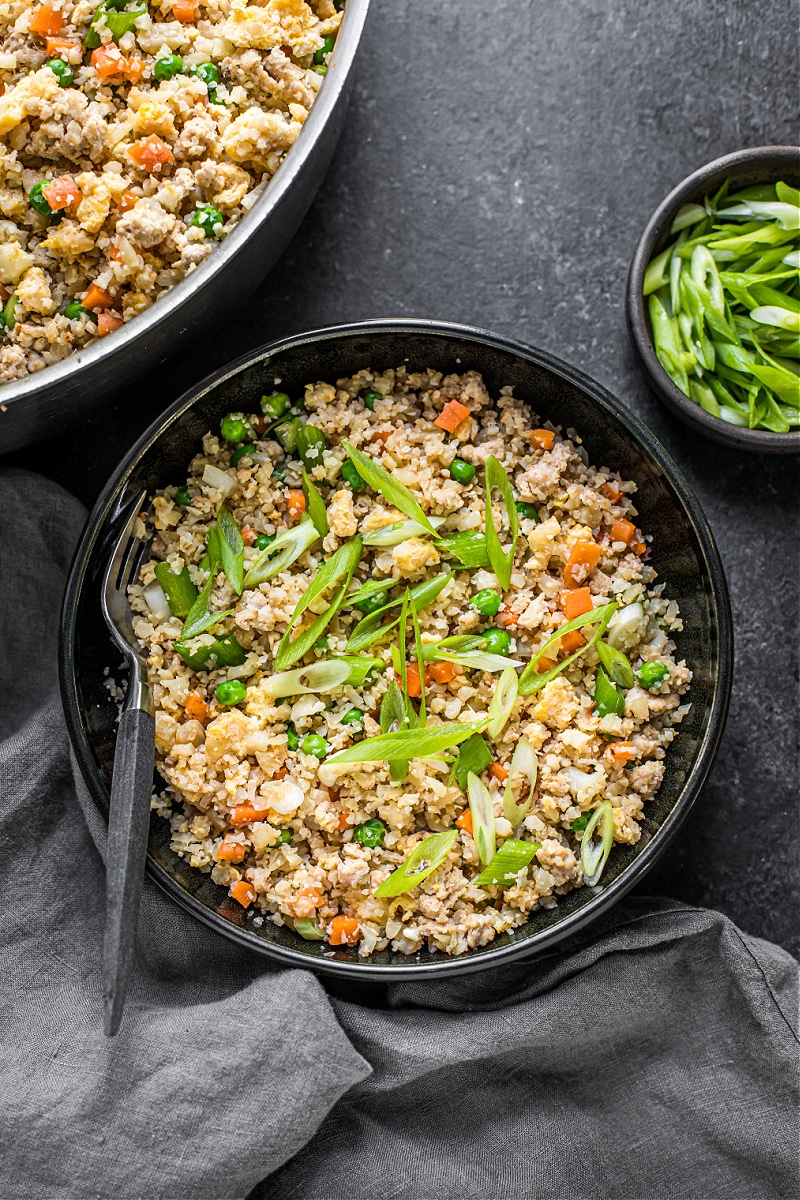 One of the most important steps in this recipe is to chop the cauliflower until it's chunky and about the same size as rice. Some pieces will be a little bigger than others, but the photo below should help you know exactly what to expect.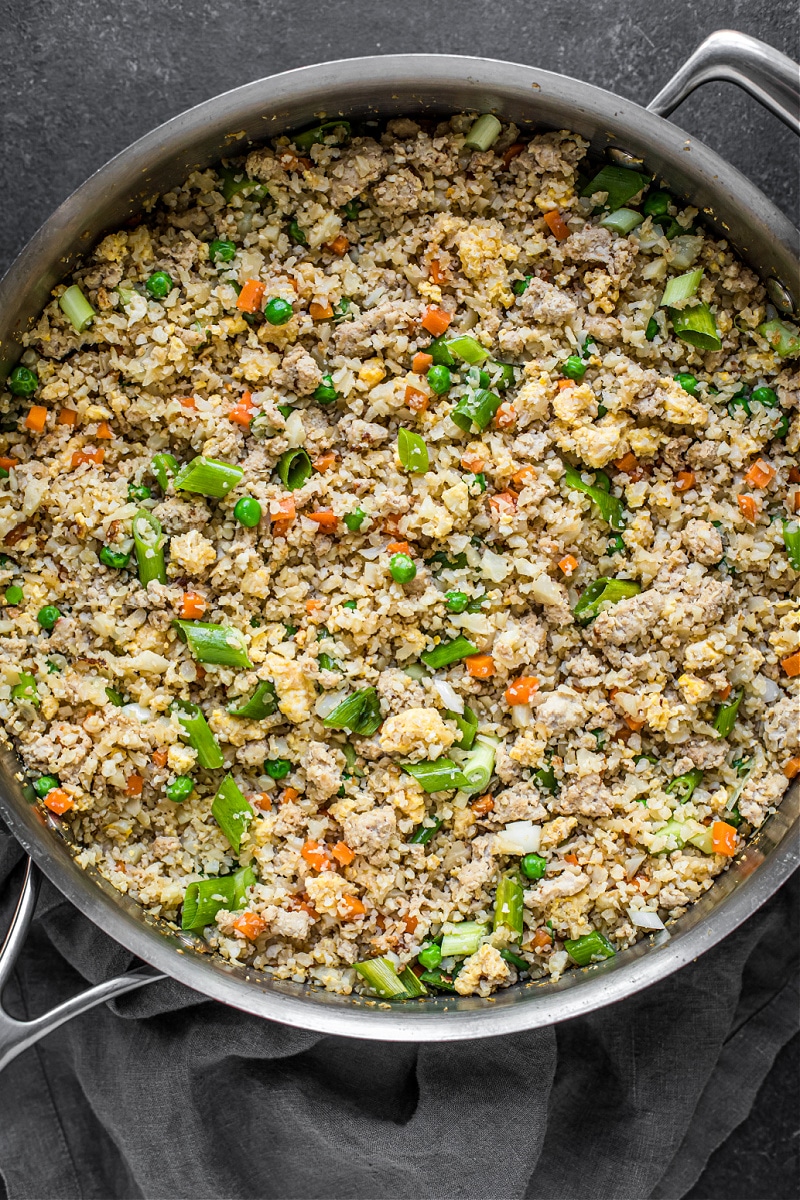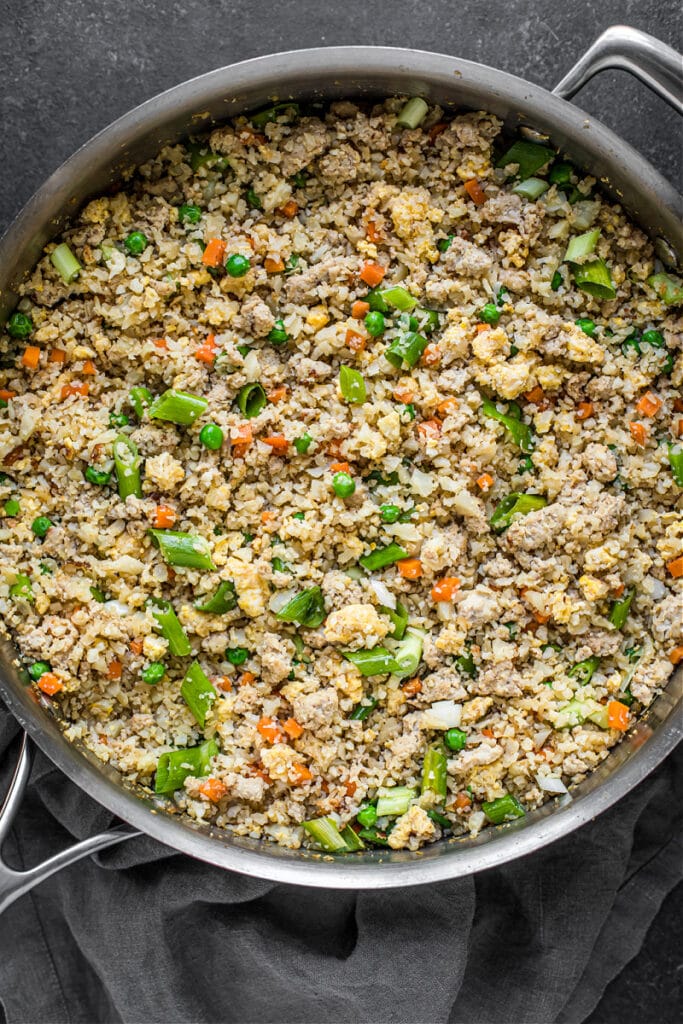 Chicken and Cauliflower "Fried Rice" Recipe
Ingredients
1 pound ground chicken
1 tablespoon Tamari sauce or coconut aminos
2 teaspoons dry sherry
1 clove garlic, minced
2 heads cauliflower, cut into bite-size pieces
1 cup peas
2 carrots, cut into small cubes
3 tablespoons coconut oil , divided
4 tablespoons fermented tamari sauce or coconut aminos
3 large eggs
4 green onions, chopped
Instructions
Place chicken, Tamari, sherry and garlic in a medium bowl. Stir and let sit at room temperature for 30 minutes.
Place half of the cauliflower in the bowl of a food processor. Pulse for 12-15 one-second pulses until cauliflower is about the size of rice. Place chopped cauliflower in a bowl. Repeat with second batch of cauliflower.
Place peas and carrots in a small saucepan and cover with water. Bring to a simmer and cook until tender, about 8-10 minutes. Drain.
Heat a large skillet over medium heat for 2 minutes. Add 1 tablespoon coconut oil and swirl to coat. Place chicken in skillet and cook, breaking up into small pieces with the back of a wooden spoon, until cooked through, about 5-7 minutes. Remove chicken from the pan. Add remaining 2 tablespoons coconut oil and swirl to coat. Add cauliflower and Tamari to the pan. Stir constantly for about 2 minutes until cauliflower is hot and coated with the Tamari. Make a well in the center of the pan, crack the eggs and pour them into the well. Stir eggs in the middle of the pan until scrambled, then stir into the cauliflower. Add the peas, carrots, green onion and chicken. Stir for about 2 minutes until all ingredients are incorporated and hot. Season to taste with a bit more Tamari or sea salt if needed. Serve immediately.
7.8.1.2
3157
https://deliciouslyorganic.net/chicken-and-cauliflower-fried-rice-recipe-paleo/
Copyright 2016 Deliciously Organic