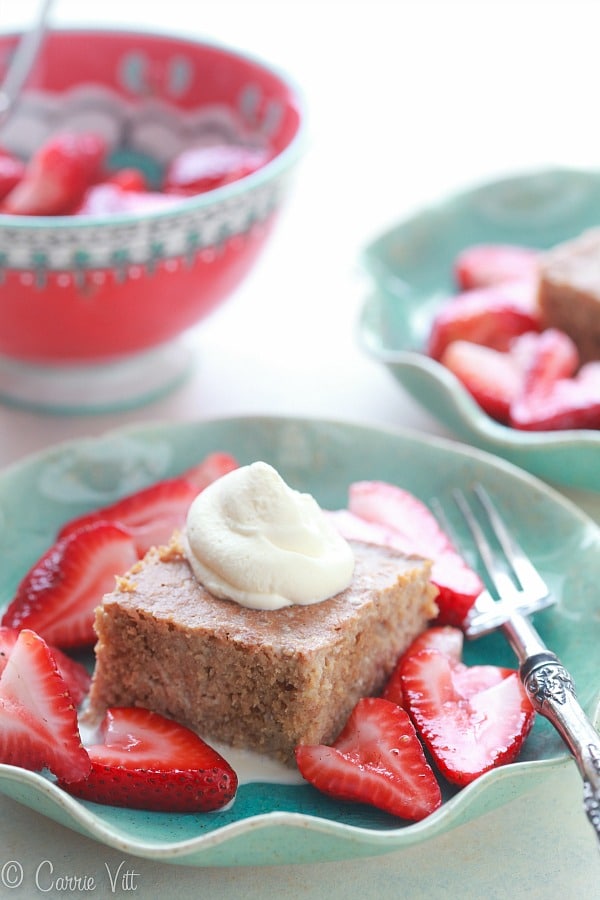 A slice of Tres Leches cake defines pure indulgence. Before going gluten-free, my favorite place to enjoy a piece of Tres Leches was a restaurant in Dallas called La Duni. I still visit La Duni for their incredible latin food, but I'm always a little disappointed I can't have a bite of cake. So I decided to recreate the recipe at home using grain-free ingredients and different milks.
Tres Leches cake uses 3 different milks: whole milk, evaporated milk and condensed milk. You can choose to use dairy-free or raw milk, making your own condensed and evaporated milks, or you could choose to use these dairy-free organic condensed and evaporated milks that are done for you.
For the cake, you can use this coconut flour cake recipe or, if you want to cut some corners, use the Simple Mills Vanilla grain-free cake mix. I've been using Simple Mills mixes occasionally when I'm in a hurry as they each contain only real food ingredients.
The beauty of this cake is that you can make it ahead and store it in the fridge for 3 days before serving.
Keep in mind that this cake contains quite a bit of sugar, so it's best to enjoy in strict moderation. I made it for Easter, enjoyed a slice with the family, and look forward to making it again next year!
Tres Leches Cake (Grain-Free)
Inspired by Food Network.
Ingredients
Instructions
Preheat the oven to 350ºF and adjust the rack to the middle position. Pour the prepared cake batter into a buttered 8x8-inch pan. Bake for 30 minutes, or until the cake tester comes out clean. Set aside to cool for 30 minutes.
Place the heavy cream, milk, condensed milk, evaporated milk, vanilla extract and vanilla seeds into a blender and blend until smooth.
Using a bamboo skewer, poke holes all over the cooled cake and slowly pour the cream mixture over the cake, allowing it to be absorbed completely before continuing to pour more of the mixture over the cake. Continue this process until you have about 3/4 a cup of the milk mixture left. Cover the cake and refrigerate for at least 6 hours. Store the remaining milk mixture in the fridge.
To serve, pour 2 tablespoons of the milk mixture on 9 dessert plates and then top with a piece of cake. Surround the cake with strawberries and place a dollop of whipped cream on top.
7.8.1.2
4558
https://deliciouslyorganic.net/tres-leches-cake-grain-free/
Copyright 2016 Deliciously Organic