I've been following Amanda's blog, Easy Peasy Organic, for several years now and I've always loved her honesty, humor and laid-back vibe. She's a strong lady who has survived breast cancer and is very honest about her struggles. I appreciate her taking the time to write a guest post while I'm hanging pictures and arranging furniture in our new house. I think when I'm done I'll be making a batch of her white sangria to celebrate! Make sure to take some time to check out her blog.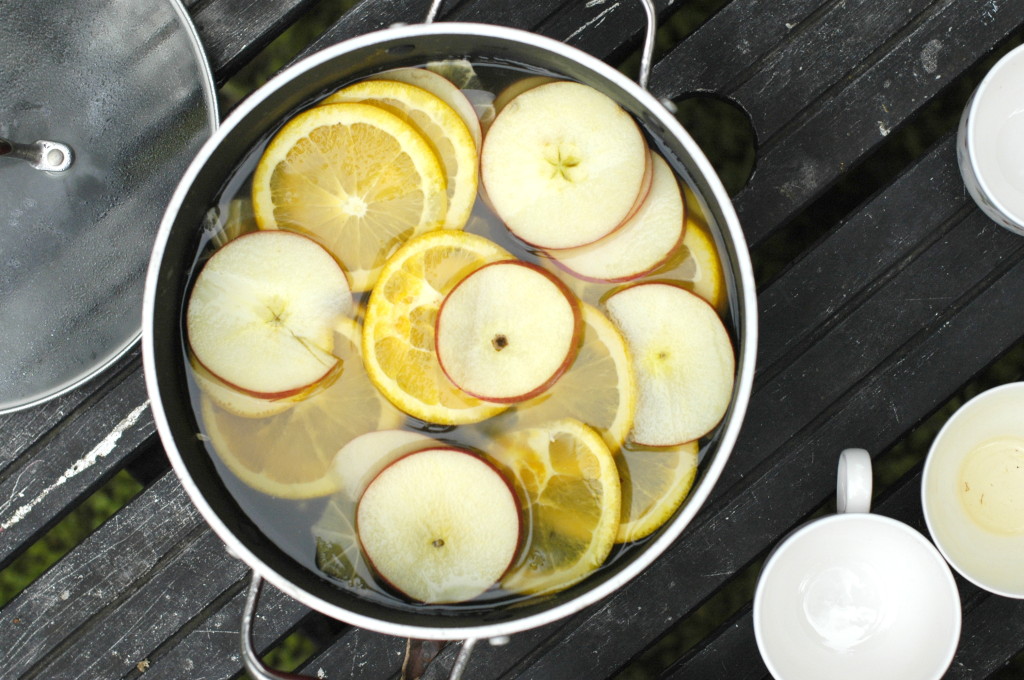 I moved to Brisbane, Australia in 2004, never thinking I'd end up staying, but there's something to be said for 300+ days of sunshine a year, perpetually-blooming flowers, and a cute Aussie boy who turns out to be a great dad and husband, too. It's a great outdoorsy life, so far removed from my Iowan upbringings, I feel like I'm on holiday all the time. Not bad, right?
But even though my little family adores our subtropical city, we still try to escape to the mountains – the hinterland – when we can. Give us a cabin surrounded by trees, a wood-burning stove (for the winter) and a swimming hole (for the summer) and we are happy, happy, happy.
Give us that cabin with friends, and badminton in dress-up clothes, and a killer white sangria?
Even happier.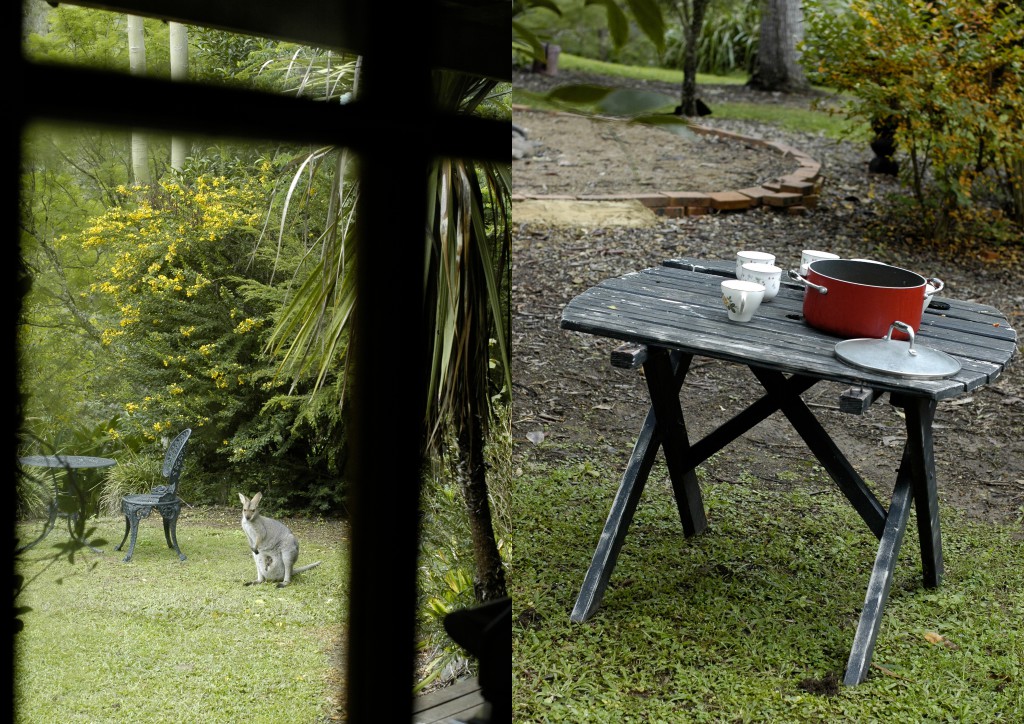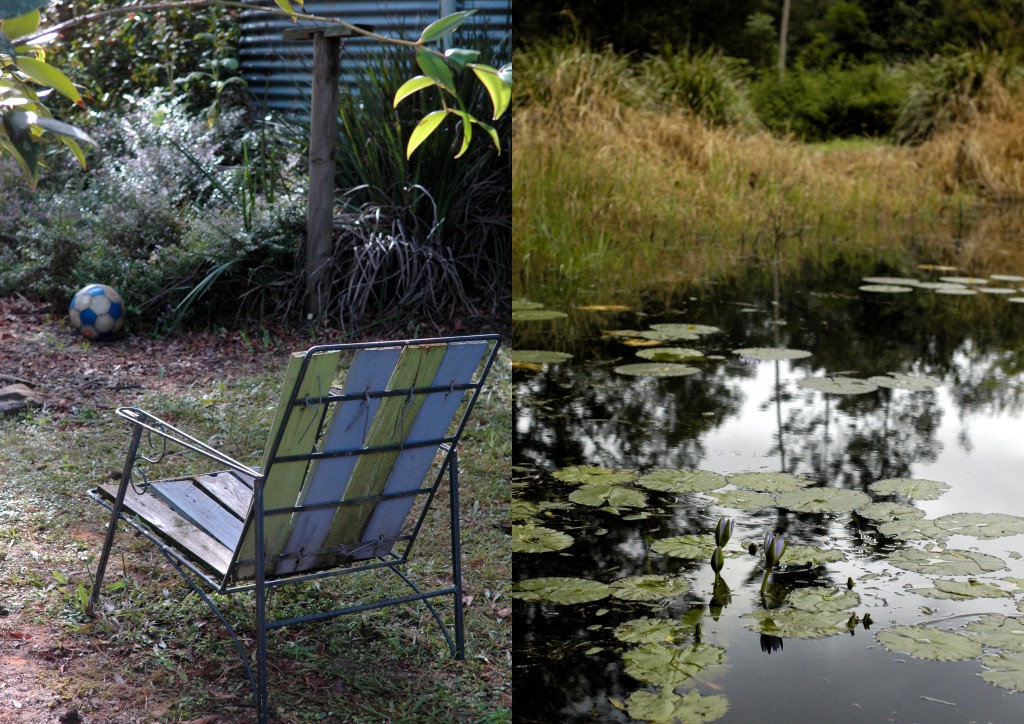 We recently visited an amazing holiday house in the countryside near Kenilworth, a tiny town two hours north of Brisbane known for its cheese co-op, a charismatic old pub hotel, and a crazy little thrift store. Before our daughter Nellewas was born, Robbie and I used to drive up to Kenilworth on weekends, stay in one of the old-fashioned upstairs rooms at the pub – a room as romantic and doily-rich as Grandma's house – and hang out together downstairs at the bar, drinking cold pale ales and eating fried stuff. Needless to say, I was pretty excited to go back to Kenilworth again – to share the area with Nelle and ten of our sweet friends.
So we had our weekend in the hinterland, with a fire, and board games, and darts, and a trip to the thrift store for dress-ups – because who plays badminton without wearing awkward outfits?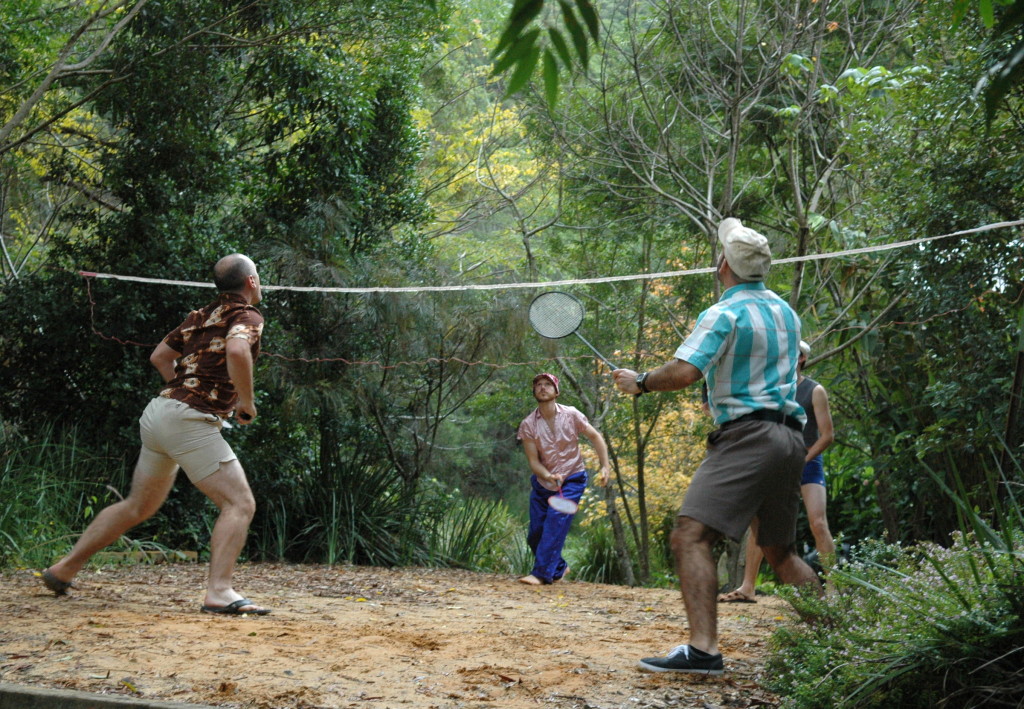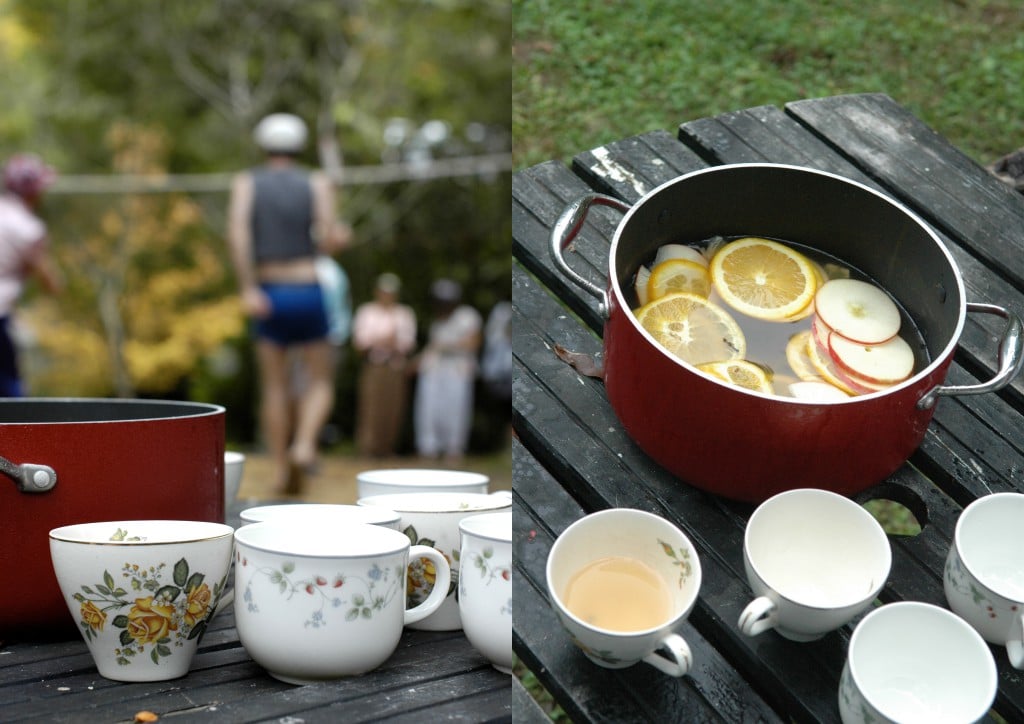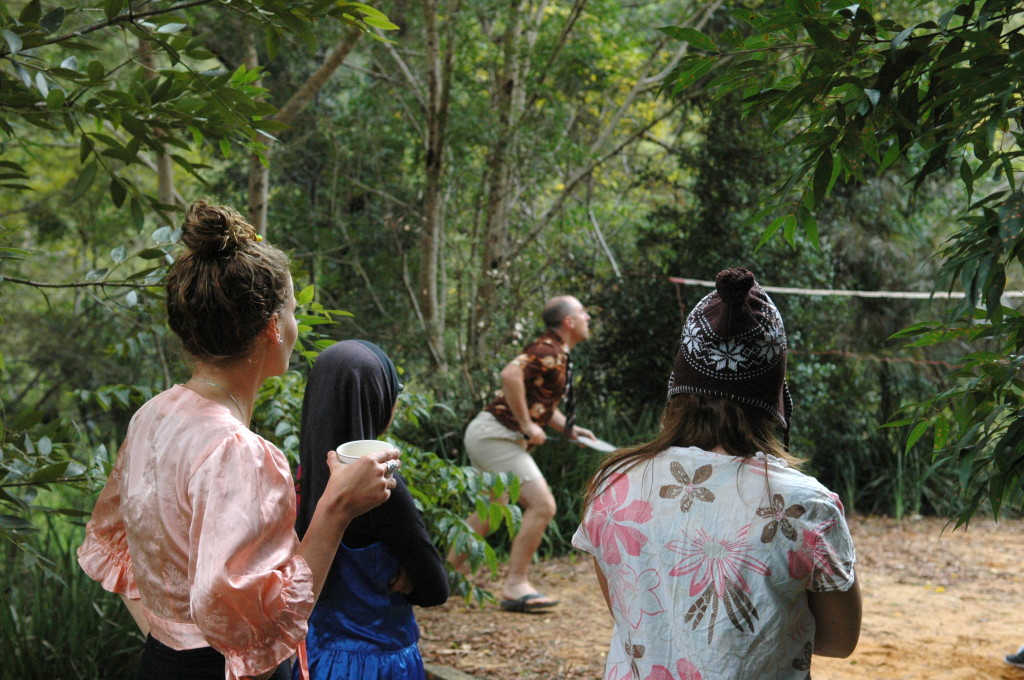 A badminton tournament fueled by white sangria, served from tea cups.
Now, I don't even drink white wine very often – I'm much more of a red kind of girl. But I find myself dangerously willing to drink this sangria – fruity and honey-sweet. I'll be honest with you, there's so much fruit, it almost seems healthy. And if that's what you find yourself thinking, all I can say is be careful, or you'll find yourself slumped in a fire-side chair at 4pm with an uncontrollable craving for popcorn. Not that I would know, of course.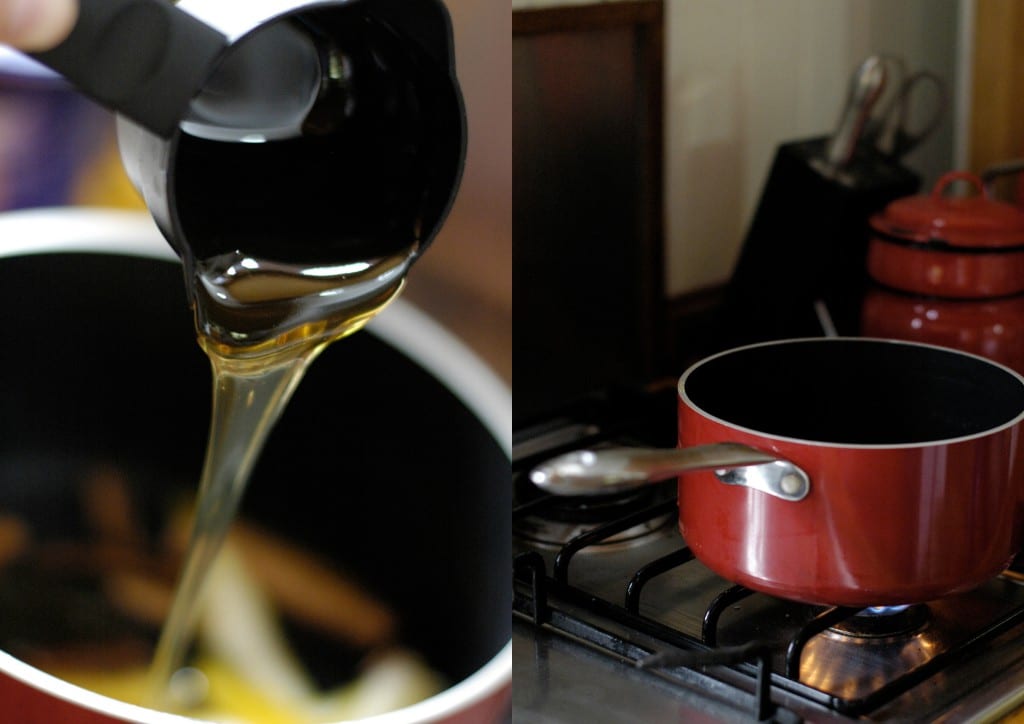 White sangria is a beautiful summery drink, perfect for hot days outdoors – but this recipe, with its hints of clove and cinnamon, also makes a great mulled wine, too. (I do love a multi-functional beverage.) So if it's been awhile since you enjoyed sangria, or took yourself to the country with friends, or played silly games in silly dress-ups, I think it might just be time.
Do it.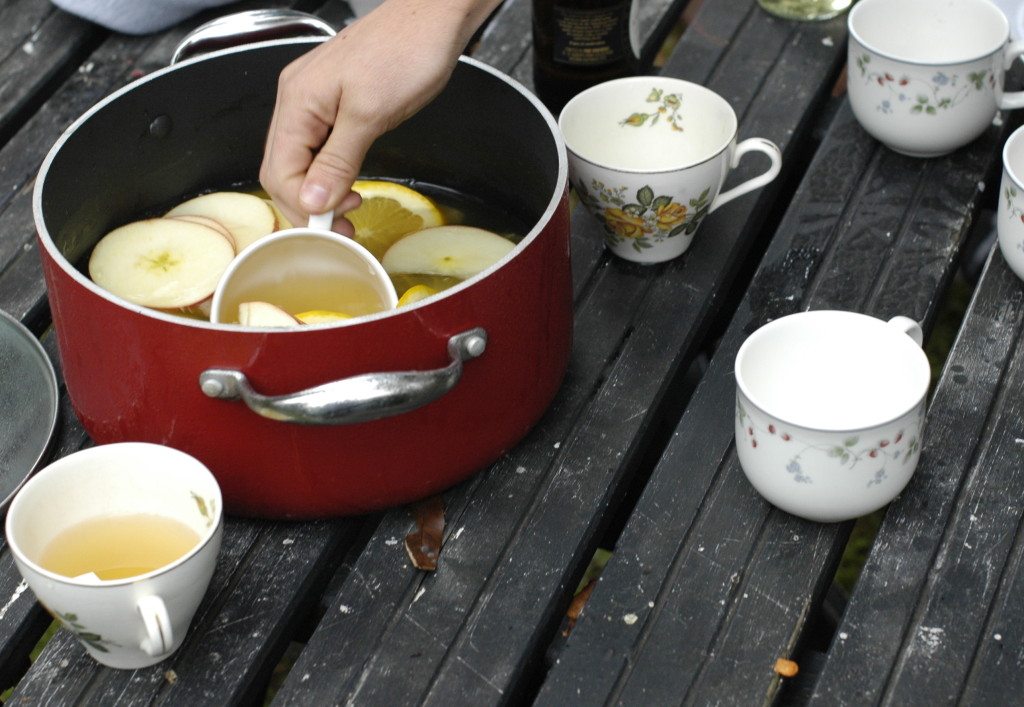 Before I go, I just want to thank Carrie for sharing her beautiful blog with me for this post. Carrie has been an inspiration to me since I started blogging 3 1/2 years ago, and I look forward to every single one of her posts. The food! The photos! Her sweet daughters! It's all awesome, don't you agree? I hope one day we'll have the chance to catch up in person.
Amanda xx
Print
White Sangria
Cook Time:

20 minutes

Total Time:

8 hours 40 minutes

Category:

Drink

Diet:

Gluten Free
1

cup

water

3

cinnamon sticks

12

whole cloves
Peel of

one

lemon (in strips)

1/2

cup

raw honey

2

bottles chilled white wine (an organic white wine from Badger Mountain would be perfect)

1

cup

Cointreau or an organic orange liqueur such as Thatcher's

1

whole lemon, scrubbed and thinly sliced*

1

whole orange, scrubbed and thinly sliced

1

whole apple, scrubbed and thinly sliced

1

cup

sparkling water or homemade ginger ale
*In addition to the whole lemon, I also cut the rest of the skin off the lemon I peeled, thinly slice it, and use it in the sangria. Waste not! Also, it's best to use organic fruit (when you can) since we're using whole fruit, including peels.
Instructions
In a saucepan, heat the water, cinnamon, cloves, lemon peel and honey until just boiling – then reduce the heat and simmer for 15 minutes. Remove from heat and cool to room temperature.
Mix everything but the sparkling water – the honey spice mix, the alcohol, the fruit – into a large jar or pot, cover and refrigerate overnight. Pour in the sparkling water or ginger ale just before serving.
I've served this sangria out of tall jars into wine glasses and out of heavy pots into tea cups – it's a stylish drink, so whatever you choose for serving, make sure the fruit is on show. Glass or white cups are ideal.
I haven't tried this recipe warm (yet), but if you do so, just leave out the fruit until serving so it doesn't get mushy.
Nutrition
Serving Size:

Makes 2 liters. Serves 8-12.