Tonight I baked a loaf of banana bread with my kids. It had been raining all day and I couldn't resist the idea of a warm, sweet, slice of banana bread smothered in butter. As the smell began wafting through the house my kids kept running up to the oven, taking a peek and asking, "How much longer?" As soon as the bread was out of the oven the kids were perched on their stools with forks in hand. I cut huge, thick slices and topped them with large pats of butter. As I was cleaning up I took one more little slice to eat and my daughter said, "Wow, that is a HUGE slice of butter on a very small piece of bread." Yes, my dear, it is, and I am enjoying every bite…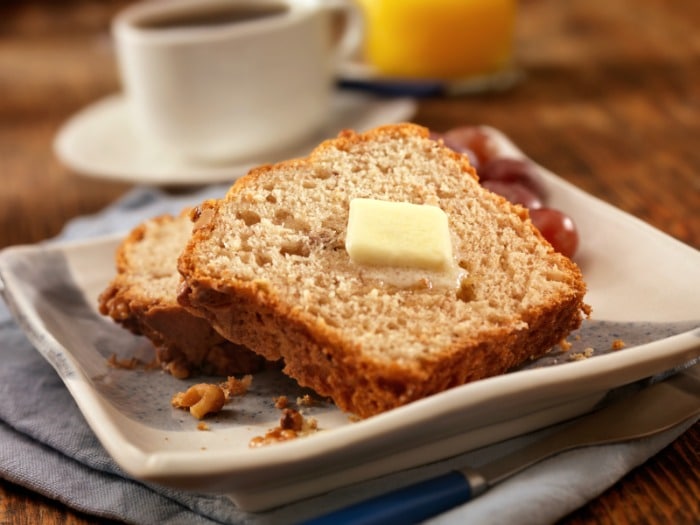 [amd-zlrecipe-recipe:400]
Gluten Free Banana Bread
This recipe was posted before I began posting all grain-free recipes on my site. If you'd like a grain-free banana bread recipe, click here. Makes 1 loaf
3 tablespoons unsalted butter
3 tablespoons coconut oil
3/4 cup arrowroot
3/4 cup sprouted oat flour (make sure it's gluten free)
1/2 cup sprouted sorghum flour
1/2 cup sprouted brown rice flour
2 teaspoons unflavored gelatin (I prefer Bernard Jensen)
3/4 cup whole cane sugar or Sucanat
1/2 teaspoon sea salt
1 teaspoon baking soda
3 very ripe bananas, mashed
1⁄4 cup buttermilk
2 large eggs, room temperature
1 teaspoon vanilla extract
Instructions
Preheat oven to 350°F and adjust rack to middle position. Butter a loaf pan.
Melt butter and coconut oil in a small saucepan. Cool slightly. Whisk arrowroot, oat flour, brown rice flour, gelatin, sugar, salt, and baking soda in a large mixing bowl. Stir together mashed bananas, buttermilk, eggs, melted oils, and vanilla in a medium bowl. Pour wet ingredients into dry ingredients and gently stir until just blended.
Pour batter into the loaf pan and bake for 50-55 minutes or until golden brown and a toothpick pressed into the center comes out with a few moist crumbs attached. Cool for 10 minutes and then run a knife around the outside to loosen the edges. Turn loaf out onto a cooling rack and cool before serving.