The kids started school today. I love the first day of school. The anticipation. The excitement. The freshly sharpened pencils, boxes of crayons, and new backpacks.
The start of school is like a second New Year. It's time for evaluating, reorganizing, and setting some new goals. I hope your list includes continuing to make small, simple steps toward eating a more healthy diet. It's not about a grand overhaul, but small changes for you and your family. The next two weeks I'll be giving advice and recipes to keep you and your family eating as healthfully as possible during the school year. Even if you aren't in school or don't have children, these ideas are for you too . . .
I want to start with breakfast. I know that as the year gets going, a healthy breakfast can be one of the first meals to slide. We often reach for something quick and easy (and unhealthy). You can feed yourself and your family on a rushed morning with a few simple steps, and nothing has to come from a box. Breakfast in our house is usually a rotating lists of foods. At 7am when the kids are running around I need quick nutritious foods.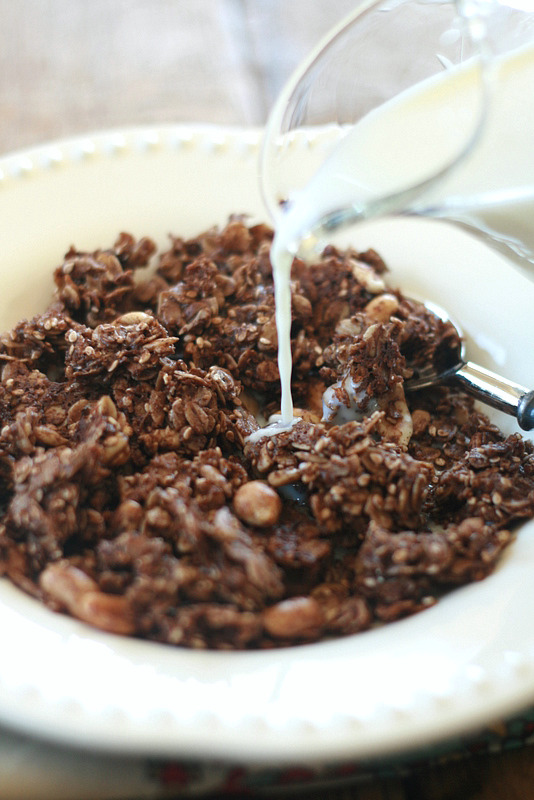 First, I make large batches of muffins, pancakes, or waffles (whole wheat or gluten free) on the weekends and freeze them for weekday mornings. When we're rushing, I turn the oven to 350°F, place the muffins or whatever I've frozen in the oven (I don't even wait for the oven to heat up, just pop it in when you turn the oven on) go about getting everyone ready and in about 20 minutes I have a hot, healthy breakfast for everyone to enjoy.
A second option is granola. Honestly, I haven't found a store-bought cereal I can stand behind. Even the brands that advertise "whole grain" are usually still loaded with sweeteners and preservatives. So I make my own. I can't tell you how fast it is to throw together some granola that you can use as cereal in the mornings. The granola pictured today took me 10 minutes to toss together and 45 minutes of baking. Again, you can make some on the weekend or on a weekday when you have some time and you'll have cereal ready when you need it during the week.
Eggs make an excellent busy-morning bite. I make them sunny-side-up, in an omelet with spinach or bell peppers, or scrambled with shredded cheese mixed in. Eggs are incredibly nutritious and can be tossed together in a matter of minutes.
My daughter's favorite lately has been banana bread. I made a loaf last week and put it in the fridge. She pulls out the toaster, slices off a thick piece, toasts it and tops it with a little butter. That beats a "toaster pastry" out of a box any day.
Good, healthy breakfasts take a little preparation but totally pay off. This chocolate peanut granola is so amazing, you won't ever want to go back to cocoa cereal. It's chocolaty, crunchy, sweet, and filling. If you don't have time to eat it with milk, simply put it in a little bag and take it with you. If you have some left at the end of your week, you could always reward yourself for the healthy breakfasts and sprinkle it over vanilla ice cream!
Serves: Makes about 10 cups
Chocolate Peanut Granola
This recipe leaves lots of room for creativity. You can substitute the peanuts with almonds, pecans, or walnuts or try adding dried fruits like cherries to change things up a bit.?
Adapted from Food Network.
Ingredients
For the granola:

1/4 cup cacao powder (or cocoa powder)
4 1/2 cups rolled oats
1 cup sunflower seeds
3/4 cup white sesame seeds
2/3 cup coconut oil, melted
2 teaspoons ground cinnamon
1 teaspoon ground ginger
1/2 cup plus 2 tablespoons maple syrup
1/2 cup organic whole cane sugar or sucanat
2 cups raw peanuts
1 teaspoon coarse sea salt
Instructions
Preheat oven to 300°F and adjust rack to middle position. Mix everything together very well in a large mixing bowl. Spread the mixture evenly on two baking sheets lined with parchment paper and bake for 45 minutes, turning over half-way through baking. Cool completely before serving. Crumble and store in an airtight container.
7.8.1.2
3221
https://deliciouslyorganic.net/chocolate-peanut-granola/
Copyright 2016 Deliciously Organic