My whole wheat buttermilk pancakes are a huge favorite in my family!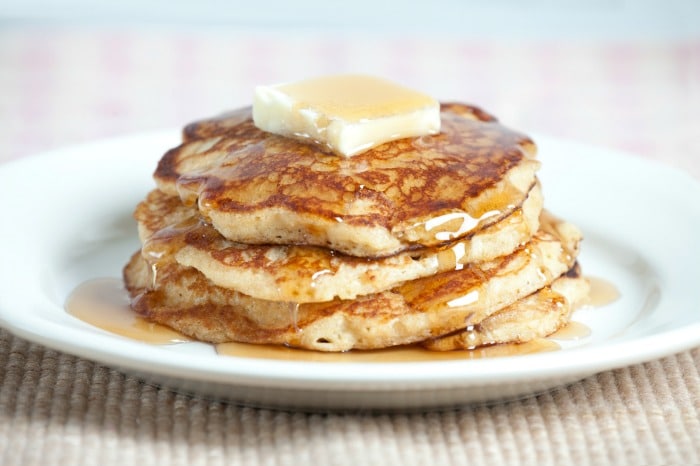 Anytime we have guests staying with us I always whip up a huge batch of whole wheat pancakes with melted butter and maple syrup. I do this on purpose. I want others to see how delicious cooking with organic, unprocessed ingredients can be and these pancakes are the perfect recipe to convert even the biggest skeptic. 
The conversation usually goes something like this:
"Wow, these are great! What did you put in them?"
"Oh, some whole wheat flour, butter, eggs, buttermilk and a few other things."
"These are made with whole wheat flour?"
"Yep."
"But I don't understand, how can they be so light and fluffy?" Exactly. So many of us have had a bad experience or two with heavy, dense, whole wheat recipes that we've given them up all together.I can understand why everyone is so shocked. These whole wheat pancakes are light and fluffy with delicious crispy edges and are opposite of the heavy whole wheat pancakes that are usually eaten when starting some new health kick. I found this recipe in
The Best Recipe
years ago and tried it with fresh whole wheat pastry flour one day and couldn't believe it actually worked. (This is the only recipe I've ever tried where I could substitute white flour for whole wheat flour 1:1, usually there is some tweaking involved.)My favorite are the crispy edges. In fact, after I took pictures today, no one was around so I happily ate my way around the edges of these. Hmmm…now what to do with the middle.
Serves: Yields 24 3-inch pancakes
Whole Wheat Buttermilk Pancakes
If there are any leftovers simply freeze them and the next morning: turn the oven to 350 degrees, place leftover pancakes on a baking dish in a single layer and pop in the oven. Warm for 10 minutes and then serve.? Adapted from The Best Recipe .
This recipe was posted before I started posting all grain-free recipes on my site. For a fantastic grain-free pancake recipe, see page 36 of my second cookbook, " The Grain-Free Family Table ".
Ingredients
3 cups sprouted whole wheat pastry flour , freshly ground preferred
1 1/2 teaspoons Celtic sea salt
1 1/2 teaspoons baking powder
3/4 teaspoon baking soda
2 1/4 cups buttermilk
3/4 cup whole milk
3 eggs, separated
6 tablespoons unsalted butter, melted
coconut oil , for frying (butter is a great substitute)
4 tablespoons unsalted butter
3/4 cup maple syrup
Instructions
Whisk together flour, salt, baking powder and baking soda in a large bowl. In a separate bowl, whisk together buttermilk, milk, and egg whites. In a small bowl whisk together egg yolks and melted butter.
Pour melted butter and yolks into milk mixture and whisk to combine. Pour this liquid mixture into flour mixture and whisk until just combined. Let mixture rest for 5 minutes.
Meanwhile heat butter and maple syrup in a small sauce pan over low heat. Heat a large sauté pan over medium high heat (I actually like to heat mine in between medium and medium-high.) Drop about a teaspoon full of coconut oil into the pan. When oil is melted, swirl the pan to coat and then place 3-4 ladle-fulls (about 1/4 cup) of batter to make 3-4 pancakes. When the bottom of the pancakes are golden brown and the surface begins to bubble, flip pancakes. Continue to cook until bottom is golden brown. Serve immediately and drizzle with butter-syrup mixture.

Tip:

If you are making pancakes for a large crowd and want to serve everyone at once then heat oven to 180 degrees, line a baking sheet with a cooking rack, and as the pancakes come off the pan place them on the cooling rack and keep warm in the oven. The cooling rack will prevent the pancakes from getting soggy.

*Soaked Option:

The night before pour flour (increase measurement to 3 1/4 cups) into a large bowl and stir in the buttermilk. Cover tightly and leave at room temperature overnight. The next day whisk together milk and egg whites in a medium bowl. In a smaller bowl combine egg yolks and butter. Pour egg yolk mixture into milk mixture and whisk. Add salt, baking powder and baking soda to soaked flour and stir to combine. Add milk/egg mixture to soaked flour mixture and whisk until just combined Let mixture rest for 5 minutes. Continue with recipe above where it says "Meanwhile heat butter..."
Note: This recipe was posted before I made the transition to all grain-free recipes on the blog. If you'd like to see a grain-free pancake recipe, CLICK HERE .
7.8.1.2
4157
https://deliciouslyorganic.net/whole-wheat-buttermilk-pancakes/
Copyright 2016 Deliciously Organic