This whole wheat pizza crust recipe has been a huge success and is a healthier alternative to pizza made with white flour.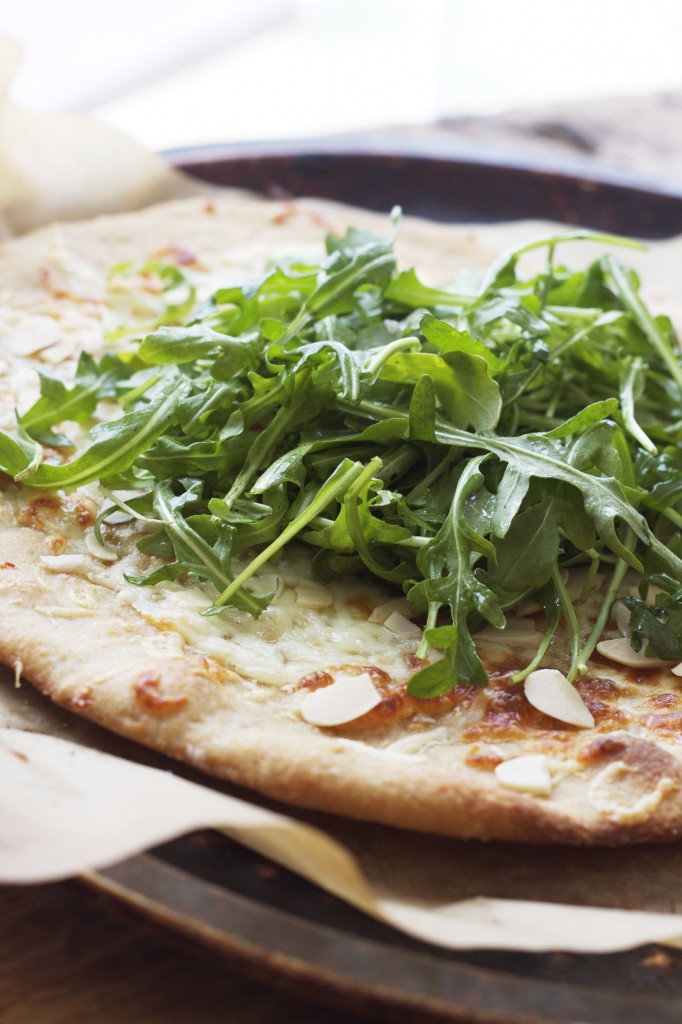 Baking with whole wheat can be tricky. When I first started, I quickly learned replacing whole wheat flour with white flour 1:1 won't bring good results. I also realized there is a huge difference between whole wheat flour and whole wheat pastry flour. Whole wheat flour is generally ground from hard white wheat. It has a higher protein and gluten count so it's best used for breads. Whole wheat pastry flour is ground from soft white wheat and has a lower protein and gluten count providing for a soft and tender crumb.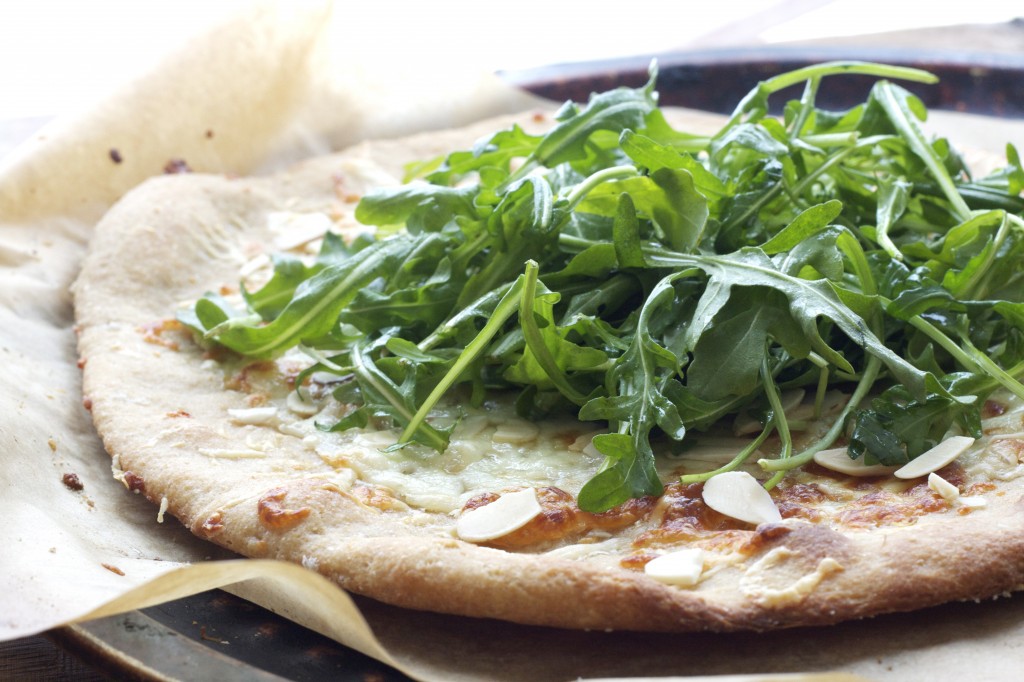 For years, I tried making whole wheat pizza crusts but always came up short. They were either too tough, too "wheaty", or flat-out unpalatable. Then I discovered Peter Reinhart's book Whole Grain Breads. What a life-saver this book is! He has a recipe for just about every kind of bread imaginable using all whole grain flours! His pizza crust is fantastic. The method he uses to prepare the dough makes it pliable, soft and easy to work with.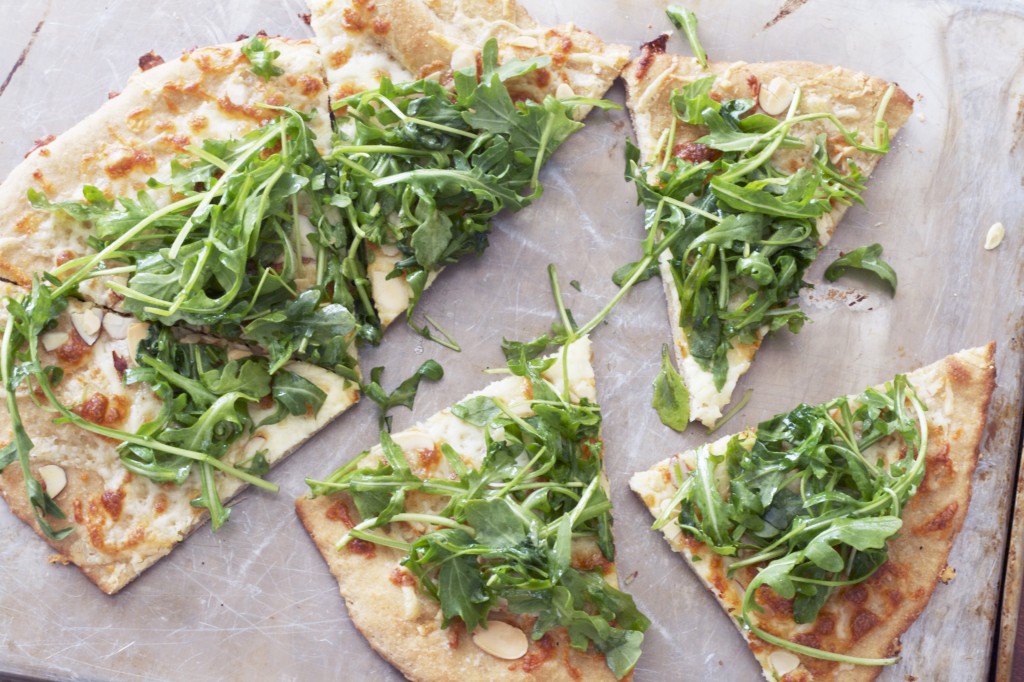 For this pizza I used three cheeses, garlic, slivered almonds, and topped it with lightly dressed arugula. A whole wheat pizza with salad on top – a whole meal in a bite.
Serves: Makes 4 12-inch pizzas
Whole Wheat Pizza Dough
This recipe requires a little forethought, but don't be intimidated. The night before, you mix a few ingredients in two different bowls. The next day, you combine these two doughs and add a few more ingredients. Let the dough rise and you're ready.
Adapted from Peter Reinhart's Whole Grain Breads .
This recipe was posted before I began posting all grain-free recipes on my site. Click here for a grain-free pizza recipe .
Ingredients
Soaker:

1 ¾ cups whole wheat flour (not pastry flour)
½ teaspoon sea salt
¾ cup plus 2 tablespoons water

Biga:

1 ¾ cups whole wheat flour (not pastry flour)
¼ teaspoon rapid-rise yeast
¾ cup plus 2 T water

Final Dough:

Biga
Soaker
7 Tablespoons whole wheat flour (not pastry flour)
5/8 tablespoon salt
1 ½ teaspoons rapid-rise yeast
2 ¼ teaspoons honey, or 1 tablespoon sugar
3 tablespoons olive oil
Extra whole wheat flour for adjustments

Toppings for Pizza shown above:

6 tablespoons olive oil, divided
garlic powder sea salt
2 cups mozzarella, grated
2 cups fontina, grated
1 cup pecorino romano, grated
1 cup slivered almonds (omit if nut-free)
4 cups arugula
1 lemon
Instructions
For Soaker:

Mix all the ingredients together in a medium bowl for about 1 minute. Cover and leave at room temperature overnight.

For Biga:

Mix all the biga ingredients together in a bowl until they form a ball of dough. Using wet hands, knead the dough for 2 minutes, the dough will feel very tacky. Let the dough rest for 5 minutes and then knead it again (with wet hands) for 1 minute. Place the dough in a clean bowl and cover tightly. Refrigerate overnight.
The next day - Remove the biga from the fridge 2 hours before mixing the final dough to take off the chill.
Place the biga on a floured surface. Pull the soaker out of its bowl and place it on top of the biga (you will stack the doughs on top of one another). Using a metal pastry scraper or knife, chop the doughs into 12 pieces. Place pieces in the bowl of a standing mixer (see below for instructions to mix by hand). Add the 7 tablespoons of whole wheat flour, salt, yeast, honey, and 2 tablespoons olive oil to the dough. Mix with the paddle attachment on slow speed for 1 minute. Switch to the dough hook and mix on medium-low speed for 2 minutes until the doughs become cohesive. Add more flour or water as needed until the dough is soft and slightly tacky.

To mix by hand:

Place the dough pieces in a large bowl. Add the 7 tablespoons of whole wheat flour, salt, yeast, honey and 2 tablespoons olive oil to the dough. Knead with wet hands for 2 minutes until all of the ingredients are incorporated. The dough should be soft and slightly tacky.
Dust a work surface with flour and roll the dough in the flour to coat. Knead the dough for 3-4 minutes, incorporating only as much flour as needed until the dough is soft and tacky. Let the dough rest for 5 minutes. Line a baking sheet with parchment paper and oil it with the remaining 1 tablespoon olive oil. Knead the dough again for 1 minute. Divide the dough into 4 pieces and form each piece into a tight ball. Roll the balls in the oil and cover pan loosely with plastic wrap or a clean dish cloth. Let dough rise for 1 hour.
Preheat the oven to 500ºF and adjust rack to middle position. Place one ball of dough on a floured work surface. Using a rolling-pin, roll out to a 12-inch diameter disk. Brush with 1 tablespoon olive oil and sprinkle with salt and garlic powder. Spread ½ cup mozzarella, ½ cup fontina, ¼ cup pecorino, and ¼ cup slivered almonds over pizza. Bake for 9 minutes, until cheese is bubbly and just golden. Repeat with remaining dough.

To serve:

Toss arugula with juice from ½ a lemon, 2 tablespoons olive oil, and a sprinkling of sea salt. (Taste and season with more salt or lemon juice if needed) Place salad on top of each pizza, cut and serve.
7.8.1.2
3201
https://deliciouslyorganic.net/whole-wheat-pizza-crust-recipe/
Copyright 2016 Deliciously Organic