Quick skillet whole wheat pizza crust – probably a phrase you never thought you'd see.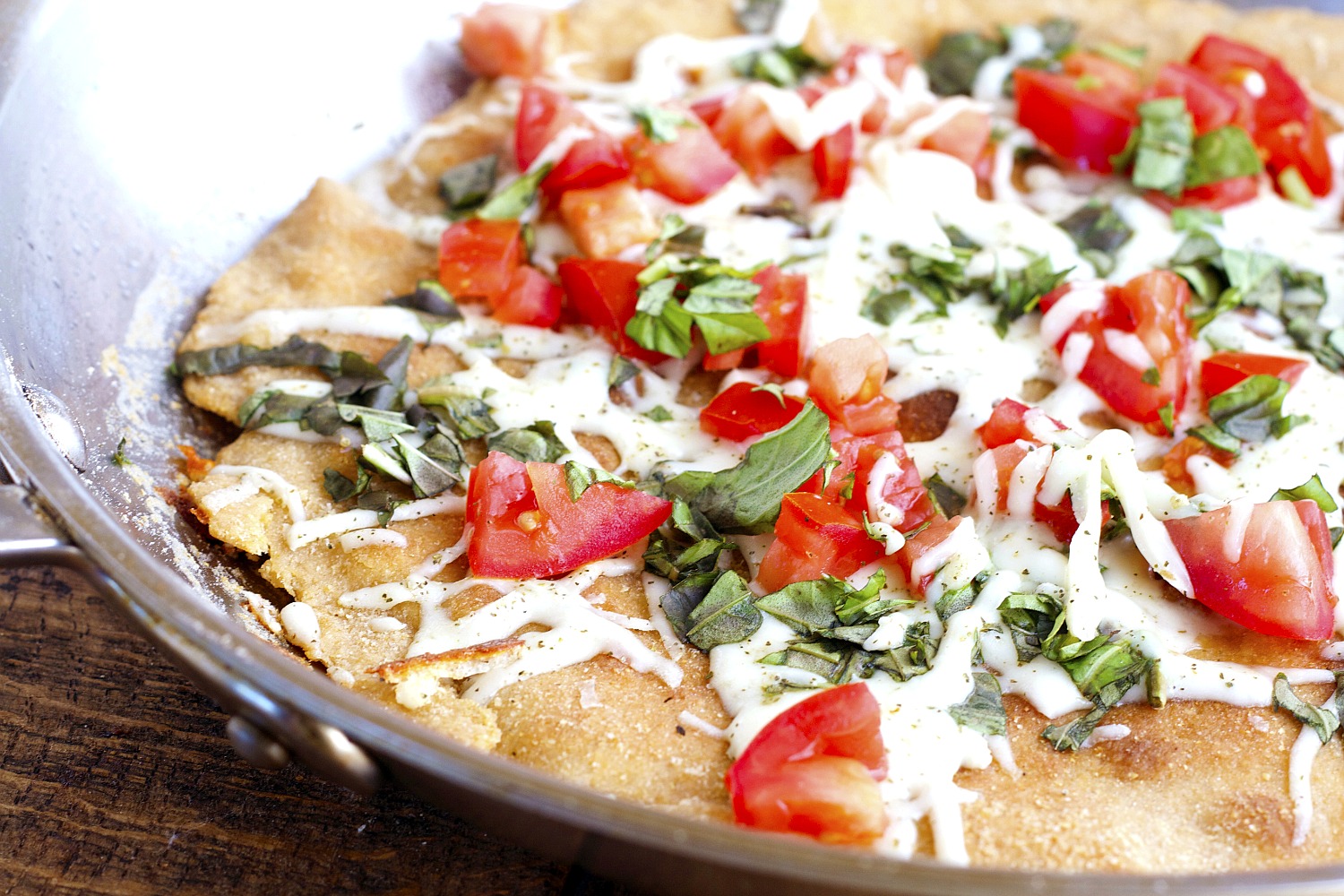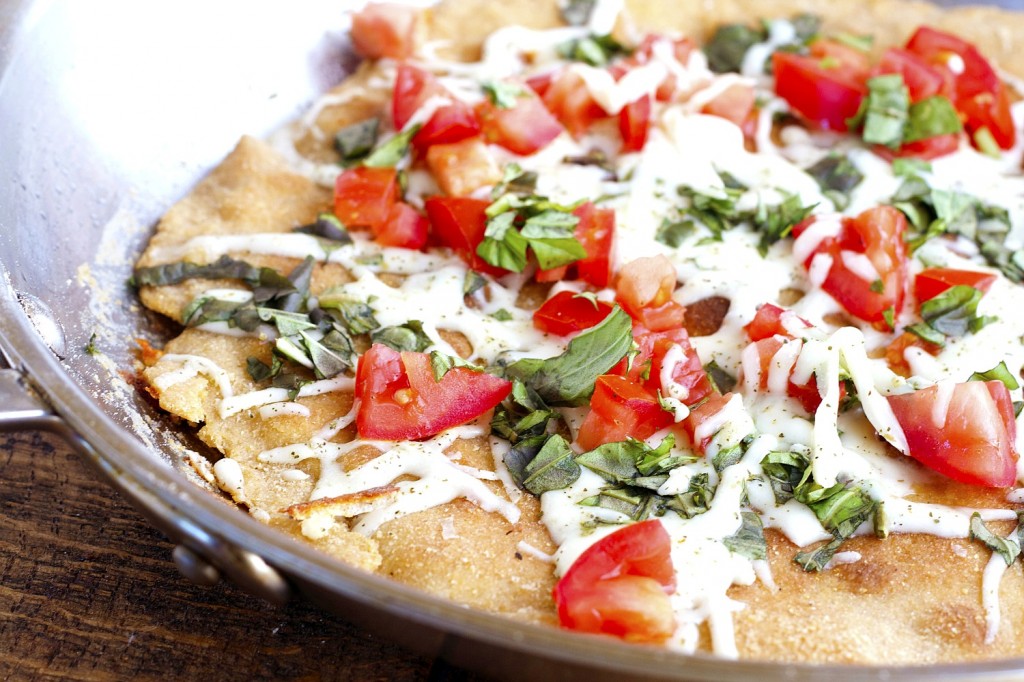 A few weeks ago, I came across a recipe from Cook's Country for a stove top pizza and thought, "Why not adapt it with whole wheat flour?" I've been searching and testing quick whole wheat pizza crusts for years now and they're all just too thick, gummy, or "wheaty" for me. But this crust. Wow. Thin – my favorite – no sitting around for hours waiting for it to rise. And it can be on the table in a mere 30 minutes.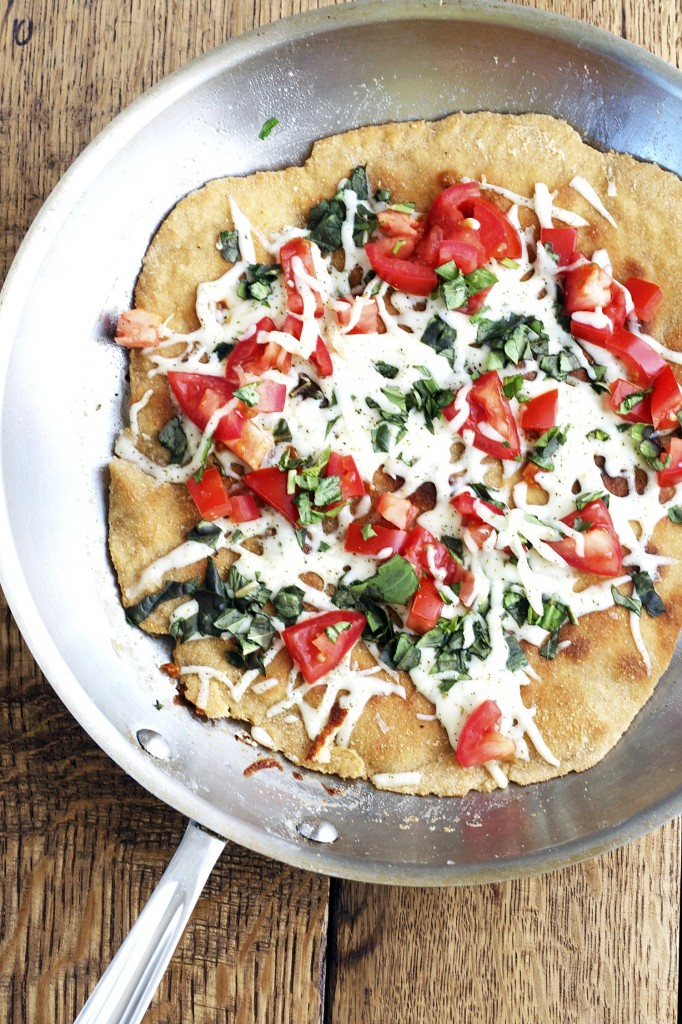 This recipe is quicker than calling the pizza guy. I never thought it would be possible. Pizza night just got a whole lot easier in my household.
Serves: Makes 2 9-inch pizzas
Quick Thin-Crust Whole Wheat Pizza
The pizza is best served right after it comes off the skillet. If it's going to be a few minutes until you serve the pizza then place pizza on a cooling rack that's set on a baking sheet (this prevents the crust from getting soft). Place in a 200ºF oven until ready to serve. And if you're in the mood for a whole wheat crust with yeast, click here for my favorite recipe .
Adapted from Cook's Country
Ingredients
For the Dough:

1 cup sprouted white whole wheat flour
3/4 teaspoon baking powder
1/2 teaspoon light honey (I used clover)
1/2 teaspoon sea salt
1/3 cup plus 2 tablespoons brown ale (I used Newcastle)
5 tablespoons extra virgin olive oil, divided

For the Toppings:

4 medium plum tomatoes, cored, peeled, and chopped
1/2 teaspoon sea salt
1/2 teaspoon dried italian seasoning
1 cup shredded mozzarella cheese
1/2 cup shredded Pecorino Romano cheese
1/2 cup fresh basil, chopped
Instructions
Place the flour, baking powder, honey, and salt in the bowl of a food processor. Pulse a few times to combine. With the processor running, slowly add the beer and 1 tablespoon oil until the dough forms into a ball, about 30 seconds. The dough should not be dry. If it is, add a teaspoon or two more of olive oil. Pour dough out of bowl and form into a ball. Wrap with parchment paper or plastic wrap and let sit at room temperature for 10 minutes.
Place the tomatoes in a bowl near the stove. Toss together the salt, italian seasoning, mozzarella, pecorino and basil together in a medium bowl.
Unwrap the dough and divide the dough in half. Place one piece of dough on a floured surface and using a rolling pin, roll dough into a 9-inch round. Heat a large skillet over medium heat for 2 minutes. Add 1 1/2 tablespoons olive oil to pan and swirl to coat. Place dough round on skillet and cook until bottom is golden brown, pricking the dough with a fork to prevent bubbles, about 3-4 minutes. Flip dough and sprinkle with half of tomatoes, and half of cheese mixture. Reduce heat to low, cover and cook for 3 minutes, until cheeses melt. Remove the lid and continue to cook until bottom is golden brown. Transfer pizza to cutting board. Wipe skillet clean and repeat with remaining dough. Serve immediately.
7.8.1.2
4208
https://deliciouslyorganic.net/quick-skillet-whole-wheat-pizza/
Copyright 2016 Deliciously Organic