We've reached the time of year when our schedules fill up and life moves at lightning speed. Over the last few years, I've tried to intentionally slow down at the beginning of the holiday season and not take things too seriously. After all, we're not celebrating stress and frustration, right? This year, I'm turning off the electronics (except for background music) and baking with the kids. I want to relish the days that can pass so swiftly.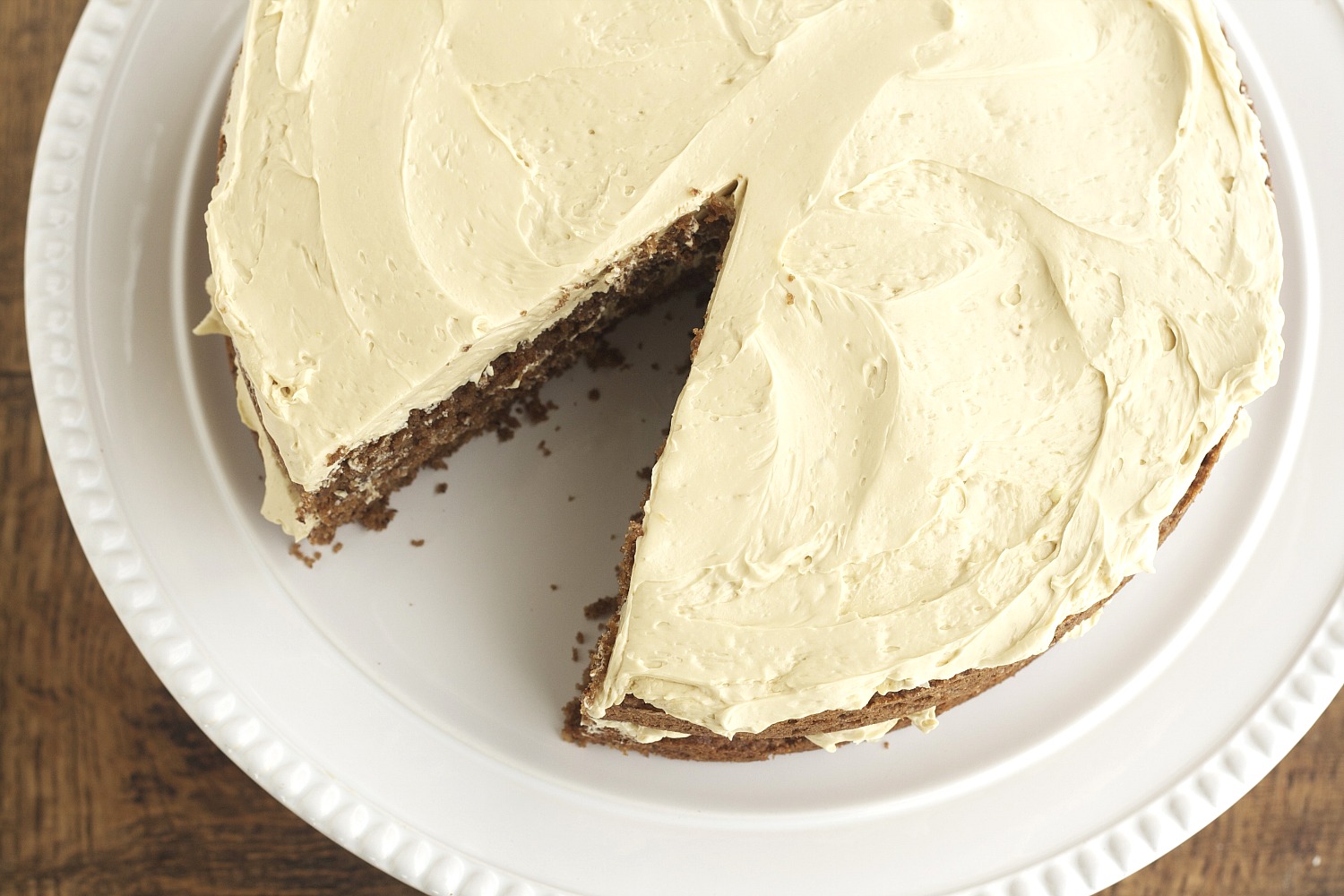 We enjoyed rain in the desert this weekend. A rainy day is a special event out here, and is usually combined with very strong winds to make things extra cold. The girls and I spent the weekend at home, baking and enjoying the sound of water pattering on the windows. We tried new recipes and got into our pajamas early, talking about our plans for the rest of the year.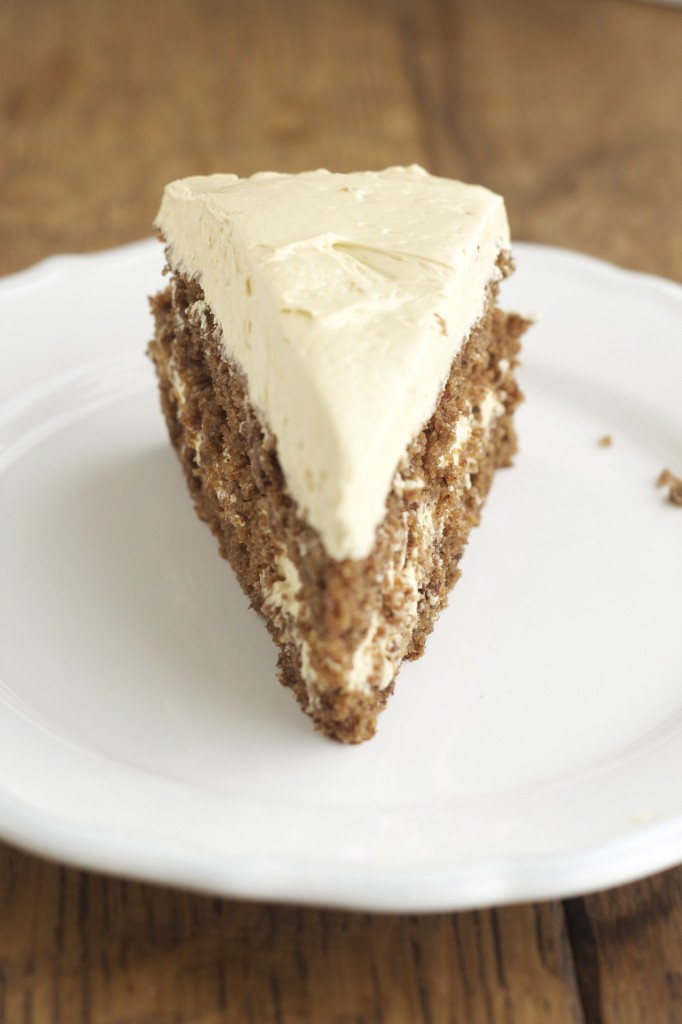 After last month's grain-free challenge, I've continued eating a grain free diet – mainly because I like it so much. I experimented with many Thanksgiving favorites this weekend (look for my Thanksgiving menus/plans in a few days). We also baked a few cakes with almond and coconut flour until we got them just right. I'm still amazed that ground almonds can be the foundation for wonderful cakes, cookies, muffins, etc. When you combine it with this rich, flavorful buttercream, it's astonishing!
When I put the first bite in my mouth I actually thought, "Apparently, you can have your cake and eat it too." Let's slow down and enjoy our holiday preparation this year, shall we?
Almond Cake with Maple Buttercream
I prefer to make my own baking powder to ensure that it's grain-free. Here's the recipe: 1 part baking soda + 1 part cream of tartar + 2 parts arrowroot. I make the baking powder in large batches and store it in a glass jar.
Ingredients
For the cake:

3 cups almond meal or flour
1/4 cup coconut flour
1/4 cup cocoa powder
3/4 teaspoon baking soda
1 teaspoon grain-free baking powder (see above)
1/2 teaspoon Celtic sea salt
2/3 cup maple syrup (I use grade B for the flavor and because it's a bit cheaper than grade A)
1/2 cup coconut oil (I used Wilderness Family Naturals )
4 large eggs
1/2 cup plain whole yogurt
1/2 teaspoon almond extract
1 teaspoon vanilla extract

For the buttercream:

4 large eggs
1/3 cup maple syrup (I prefer Grade B)
2 teaspoons vanilla extract
pinch of sea salt
1 pound unsalted butter, softened, each stick cut into tablespoons
Instructions
Preheat oven to 350ºF and adjust rack to middle position. Butter two 9-inch cake pans and dust with arrowroot (this will keep the cake from sticking).
Whisk together almond meal, coconut flour, cocoa powder, baking soda, baking powder and sea salt in a large mixing bowl. Blend together the maple syrup, coconut oil eggs, yogurt, almond extract and vanilla in a blender or food processor. Pour wet ingredients into the dry ingredients and whisk until smooth. Divide batter evenly between the two cake pans and spread evenly with an off-set spatula. Bake for 20-23 minutes, until a cake tester inserted in the middle of the cake comes out clean. Cool cakes for 10 minutes, run a knife around the edges and then remove the cakes from the pans. Cool completely.

For the Frosting:

In the bowl of a standing mixer, combine eggs, maple syrup, vanilla and pinch of salt. Set the bowl over a pot of simmering water. Whisk constantly until the mixture reaches 160 degrees, about 5 minutes. Remove from the heat. Beat egg mixture on medium-high with whisk attachment for 8 minutes until light and billowy. Reduce the speed to medium and add butter one tablespoon at a time. When all of the butter is added, turn off the mixer and scrape down the sides of the bowl (at this point the buttercream might look curdled, but don't worry, it will turn creamy). Whisk the entire mixture for 1 minute on high until light and fluffy.

To assemble:

Place one cake layer on a cake stand and top with one third of the frosting. Spread frosting evenly on the cake. Place second cake layer on top and use remaining frosting to frost the top and sides of the cake.
7.8.1.2
4424
https://deliciouslyorganic.net/almond-cake-with-maple-buttercream-grain-free/
Copyright 2016 Deliciously Organic
SaveSave