Kabobs are a great summer meal because they can be prepared quickly, you can use a variety of meats and vegetables and they make for such a colorful presentation. For this recipe, I used my Mom's tequila-lime marinade and then blended together herbs, garlic and olive oil for a vibrant sauce to go on top.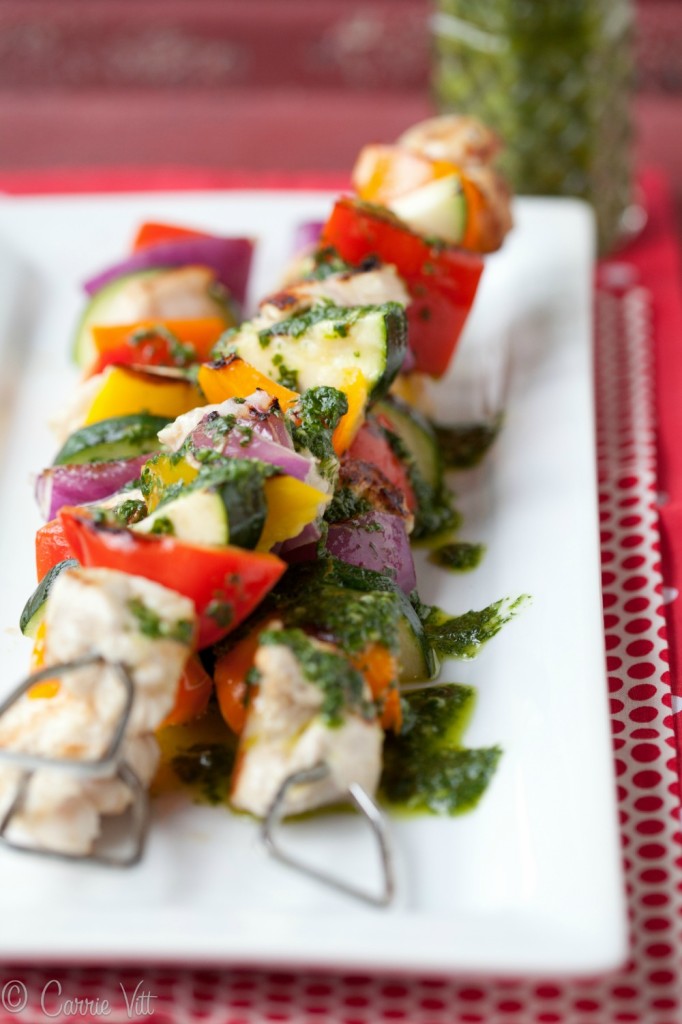 The flavors are clean and bright with juicy chicken and crunchy vegetables. You can serve this dish alone or with a big crisp salad.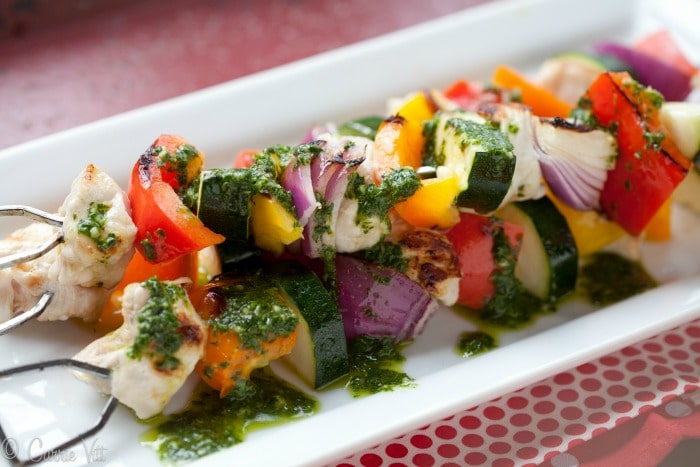 Tequila-Lime Chicken and Vegetable Kabobs (Grain-Free, Paleo)
Ingredients
For the marinade:

4 cloves garlic, minced
1/4 cup olive oil
2 tablespoons red wine vinegar
2 tablespoons tequila (optional)
Juice of 1 lime
1 pound chicken, cut into bite-size pieces (don't cut them too large or they won't cook evenly)

For the Vegetables:

2 bell peppers, cut into 2-inch pieces
1 zucchini, cut into 1/2-inch coins
1 red onion, cut into 2-inch wedges
2 tablespoons tallow, lard or ghee

For the Sauce:

2 cloves garlic
1 cup chopped cilantro
1 cup chopped parsley
1/2 teaspoon Celtic sea salt
?1/8 teaspoon red pepper flakes (optional)
Juice 1/2 lime
1/2 cup olive oil
Instructions
Whisk garlic, olive oil, red wine vinegar, tequila and lime in a small measuring cup. Place chicken in a flat baking dish (I used an 11x7 glass baking dish ) and pour marinade overtop. Let marinate for 1 hour at room temperature or you can cover and refrigerate for up to 4 hours.
Preheat the grill to medium. Thread vegetables and chicken on stainless steel skewers . Brush with tallow, lard or ghee (this prevents the vegetables from sticking and helps the outside caramelize). Grill skewers 2-3 minutes per side until vegetables are golden on the edges and chicken is cooked through.
Whisk all of the sauce ingredients together and serve with kabobs.
7.8.1.2
4263
https://deliciouslyorganic.net/chicken-vegetable-kabobs-grain-free-paleo/
Copyright 2016 Deliciously Organic