When I was a kid, each Sunday after church my family would hop into the station wagon and make our way to Highland Park Cafeteria in Dallas for lunch. I loved that place. The people were friendly and I could pick whatever I wanted from the cafeteria line (a dream for any kid!). Each week I'd race to the top of the stairs so I could take a long look at the rotating pie cabinet filled with dozens of pies. I would stand wide-eyed staring at the pies floating by and trying to decide which flavor to pick that week. Even with dozens of choices, I'd usually choose the chocolate pudding pie. A simple buttery crust, thick chocolate pudding and a mound of sweetened whipped cream.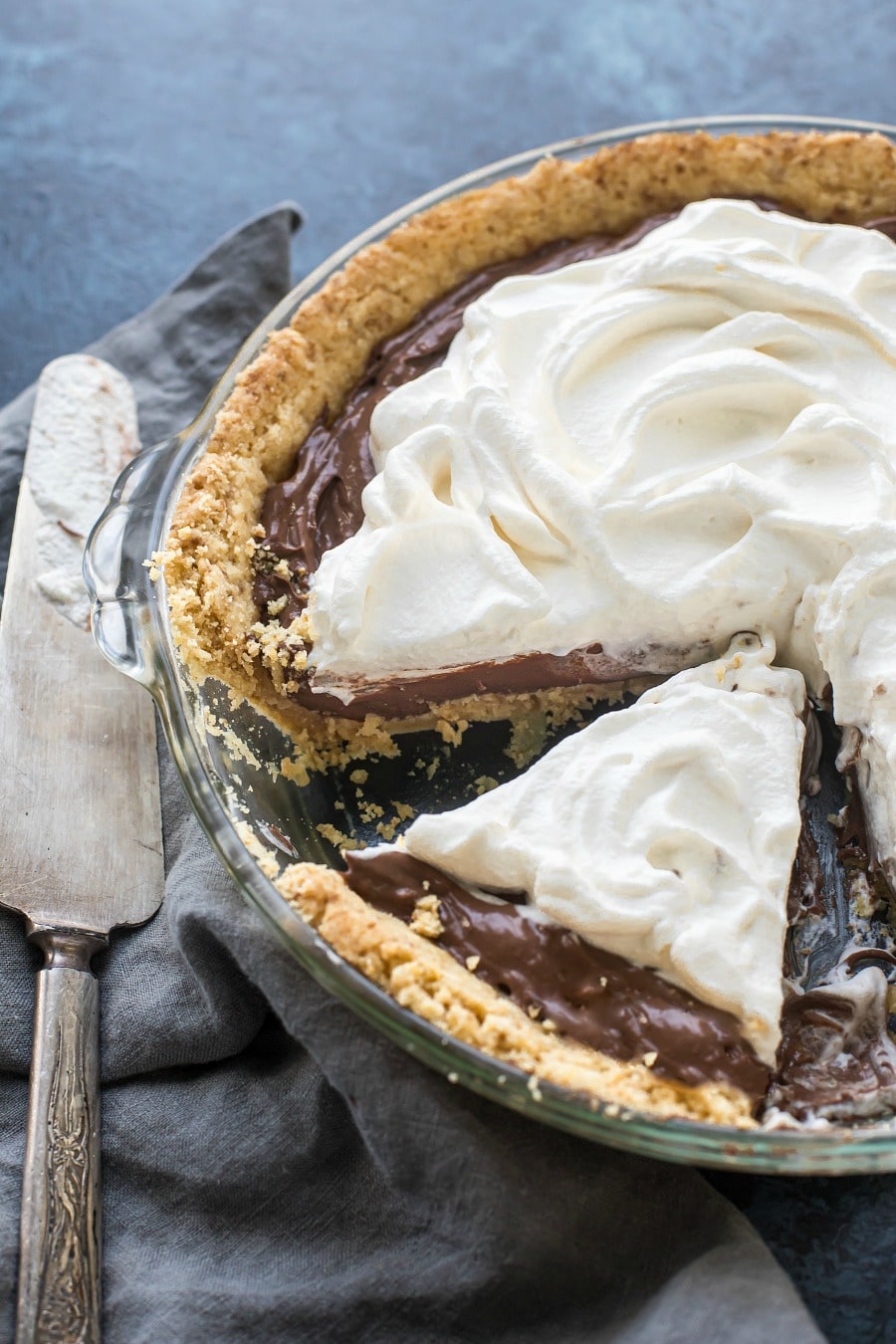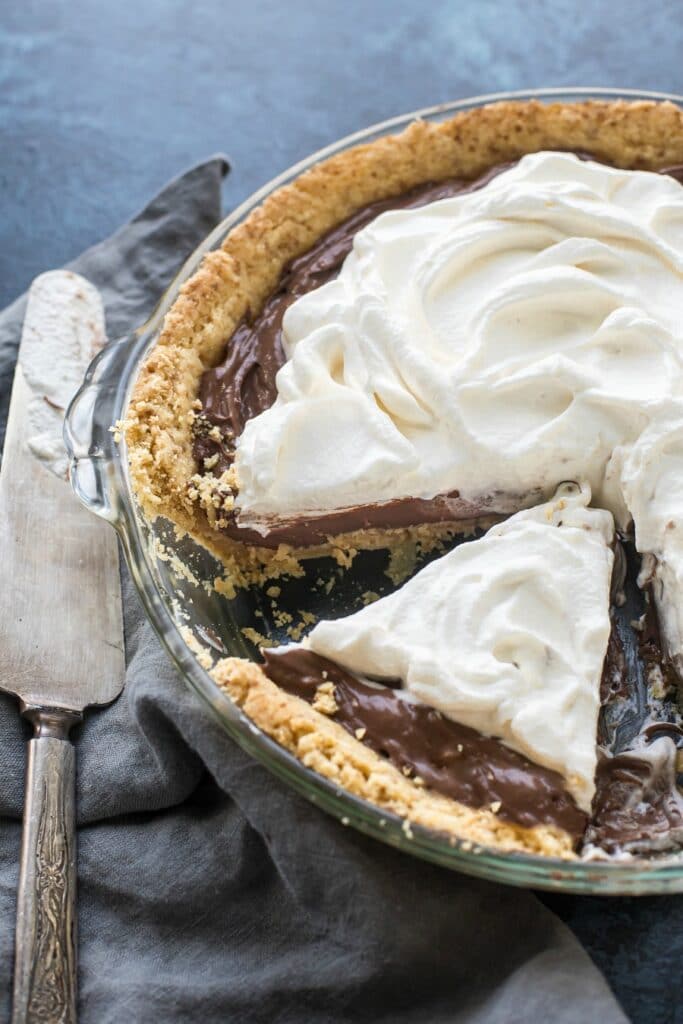 Chocolate pudding pie is a classic dessert that is always a crowd-pleaser. It's a great dessert to round-out a dinner party or b-b-que in the summertime.
In this recipe, I use a grain-free crust and a homemade chocolate pudding that is super thick and creamy. And if you don't want to turn on your oven, you can skip the crust and make parfaits with the thick, chocolate pudding, homemade whipped cream and a few berries.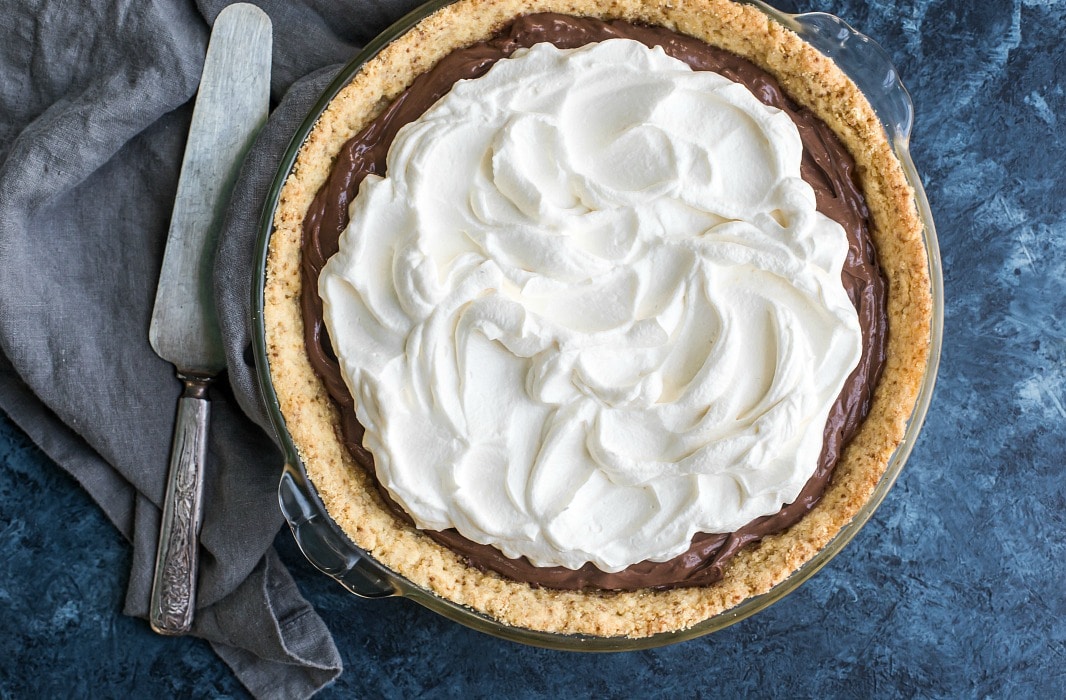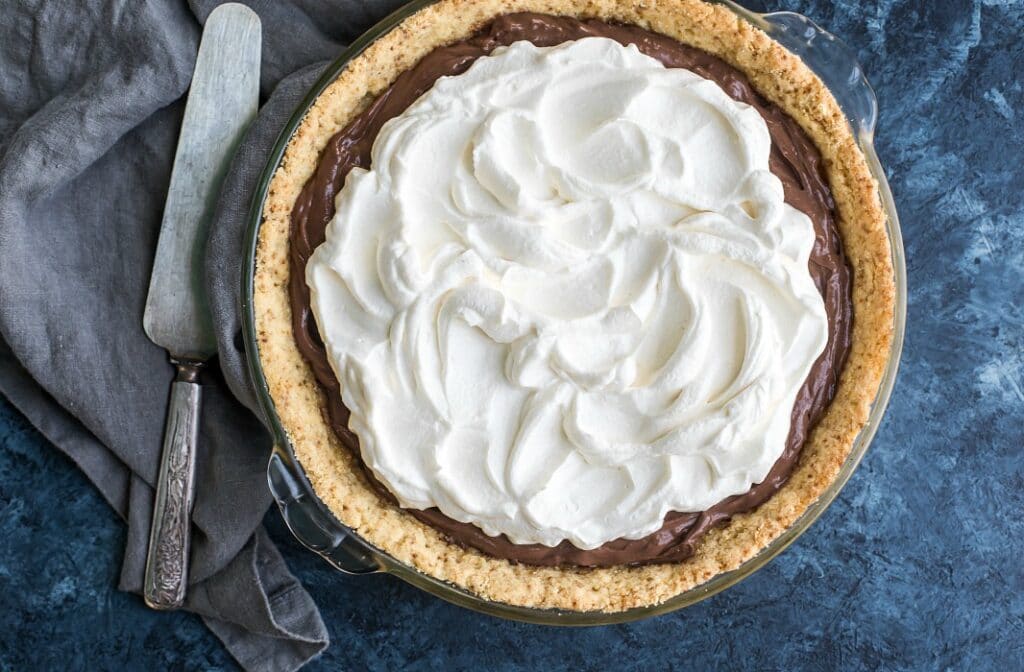 Print
Chocolate Pudding Pie (Grain-Free, Paleo)
Author: Carrie Vitt
Prep Time:

25 minutes

Cook Time:

22 minutes

Total Time:

5 hours 17 minutes

Category:

Dessert

Diet:

Gluten Free
For the Crust:
For the Pudding:
For the Whipped Cream:
Instructions
Place almond flour, coconut flour, salt, gelatin and sugar in the bowl of a food processor. Pulse 2-3 times to combine. Add egg yolk and butter and pulse 10 times until mixture begins to clump. Continue to process until mixture forms a dough. Place dough on a large piece of plastic wrap. Form the dough into a 9-inch disk, wrap and place in the refrigerator for 30 minutes.
Preheat oven to 350ºF and adjust rack to the middle position. Remove the dough from the plastic wrap and place in a buttered 9-inch glass pie dish. Press dough into the pie plate, making sure to come up the sides of the plate. Place a piece of unbleached parchment paper on top of the crust and cover with some beans or pie weights. Bake for 11 minutes then move the parchment paper and pie weights. Bake for an additional 11 minutes until the crust is just golden brown. Cool.
Whisk arrowroot, sugar, cocoa powder and sea salt in a medium saucepan. Whisk in milk. Bring mixture to a boil over medium heat, while whisking constantly, about 5 minutes. When mixture comes to a boil, continue to whisk and cook for 2 minutes until the mixture becomes a thick pudding. Remove from the heat and pour in the chocolate and vanilla. Stir until the chocolate is completely melted. Pour the pudding into the baked pie crust and top with a piece of unbleached parchment paper (this prevents the pudding from forming a skin). Refrigerate for 4 hours.
Pour cream and maple syrup in the bowl of a standing mixer. Whisk on medium-high until soft peaks form, about 2 minutes. Spoon whipped cream on top of the chocolate pudding. Serve cold.
Keywords: chocolate pudding pie
Photo Credit: Becky Winkler