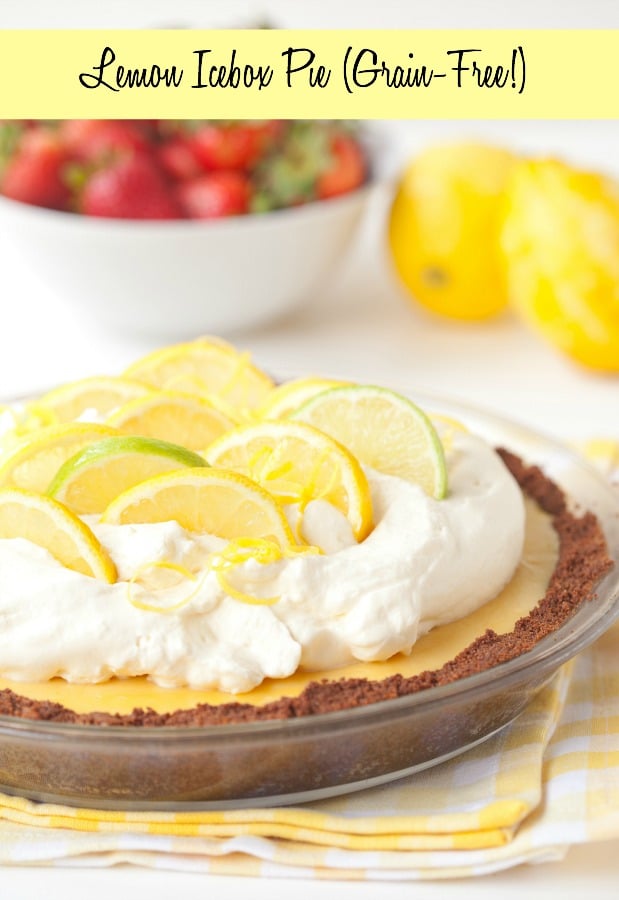 Lemon Icebox Pie really packs in the flavor for a simple southern staple. The filling has just four ingredients and bursts with the freshness of lemons while sitting atop a delicious graham cracker crust. My Grandma made this pie each time we visited my grandparents in Louisiana when I was a kid. It brings back memories of long summer days, playing outside with my cousins, and big family dinners.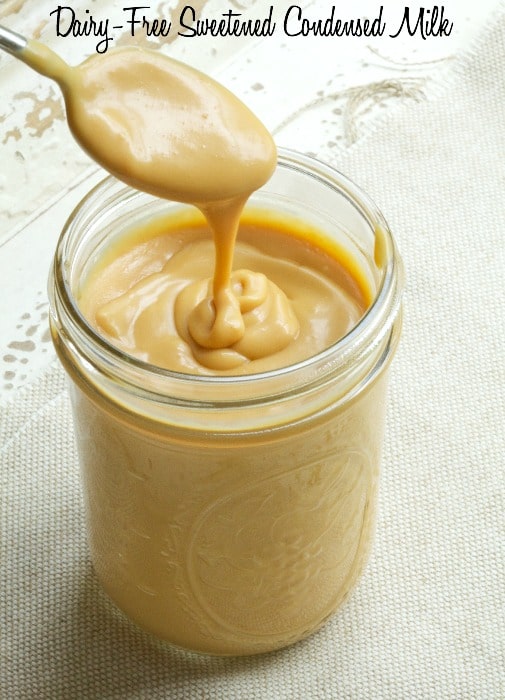 If you'd like to take a shortcut, you can purchase some organic condensed milk, but the canned version is processed and honestly, it's really very easy to make homemade sweetened condensed milk at home. It's just a matter of putting a few ingredients in a saucepan and letting them simmer for a while. You'll find my Homemade Dairy-Free Sweetened Condensed Milk recipe on page 275 of The Grain-Free Family Table.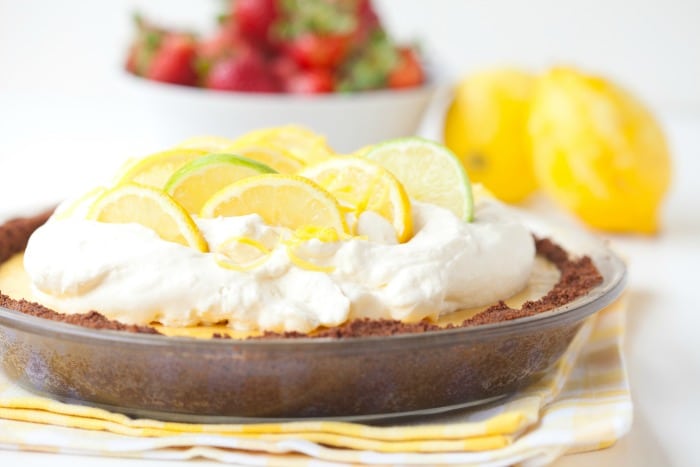 Here are some more summertime pies you might enjoy!
Grain-Free Apple Pie
Chocolate Pudding Pie
Lemon Meringue Ice Cream Pie 

Lemon Icebox Pie
Here's a little tip – the more orange the egg yolks are, the more yellow the pie filling will be. I used pastured, organic egg yolks in the filling and that's what makes it so yellow. Isn't that fun?! I'm giving both dairy and dairy-free options in this recipe. You can choose which option you prefer.
Serves 8
For the crust:
1/2 recipe of homemade graham crackers
4 tablespoons coconut oil, melted
For the Filling:
14 ounces sweetened condensed milk or for a Paleo/Dairy-Free option – 1 recipe of dairy-free sweetened condensed milk
1 teaspoon fresh lemon zest
1/2 cup fresh lemon juice
3 pastured egg yolks
For the Whipped Cream:
1 cup heavy cream or coconut cream, whipped
Preheat the oven to 350 degrees F and adjust the rack to the middle position. Oil a 9-inch pie plate. Place the graham crackers in the bowl of a food processor and process until finely ground. Add the coconut oil and process until the crumbs are damp. Press the crust on the bottom and up the sides of the pie plate. Bake for 11 minutes.
Whisk the condensed milk, lemon zest, lemon juice and egg yolks until the mixture begins to thicken. Pour the filling into the baked crust and bake for 8 minutes, (the pie filling shouldn't jiggle in the middle when you gently shake it). Cool completely, cover with plastic wrap or parchment paper and chill in the refrigerator for 3 hours. Top with whipped cream before serving. Serve cold.
Note: I only test the recipes on my site with the listed ingredients and measurements. If you would like to try a substitution, you are welcome to share what you used and how it turned out in the comments below. Thanks!
Posts may contain affiliate links. If you purchase a product through an affiliate link, your costs will be the same but Deliciously Organic will receive a small commission. This helps cover some of the costs for this site. We appreciate your support!