Roast leg of lamb is a simple spring classic main dish that's perfect for Easter. I don't like to make a big fuss when preparing meat, so I simply marinate the meat for an hour, place it on a roasting pan along with Yukon potatoes and onions and roast until medium-rare.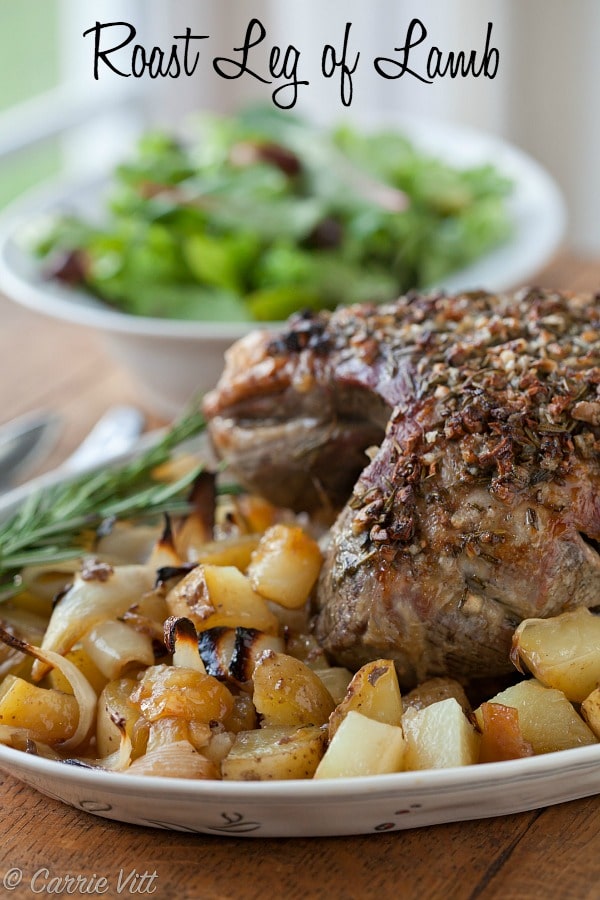 If you add a salad and maybe a nice chocolate pie, this Easter dinner won't take too much prep, leaving you more time to relax and enjoy your loved ones.

Roast Leg of Lamb with Potatoes and Onions
I chose palm shortening instead of olive oil because olive oil can oxidize at higher heats. Palm shortening is flavorless and is a healthy fat rich in omega-3 fatty acids. Serves 6
For the Lamb:
1 (5-6 pound) boneless leg of lamb
6 cloves garlic
1/4 cup chopped rosemary
1 tablespoon Celtic sea salt
1 teaspoon Freshly ground black pepper
2 tablespoons palm shortening
For the vegetables:
6 large Yukon potatoes, cut into 1-inch pieces
1 large yellow onion, cut into wedges
1 tablespoon palm shortening
1 teaspoon Celtic sea salt
Set lamb in a large roasting dish. Combine garlic, rosemary, salt, pepper and palm shortening in a small bowl. Using your hands, thoroughly coat the garlic mixture all over the meat. Let the roast sit for 1 hour (this will marinate the meat a bit and also bring it to room temperature to ensure even cooking).
Preheat the oven to 400 degrees F. Adjust the rack to the middle position. Place the potatoes, onion, palm shortening and salt in a large bowl and toss until incorporated. Pour the potato mixture around the lamb in the roasting pan. Roast for about 1 1/4 hours for medium rare, or 1 1/2 hours for medium, or or or until the internal temperature of the lamb is 135 degrees – rare, or 145 degrees – medium (I prefer medium-rare). Remove from the oven and put the lamb on a platter; cover tightly with aluminum foil. Allow the lamb to rest for about 20 minutes. If the potatoes aren't golden brown yet, you can put them back in the oven and roast until to your liking, or you can turn the oven off and keep them warm until the lamb is ready to serve. Slice the lamb and serve with potatoes and onion.
Note: I only test the recipes on my site with the listed ingredients and measurements. If you would like to try a substitution, you are welcome to share what you used and how it turned out in the comments below. Thanks!
Posts may contain affiliate links. If you purchase a product through an affiliate link, your costs will be the same but Deliciously Organic will receive a small commission. This helps cover some of the costs for this site. We appreciate your support!