Honey mustard chicken salad is a quick meal that is great for the warmer months!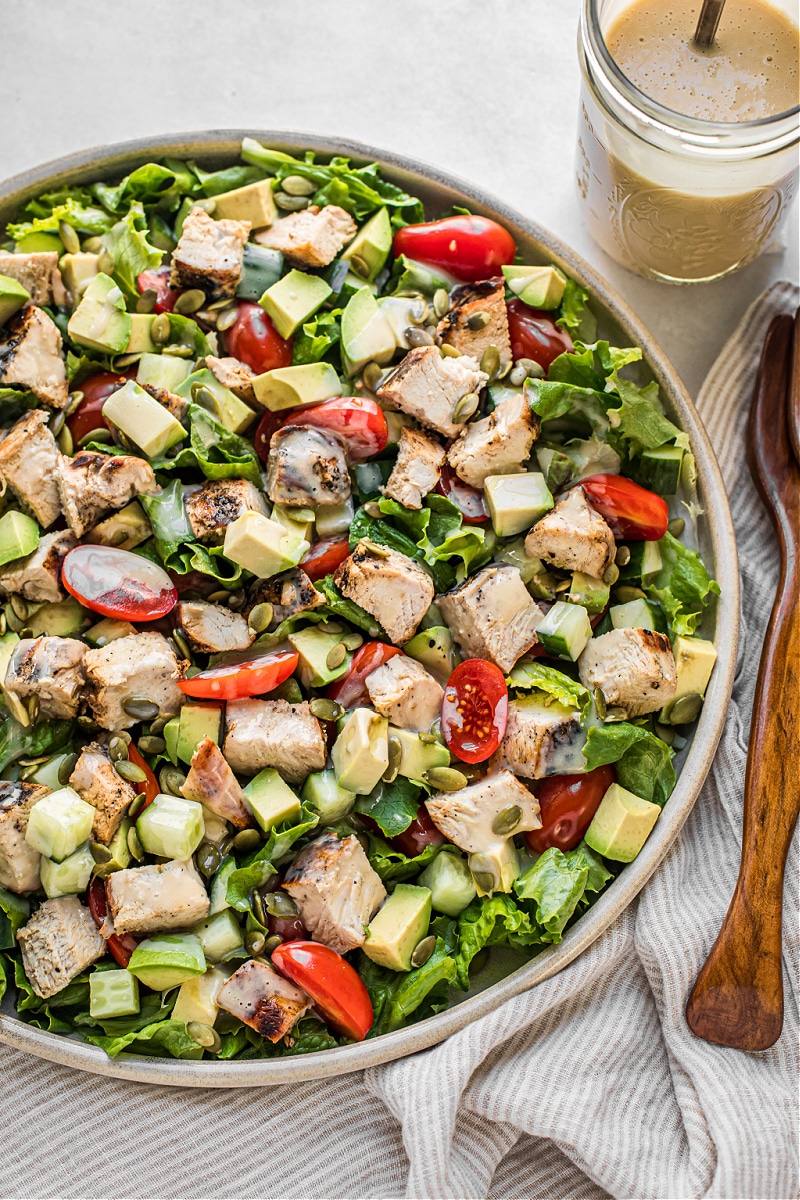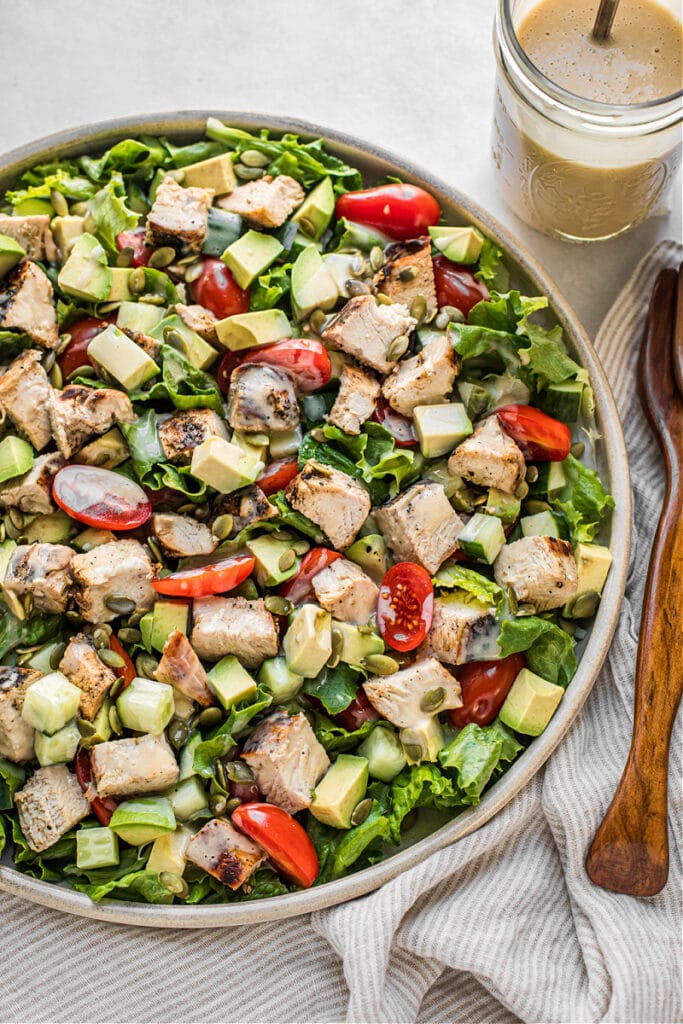 Eating lots of raw, dark leafy greens in salad has become very popular, but it's important to understand that when you're eating to support your thyroid, there are certain raw vegetables that are best to avoid.
Goitrogenic and cruciferous vegetables can inhibit the thyroid's ability to use iodine. Your thyroid has to have iodine to make thyroid hormones, so eating foods that slow down or block this process isn't a good idea and can contribute to hypothyroidism, goiter, cysts or nodules. 
The good news is that cooking reduces the goitrogens, so while it's a good idea to avoid eating them raw, you can still enjoy them cooked! Boiling is the best way to reduce the goitrogens, and steaming is second-best.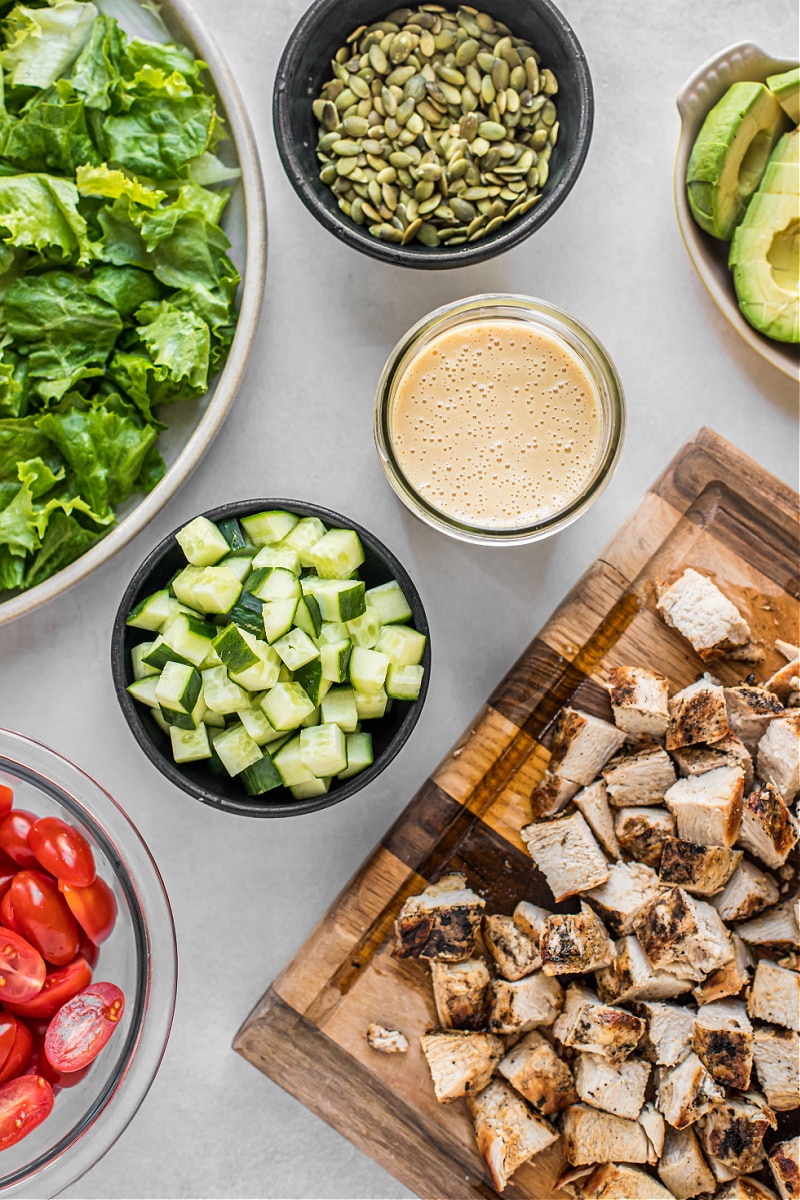 Here is a quick list of raw goitrogenic and cruciferous vegetables to avoid (and only eat cooked):
Kale
Mustard greens 
Broccoli
Brussels sprouts
Cauliflower
Bok choy
Cabbage
Rutabaga
Turnips
Here are the greens I recommend using for salads:
Butter lettuce
Romaine lettuce
Green leaf lettuce
Red leaf lettuce
Iceberg
Little gems lettuce
Batavia lettuce
For further reading on the topic of goitrogens, this article written by Chris Masterjohn, PhD, is a great resource.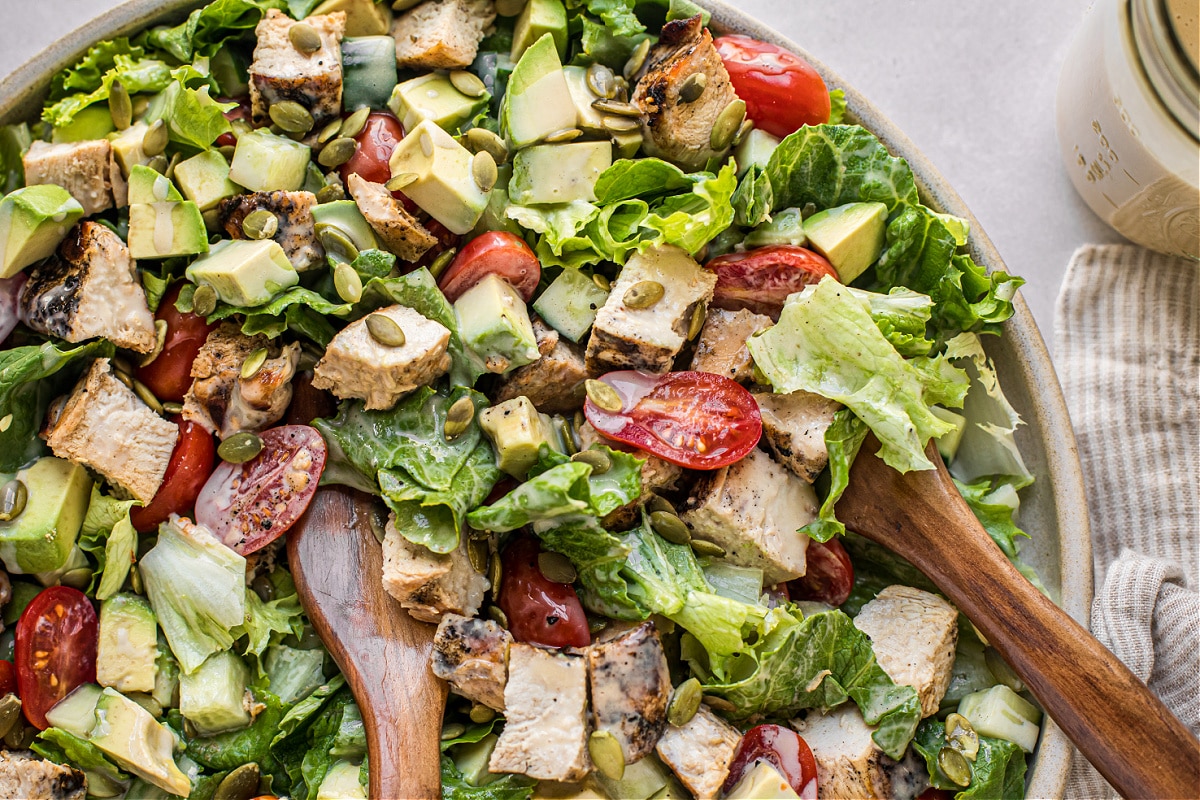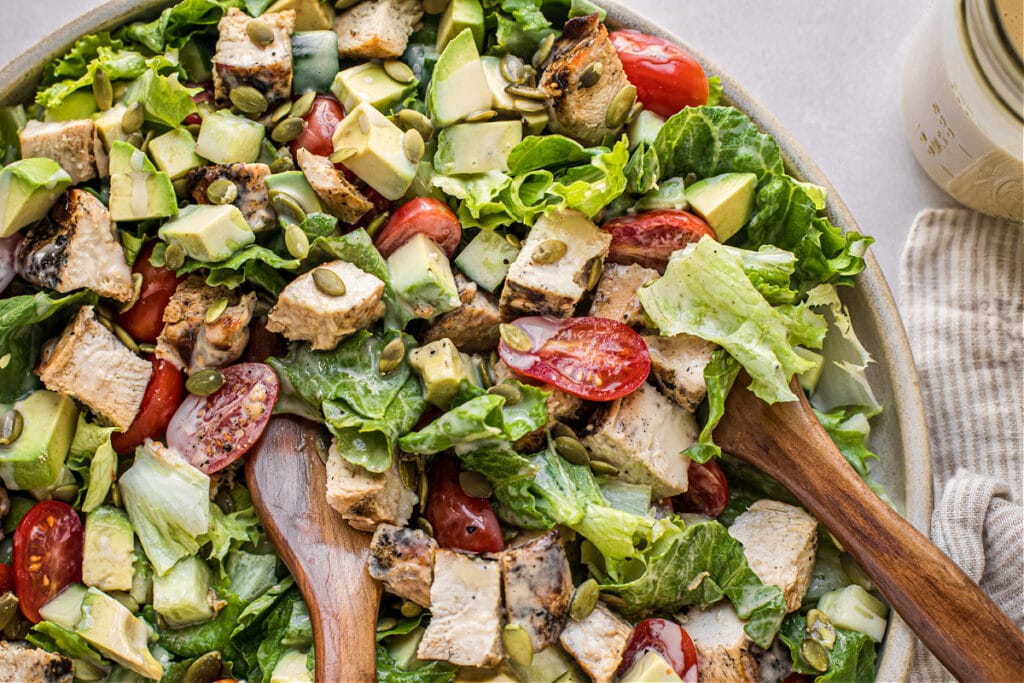 The honey mustard dressing can be put together quickly, and I like to keep it in a mason jar throughout the week for a quick dressing or to dip raw vegetables like carrots or celery.
This salad would also taste great with steak or shrimp swapped out for the chicken, or other seeds or vegetables sprinkled on top!
Print
Honey Mustard Chicken Salad
Prep Time:

1 hour 20 minutes

Cook Time:

10 minutes

Total Time:

1 hour 30 minutes
For the marinade:
4

chicken breasts

1/4 cup

fresh lemon juice

1/4 cup

extra virgin olive oil

3

cloves garlic, minced

1 teaspoon

Celtic Sea Salt
For the honey-mustard:
1 cup

mayonnaise (I used Sir Kensington's) – or use egg-free mayo for egg-free option

3 tablespoons

olive oil

3 tablespoons

raw honey (I used really raw honey)

3 tablespoons

Dijon mustard

1 tablespoon

raw apple cider vinegar
For the salad:
1

head red or green leaf lettuce, washed, patted dry and torn into bite-size pieces

1 pint

cherry tomatoes, cut in half lengthwise

2

avocados, cut into bite-size pieces

1/2

English cucumber, cut into bite-size pieces

1/4 cup

pumpkin seeds (soaked and dehydrated or sprouted preferred)
Instructions
Place the chicken in a large baking dish. Whisk together the lemon juice, olive oil, garli,c and sea salt and then pour over the chicken. Marinate at room temperature for 1 hour.
Heat grill pan over medium heat for 2 minutes. Grill the chicken until cooked through. You can also grill on an outdoor grill. Cool for 10 minutes and then cut into bite-size pieces.
Place the mayo, olive oil, honey, Dijon, and apple cider vinegar in a blender and blend until smooth. The dressing makes more than needed for just one salad, so store the leftovers in a Mason jar in the fridge. You can use it for other salads or as a dip for vegetables or chicken nuggets.
Place the lettuce, cherry, tomatoes, avocado, cucumber, pumpkin seeds, and chicken in a large salad bowl and dress with the honey-mustard dressing.