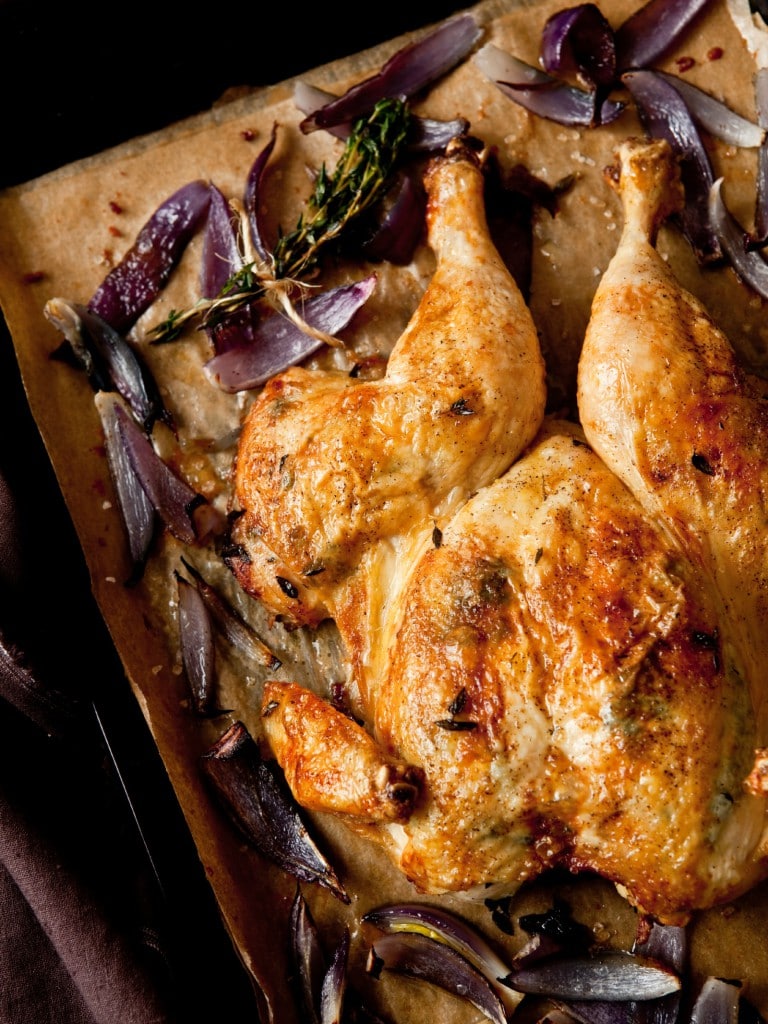 Roast Chicken is my "I don't want to cook" meal. It's fast and requires very little hands-on preparation. I butterfly it, brush it with ghee, add some onions and another vegetable or two, season with salt and pepper, put it in the oven and walk away. About one hour later I have a beautiful chicken with roasted vegetables.
If you've never roasted red onions, you're in for a treat. The high heat brings out the sweetness of the onion and the kids are usually fighting over who gets the last bits out of the pan. I've made this multiple times for company – two chickens, onions, and a big salad. Throw in some fudgy chocolate tarts, and maybe a glass of wine, and you're done!
We usually have some chicken left over for lunch the next day and then I use the bones for homemade chicken stock. Even in the heat of summer, I don't mind turning the oven on, because I'm not standing over it to cook. Turn it on, pop in the food, and walk away. Welcome to delicious, organic "fast-food".
Butterflied Roast Chicken with Red Onions
This is a variation of a recipe from my cookbook, Deliciously Organic . Other vegetables that you can use are: zucchini, cauliflower, squash, bell pepper, etc.
Photo credit: Helene Dujardin - Used with Permission.
Ingredients
For the Chicken:

1 (4-5 pound) chicken, butterflied
4 tablespoons ghee , at room temperature
2-3 tablespoons fresh thyme
1 1/2 teaspoons Celtic sea salt, divided
1/4 teaspoon freshly ground black pepper

For the Onions:

2 large red onions, cut into wedges
1 tablespoon ghee, melted
Instructions
Preheat oven to 450°F and adjust oven rack to medium position.
Pat chicken with a dry cloth to make sure the skin is dry. Stir together softened ghee (clarified butter) , thyme, and 1 teaspoon sea salt in a small bowl. Gently lift the skin and rub herbed butter under the skin of breasts, thighs, and legs. Season the entire chicken generously with sea salt and pepper.
Place chicken in roasting pan. Toss red onion wedges, melted ghee, remaining 1/2 teaspoon of sea salt, and pepper in a medium bowl. Pour onions around chicken in roasting pan. Roast chicken for 30 minutes and then rotate pan 180 degrees. Continue to roast, about 25 minutes, until crisp and golden brown, and when a thermometer reaches 160°F when inserted in the thickest part of the breast. Remove from the oven and before serving, let the chicken rest for about 15 minutes to allow juices to redistribute.
7.8.1.2
3153
https://deliciouslyorganic.net/roast-chicken-recipe/
Copyright 2016 Deliciously Organic