A warm bowl of Banana Bread Oatmeal is just about as comforting as it gets in the fall. First though, are you thinking, "Hang on. Why are you posting a recipe with grains?"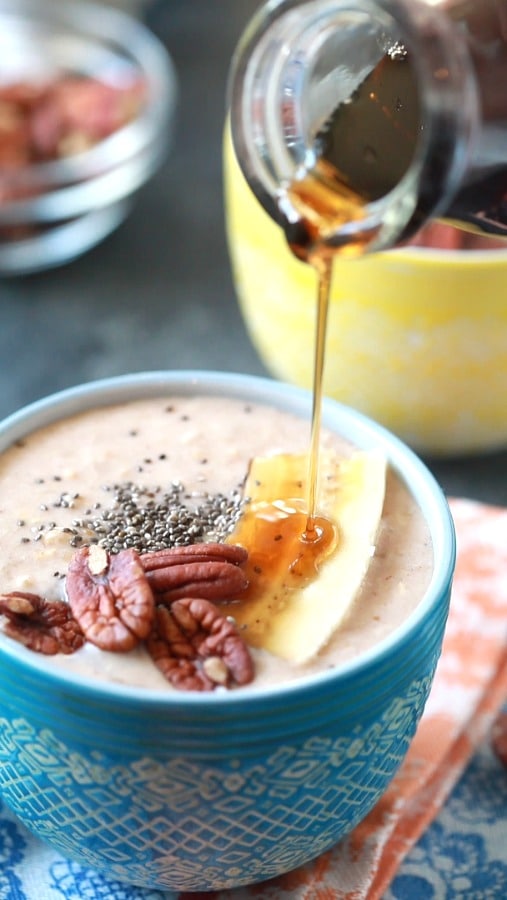 While reducing our carbohydrate intake helps reduce inflammation in the body, I've never been on the super low-carb diet train. In fact, I'm often questioned and criticized because I have recipes on my blog and cookbook using soaked legumes and starchy vegetables. I personally never gave up these starchy, grain-free foods because a super low-carb diet for too long can actually throw off the delicate balance of the endocrine system and in turn, leave your thyroid working at too slow of a pace.
As I mentioned in my cookbook, I don't think we need to eat grain-free for our whole lives. After you've taken the steps to heal your gut and reduce your symptoms, adding properly prepared grains back into the diet can be a great step, especially if you're dealing with adrenal issues.
It is very important to make sure you soak any grains you add back into your diet. Soaking oatmeal overnight reduces the nutrient inhibitors and makes it easy for the body to digest. If you'd like to read more about the importance of soaking grains, click here .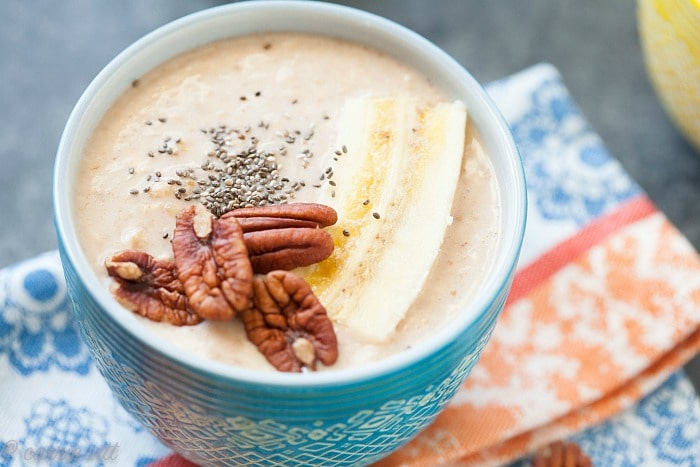 You can serve this banana bread oatmeal cold, but it really does taste lovely warmed with some toppings like toasted pecans, chia seeds, maple syrup, or raw cream. I haven't tried it yet, but I think you could even switch out the banana for pumpkin, add some ground clove and allspice and have yourself a warm bowl of pumpkin spice oatmeal. How nice does that sound?!
Print
Overnight Banana Bread Oatmeal Recipe
Author: Carrie Vitt
Prep Time:

10 minutes

Cook Time:

5 minutes

Total Time:

15 minutes
For the oatmeal:
Toppings:
Sliced banana
Chia seeds
Maple syrup
Raw cream or coconut cream
Ground Flaxseed
Unsweetened, flaked coconut
Instructions
Place the bananas in a medium-size mixing bowl and mash with the back of a fork. Stir in the oats, milk, yogurt, cinnamon, salt and vanilla. Cover and leave on the countertop overnight. In the morning, pour the mixture into a medium saucepan and heat over low until warm. Serve with toppings of your choice.