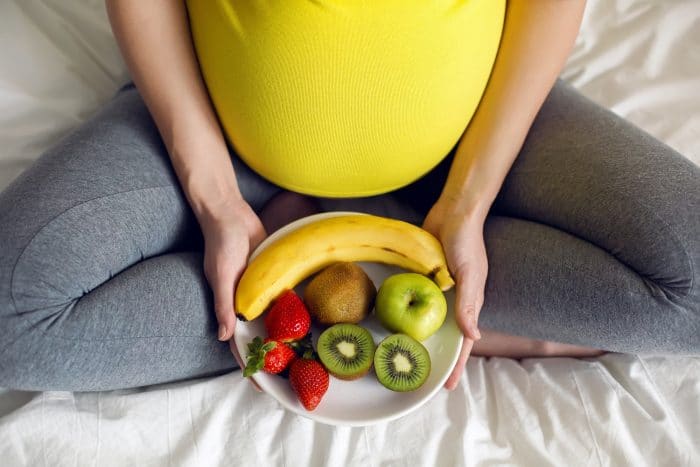 Ever since I met Genevieve Howland, aka Mama Natural, at a Weston A. Price conference, I knew we were kindred spirits. As fate would have it, she ended up moving close to where I live in Florida and we actually meet for lunch every week or so.
She's got an amazing free pregnancy week-by-week series from a natural perspective. She also has an online natural childbirth course.
Now Genevieve is taking her mission to the next level with a beautiful new book that is out this week, The Mama Natural Week-By-Week Guide to Pregnancy & Childbirth. Today, she's sharing some thoughts on eating during childbirth and good snacks laboring moms can munch on.
---
There's a long-held consensus in the medical world that women shouldn't be allowed to eat or drink caloric liquids—at all—during labor.
Why's that?
Because back in the 1940s, when C-sections were typically performed under general anesthesia, concerns emerged about the dangers of aspiration. That is, inhaling food or fluid into the lungs while unconscious.
Clearly, it's not the 1940s anymore, but there are still hospitals that have policies that don't allow women in labor to eat or drink.
Crazy, right?
These days, the threat of aspiration during delivery is almost nonexistent, thanks to advancements in anesthesia, and several organizations, including the American Society of Anesthesiologists (ASA), have since argued that restricting food is both unnecessary and unwarranted. According to the American Society of Anesthesiology's Closed Claims Project database, there was only one case of aspiration during labor and delivery between 2005 and 2013, and zero cases between 2000 and 2005.
In fact, the ASA came out with a statement saying most healthy women would benefit from light meal during labor.
Obstetrics & Gynecology further analyzed food intake during labor, looking at the pros and cons involved. They conducted a variety of trials among 3,982 women in labor and concluded…
"Women with low-risk singleton pregnancies who were allowed to eat more freely during labor had a shorter duration of labor. A policy of less-restrictive food intake during labor did not influence other obstetric or neonatal outcomes nor did it increase the incidence of vomiting. Operative delivery rates were similar."
You'd think this would be great news for laboring mamas since giving birth is hard work! However, in many hospitals across the U.S., policy hasn't caught up with the times and moms are still not allowed to eat or drink during labor, especially if they've had an epidural (which is up to 80% of women!).
Why should women in labor eat, anyway?
Researchers suggest that the energy and caloric demands of laboring women are similar to those of marathon runners.
Without adequate nutrition, women's bodies will begin to use fat as an energy source, increasing acidity of the blood in the mother and infant, potentially reducing uterine contractions and leading to longer labor and lower health scores in newborns. Additionally, studies suggest that fasting can cause emotional stress, potentially moving blood away from the uterus and placenta, lengthening labor and contributing to distress of the baby.
I went nearly nine hours without food and drink the first time around, and I'll never forget the surge of energy I got when my doula finally gave me some apple juice.
Just to reiterate, based on research from 385 studies published in 1990 that focused on hospital births, without proper nutrition, laboring women could face:
Reduced uterine contractions and longer labor
Lower health scores in newborns
Emotional stress
Fetal distress
Which mamas shouldn't eat during labor?
There are some instances when it's best not to eat or drink during labor. If you have high-risk conditions like eclampsia, preeclampsia or obesity, your risk of aspiration outweighs the risks of withholding nutrition according to studies.
What's a mama to do?
The best course of action is to discuss eating during labor with your midwife or doctor well in advance of the big day. (Put it on your birth plan too!)
Here's the good news: most midwives actually support eating a bit of (light, easily digestible) food during labor. So if you can give birth with a midwife at a birth center or home birth, you should be able to eat and drink as you wish.
If you're giving birth with an ob-gyn, here's what American Society of Anesthesiologists suggests:
the physician, anesthesiologists and obstetricians should work together to assess each patient individually. Those they determine are at low risk for aspiration can likely eat a light meal during labor. This gives expectant mothers more choices in their birthing experience and prevents them from being calorie deficient, helping to provide energy during labor.
Additionally, if you're giving birth in a hospital and are a low-risk pregnancy, you should most likely be able to eat light foods and drink fluids during labor. If you bump into resistance, you could print out this statement or this study and bring it to your next prenatal visit to discuss.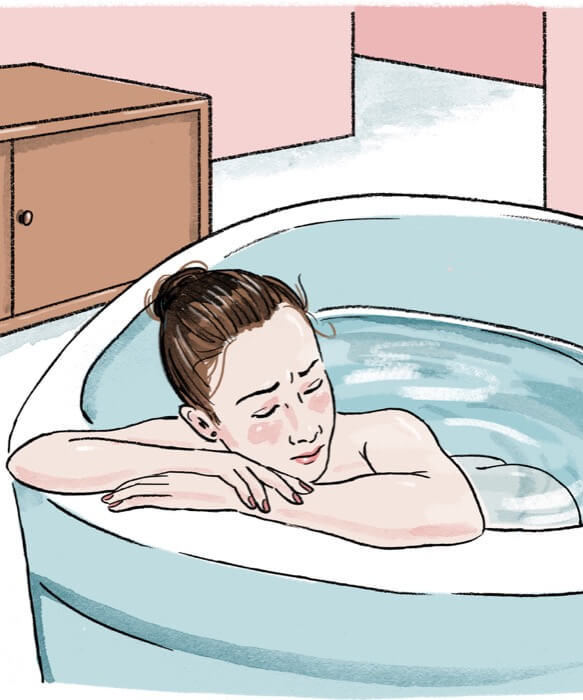 What if my hospital positively forbids eating during labor?
Planning on giving birth at a conservative hospital, where you know you won't be allowed to eat and drink? Bring food anyway.
You'll certainly be allowed to eat after you deliver, and if that happens to be at two in the morning, you don't want to be stuck scrounging something from the vending machines.
The what, when, and how of food during labor
OK, now for the fun part! Let's talk about what are some good foods to eat during labor.
Right before due date and/or very early labor Many moms instinctively crave filling comfort foods like meatloaf, lasagna and hamburgers when labor is imminent. Some moms feel good enough to eat like this in the very early stages of labor, too, allowing herself to store up energy she'll need for the main event.
If your very early labor is already intense, you might want to try simpler foods like sweet potatoes or brown rice, mix with a little fat or protein.
Early active labor
As birth picks up in intensity, your appetite will naturally decline. In early active labor, some good foods to nibble on may include:
nuts & seeds
trail mix
organic apple sauce
Active labor
At this stage of labor, most moms forget about foods and drinks altogether. The key is to stay hydrated and provide your body with some natural glucose to replenish your energy and muscles.
Some snacks may include:
banana
coconut water with a dash of sea salt
homemade lemonade
diluted fruit juices
honey sticks
Transition
Some moms throw up during the peak of labor, known as transition, so food is not appealing. Stick with fluids, which require minimal digestion, such as:
diluted fruit juices
coconut water
or plain water with electrolytes added
Pushing
The pushing part of labor is probably the most physically intense. You're really engaging your core, breath and body like never before. This is a critical time to ingest quick, natural sugars (mostly in liquid form) to keep you hydrated and energized like:
Postpartum nourishment
After you push out your placenta, the hard work of childbirth is finally done! Woo hoo! Now, it's time to relax and restore your body. With both of my births, I was starving afterwards and chowed down on healthy takeout that was delivered to the birthing center. Some moms aren't very hungry until several hours after birth. Listen to your body.
Once your appetite kicks in, focus on deeply nourishing foods like:
bone broth infused soups or chili
If you have to stay at hospital for several days, see if you can have a friend or family member drop off some warm meals. You can also pack a little cooler with an emergency stash of health snacks.
The point is: hospital cafeterias aren't exactly known for serving top-notch, real-food cuisine, nor are they always great at catering to patients with dietary restrictions or who are health nuts. ? Keep in mind that plenty of takeout places will deliver to hospitals, too.
Don't forget to pack snacks for your husband, partner, or support person so they can keep their energy up, too!
You also want to be sure you are drinking plenty of fluids to flush your body as well as support breastfeeding!
Want to help change the birth culture in our country?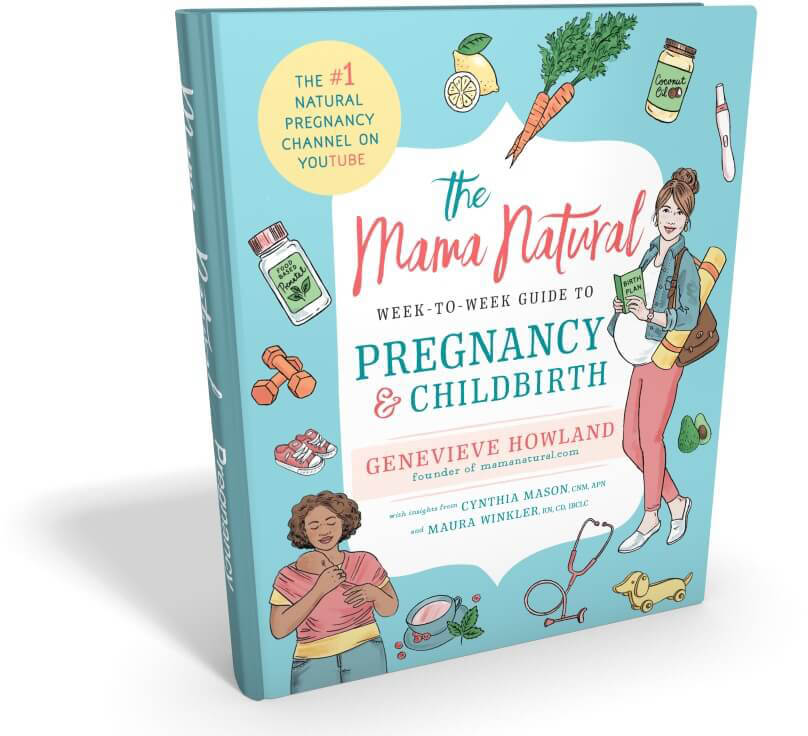 I've just published the first week-by-week pregnancy guide from a natural perspective. It features insights from a certified nurse midwife (who happened to deliver both of my children), as well as a registered nurse and doula.
This 500+ page illustrated book is comprehensive, evidence-based, and empowering. It's available now on Amazon and Barnes & Noble.
But with your help, we can get the book into stores like Babies R Us and even Walmart, where it will reach people who may have never heard about:
Delayed cord clamping, which boosts baby's iron stores by 30% and improves fine motor skills and social development later in life.
Skin-to-skin contact, which regulates baby's body temperature and blood pressure, reduces stress hormones, and helps initiate early breastfeeding.
Gentle cesarean, which can "seed" baby's microbiome, eliminate fluids from baby's lungs, while empowering the mama.
Or the importance of eating during labor!!!
But in order to get into mainstream retailers, we need to show those stores that there is a groundswell of people wanting a more natural approach—and a demand for this game changing book.
Would you consider ordering a copy? Even if you aren't pregnant, you could:
Donate your copy to a local library
Give it to a pregnant or TTC friend
Share it with your midwife, OB/GYN or chiropractor as these people are huge influencers
Pass it along in your local mom's group
Give it to a church or community center
Thank you so much for your support!