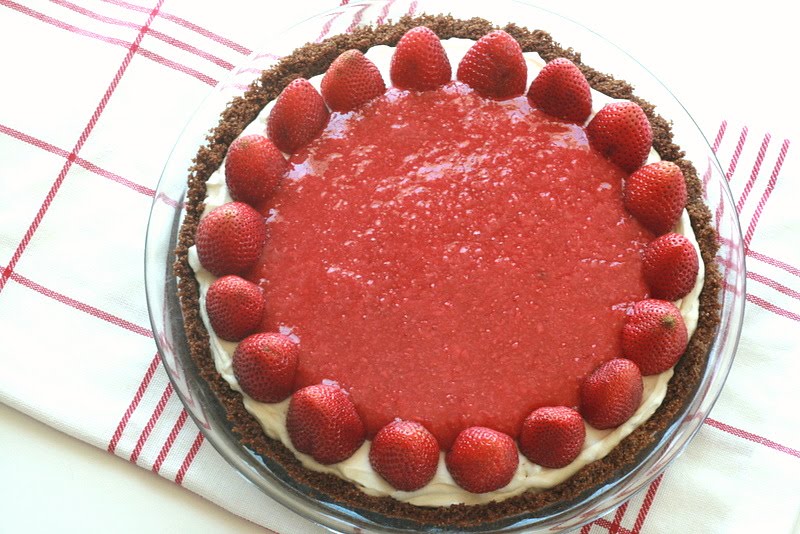 I noticed at the market this week the summer produce is slowly starting to dwindle. I sighed a little when it hit me: cherry season is really, truly over. Happily, several bags of cherries wait safely in my freezer for use later this fall. I've also loaded up on bruised peaches and plums. I peeled, cut, and froze them for smoothies and cobblers when the temperatures begin to dip. Strawberries were still abundantly available this week though, so I bought several pints. I love the small, thimble-size berries. They're packed with sweetness and taste like they're sprinkled with sugar.
Yesterday, I shared with you my graham cracker recipe. I made the rich, sugary crackers this week specifically for the pie's crust. After creating the recipe, I couldn't figure out what to call it. I phoned a friend, we brainstormed, and within a few minutes we had a name – Strawberry Cheesecake Icebox Pie. Why "icebox"? Because my Grandma used to make lemon icebox pie when I'd visit her in the summertime and this pie reminds me of those visits. Later in the evening, my husband and I sat on the couch eating thick slices and I told him the name. He replied, "It really doesn't matter what you call it – this pie is freakin' awesome." Well said.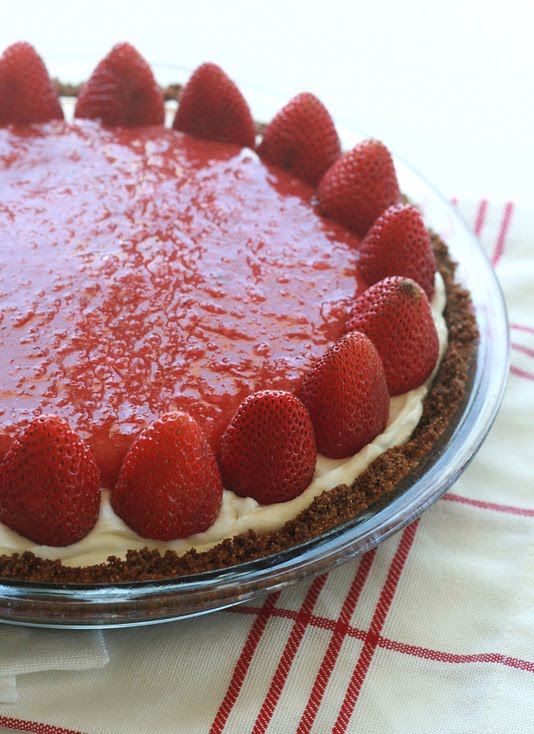 Strawberry Cheesecake Icebox Pie
Ingredients
Instructions
Preheat oven to 350°F and adjust rack to middle position. Butter a 9-inch pie plate. Place graham crackers and whole cane sugar in the bowl of a food processor. Pulse until finely ground. Pour in melted butter and process until crumbs are uniformly moist. Pour mixture into pie plate and press on bottom and up sides of plate. Bake for 10 minutes. Remove from oven and cool completely.
Pour strawberries, honey, and arrowroot in clean bowl of food processor. Pulse until blended. Pour mixture into a small saucepan and bring to a boil over medium-high heat, stirring constantly. Cook until mixture begins to thicken, about 2 minutes. Remove from heat and stir in lemon juice. Cool completely.
Place cream cheese and 1/4 cup honey in the bowl of a standing mixer with whisk attached. Whisk on medium speed until creamy. Pour cream cheese mixture into a large mixing bowl. Pour heavy cream into the now clean bowl of the standing mixer. With whisk attachment, whisk on medium speed while slowly adding remaining 1 /4 cup honey. Whisk until soft peaks form. Pour whipped cream into bowl with cream cheese mixture and fold until smooth. Pour mixture into cooled pie crust.
Arrange strawberries around the edge of the crust. Spoon cooled strawberry sauce over the top of the pie. Refrigerate for 3 hours before serving.
7.8.1.2
3401
https://deliciouslyorganic.net/strawberry-cheesecake-icebox-pie/
Copyright 2016 Deliciously Organic