Today's post is short and sweet – homemade whole wheat graham crackers.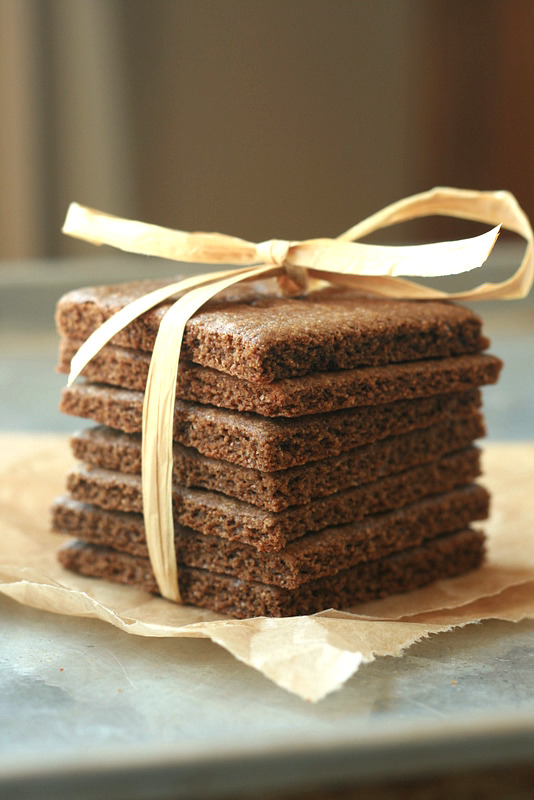 The dough is easy to work with and the flavor of the crackers is beyond anything you can find at the store. Come back tomorrow when I'll share with you my recipe for strawberry cheesecake icebox pie using these crackers for the crust.
Whole Wheat Graham Crackers
The original recipe (by Alton Brown) uses metric measurements, but for those of you without a scale I measured everything out in cups.
Adapted from The Food Network.
Ingredients
1 1/2 cups plus 1 teaspoon sprouted red wheat flour
1/4 cup plus 3 tablespoons sprouted white wheat flour
3 ounces (5 tablespoons) organic whole cane sugar or sucanat
2 teaspoons maple syrup
3/4 teaspoon aluminum-free baking powder
1/2 teaspoon baking soda
1/2 teaspoon coarse sea salt
1/8 teaspoon ground cinnamon
3 ounces (just shy of 6 tablespoons) cold unsalted butter, cut into 1/4-inch cubes
2 1/4 ounces (4 tablespoons plus 2 teaspoons) molasses
1 1/2 ounces (3 tablespoons plus 2 teaspoons) whole milk
1/2 teaspoon vanilla extract
Instructions
Place graham flour, whole wheat flour, whole cane sugar, maple syrup, baking powder, baking soda, salt and cinnamon into the bowl of a food processor and pulse 4 times to combine. Add the butter and pulse 7 times until the mixture resembles cornmeal. Add the molasses, milk and vanilla extract to the dough and process until the dough forms a ball, about 1 minute. Pour the dough out onto a large piece of plastic wrap, and flatten the dough into a 1/2-inch thick disk. Wrap in plastic wrap, and refrigerate for 30 minutes.
Preheat the oven to 350° F and adjust rack to middle position. Unwrap the chilled dough and place it onto a large piece of unbleached parchment paper and top with a second sheet of parchment paper. Using a rolling pin, roll the dough out until it is 1/8-inch thick. Pick up the rolled dough and parchment paper and place on a large baking sheet. Remove the top sheet of parchment paper and cut the dough, using a knife or rolling pizza cutter into 2-inch square pieces. There will be small pieces of excess on the sides (I baked them along with the crackers and ate them as a snack later). Using a fork, poke holes on the top of the dough. Place baking pan with dough in the oven and bake for 25 minutes or until the edges just start to darken. Remove from the oven and cool completely. Once completely cool, break into individual crackers. Store in an airtight container. The crackers will keep for 1 week.
7.8.1.2
3404
https://deliciouslyorganic.net/whole-wheat-graham-crackers/
Copyright 2016 Deliciously Organic