When we're trying to eat better, we usually add more salads to our diet. Sadly, many of us don't realize that most supermarket salad dressings are loaded with soy, preservatives, GMOs, processed salts, additives and other unwanted ingredients. Plus, they can be pretty pricey! You can throw out all those pre-made bottles of dressing and make your own with a few simple ingredients. There's no need to be intimidated. It's really simple.
My favorite is a lemon vinaigrette. I prefer fresh lemon juice in place of vinegars because I enjoy the clean flavor. Most days, I don't even mix the dressing separately. Instead, I put all my greens and vegetables in a large salad bowl, sprinkle with a bit of sea salt, crack some black pepper, squeeze 1/2 a lemon over-top, and pour in a couple "glugs" of olive oil. I toss it about 10 times, taste, then adjust the seasonings if needed and I'm done!
Of course, you can always make larger batches and store them in the refrigerator in a glass jar or bottle. They don't freeze well, so unless you're having a lot of guests, it's better to stick with smaller quantities.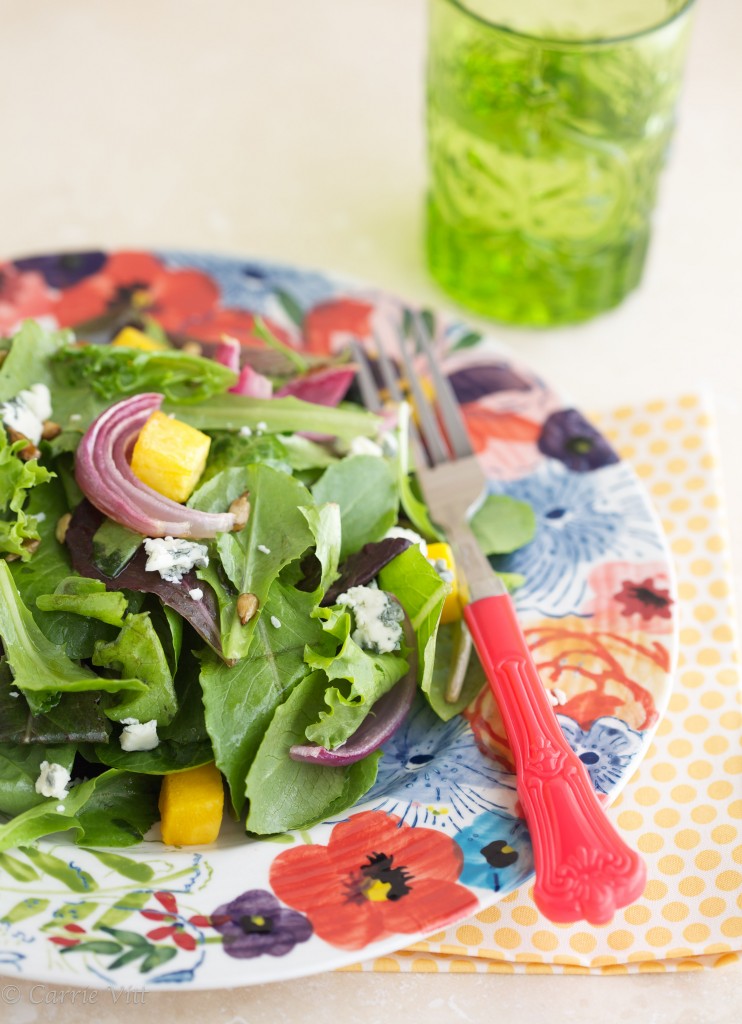 A few months ago, I asked Deliciously Organic readers on Facebook what your favorite homemade salad dressing recipe was. Here is what you said:
I use two parts extra virgin olive oil to one part balsamic vinegar and a bit of pink sea salt and shake it in a small jar. I am addicted to this dressing:). I don't refrigerate it, but is usually used up by the next day. – Terry
Here's an easy and yummy one: 2 tablespoons homemade jam, 2 tablespoons olive oil, 1 tablespoon balsamic vinegar, or lemon juice. It is so good. We have used raspberry, strawberry, and peach jam. I also marinated a steak in the leftovers. YUMM – Carol
I make a homemade dressing with 1/2 cup olive oil, 1/2 cup organic mayonnaise, 1/2 cup apple cider vinegar (give or take I never measure), 3 cloves chopped garlic, fresh ground pepper and Himalayan pink salt. All my friends love it. – Maria
1 teaspoon apple cider vinegar or red wine vinegar and 1 teaspoon Extra-Virgin olive oil or similar. Pour it on your lettuce and toss. – Leslie
1 part homemade mayonnaise (I make a batch nearly every week in the blender with regular olive oil) & 1 part whole milk yogurt or sour cream. Whisk in finely chopped chives/scallions; finely minced parsley, garlic, & onion (or grate the onion to really lose the crunchiness for picky fresh onion-haters), a couple dashes of paprika & a teen-tiny bit of hot pepper sauce or cayenne pepper powder; sea salt & freshly grated black pepper. Mix well, adjust seasonings to taste, and chill in the fridge, ideally for an hour or two, adjust seasonings again if needed after they "marry". If you want it a bit more tart, add a squeeze of lemon or a splash of cider vinegar. – Anna
I combine good EVOO pressed with lemon, lime, tangerines, or blood orange & a good balsamic or white honey ginger balsamic vinegar, simply drizzled over the salad, perhaps a generous tablespoon of each. Grind a little sea salt & pepper over all & toss.
Maple Balsamic Vinaigrette: 2 tablespoons EVOO, 2 tablespoons balsamic vinegar, 2 teaspoons maple syrup, 2 teaspoons Dijon or stone ground mustard, salt & pepper (to taste). – Christine
1/2 cup mayonnaise, 1/4 cup buttermilk, 4 ounces blue cheese crumbled, 1 to 2 teaspoons red wine vinegar. To make the blue cheese dressing, combine the mayonnaise, buttermilk, blue cheese and vinegar in a food processor and pulse until blended (the dressing does not have to be completely smooth). – Wendy
Here are some other salad recipes you might enjoy:
Spinach Salad with Butternut Squash
Chopped Waldorf Salad Recipe
Broccoli Salad with Bacon and Raisins
Kale Salad with Currants and Walnuts
Here's a fantastic list of salad toppings created by Deliciously Organic Facebook fans. I hope you find it helpful!
Print
Simple Everyday Salad Dressing
This is a very basic recipe. You can add more or less seasonings, herbs, etc. to make the dressing to your liking.
Prep Time:

5 minutes

Total Time:

5 minutes

Category:

Side Dish

Diet:

Gluten Free
3 tablespoons

extra-virgin olive oil

2 tablespoon

freshly-squeezed lemon juice

1

clove garlic (this adds a bit of zing to the salad), optional

1/4 teaspoon

Celtic sea salt
Instructions
Place all ingredients into a blender and blend until smooth. Adjust seasonings to taste. You can also add herbs like basil or parsley.
//