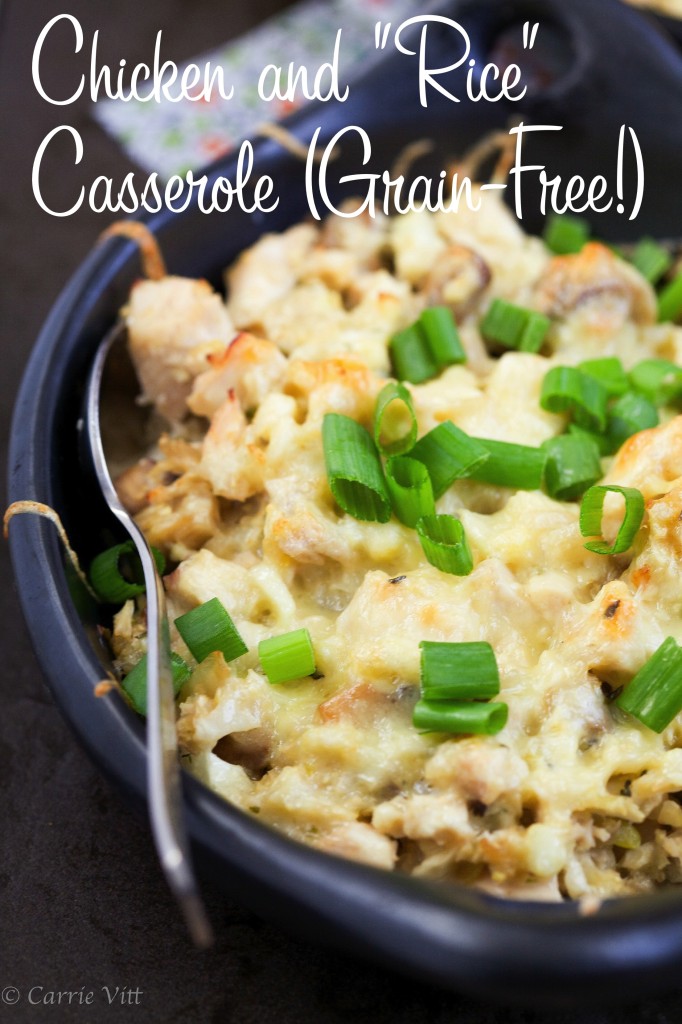 Sometimes it's nice to go back to the basics. Chicken and rice – we've all had it in some form or fashion. When I was a kid, it was white rice mixed with cream of mushroom soup and shredded chicken. It showed up at just about every pot luck and there's just something warm and comforting about a basic casserole.
Cauliflower is the superstar of this dish. Pulsed in the food processor until it's the size of rice, it brings the onion, bacon, mushrooms and chicken together to form a great comfort meal.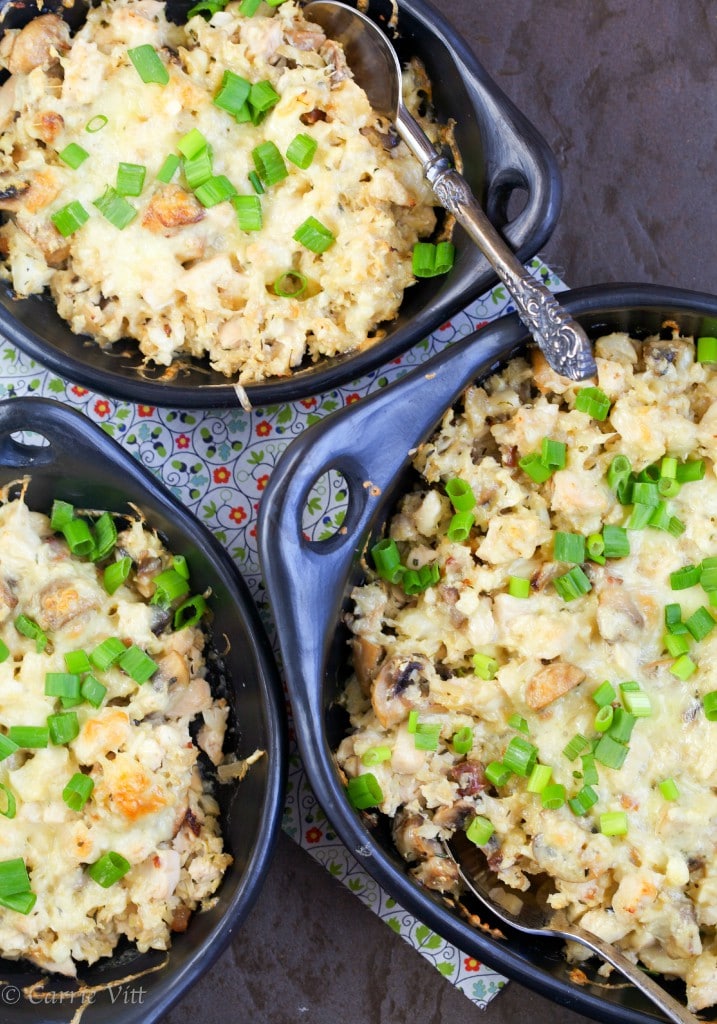 While we're on the topic of going back to the basics, I recently discovered La Chamba cookware. This extremely durable clay cookware/bakeware brings centuries of tradition to your kitchen. I'm shocked at their versatility – use them on the stove top, in the oven, on a gas or charcoal grill, even wood-fired ovens or over an open fire!
Sustaining Cultures asked me if I would tell you about their clay bakeware, and when I opened the box of dishes they sent, I was amazed at how gorgeous the pieces are. Truly! I left them on the counter for a few days so I could gaze at them when I walked by. If you're looking for some beautiful cookware or bakeware for your kitchen that's made with safe materials, this is a great option. Any of their pieces would make a lovely gift.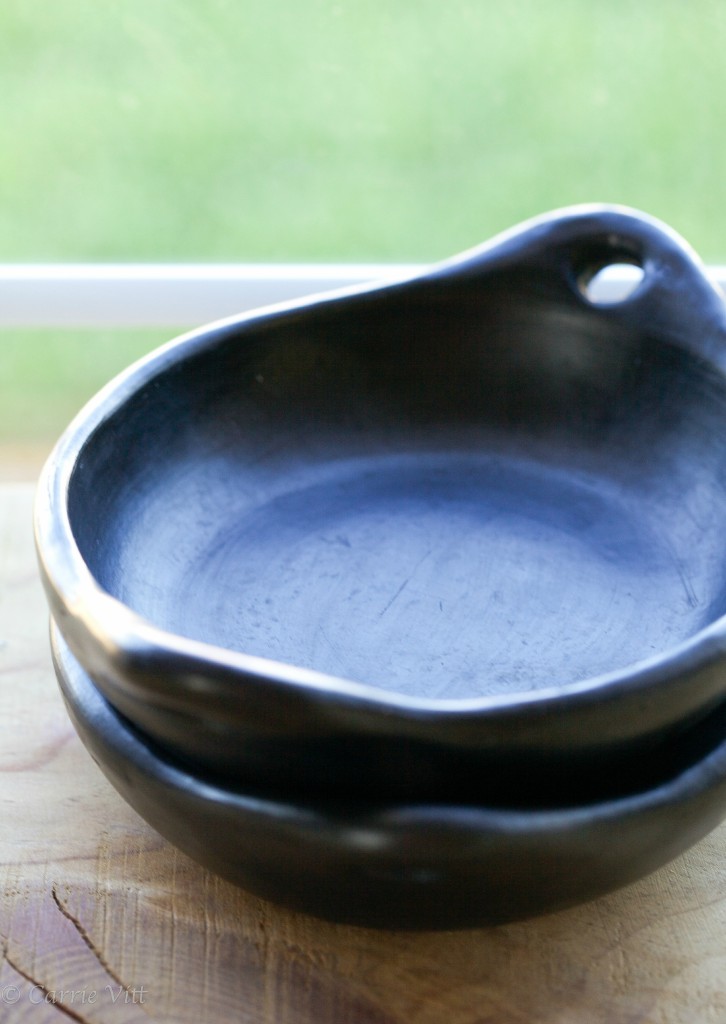 Sustaining Cultures is a non-profit organization and member of the Fair Trade Federation  as well as Green America's Green Business Network. They do things the right way. They were kind enough to offer a 10% discount on all products from today, April 12th through June 15th. To receive the discount use the code: SCLCDO2013. They also offered to give one lucky Deliciously Organic reader four of their oval casserole dishes. Read the instructions below to enter.
Chicken and "Rice" Casserole (Grain-Free)
If your bacon is relatively lean, you may want to add a tablespoon or two of butter when you add the cauliflower to the pan (remember, it's good to eat saturated fats with your vegetables so the body can assimilate the fat soluble nutrients. For those who follow a dairy free or Paleo diet, I know the cashew "cheese" sounds a bit odd, but trust me - it's fantastic!
Ingredients
4 pieces bacon, chopped
1 large yellow onion, chopped
12 ounces button mushrooms, chopped
1 teaspoon dried thyme
1 1/2 teaspoons Celtic sea salt
1 large head cauliflower, "riced"*
1 1/2 pounds cooked chicken, shredded
1/2 cup sour cream (or for dairy free, Gaps or Paleo use cashew "cheese" )
1 cup raw cheddar (omit for dairy free, Gaps, Paleo)
4 green onions, chopped
Instructions
Preheat oven to 375 degrees F. Place bacon in a large skillet over medium heat. Cook until crispy. Using a slotted spoon, remove bacon from pan leaving the bacon drippings in the pan. Add onions and mushrooms to the bacon drippings and cook, about 10 minutes, stirring frequently, until mushrooms have released their moisture and are just turning golden brown on the edges. Make a well in the center of the pan and add the thyme and salt. Stir in the center of the pan until fragrant, about 45 seconds. Add cauliflower and cook for 5 minutes, stirring occasionally. Add chicken, cooked bacon and sour cream (or cashew cheese) then stir until combined. Season with sea salt to taste. Pour mixture into an 11 x 7 - inch buttered dish (or individual dishes as pictured above). If using cheese, sprinkle with cheese and bake for 20 minutes or so until top is just turning golden brown. Sprinkle with green onions. Serve hot.
*To rice the cauliflower - Cut the cauliflower into large pieces (about 2-inch). Place in a food processor and pulse for 7-8 one-second pulses until the size of rice. Click here to see a photo .
7.8.1.2
3147
https://deliciouslyorganic.net/chicken-and-rice-casserole/
Copyright 2016 Deliciously Organic
Posts may contain affiliate links. If you purchase a product through an affiliate link, your costs will be the same but Deliciously Organic will receive a small commission. This helps cover some of the costs for this site. We appreciate your support!
//