I've always been a fan of turkey roulade. I love the impressive presentation and the flexibility to fill the meat with a variety of vegetables and spices. Spinach is a common filling and I enjoy using it because it cooks down quickly and picks up the other flavors in the pan. You can make this beautiful dish during the holidays – it's a bit less daunting than making a large turkey or ham.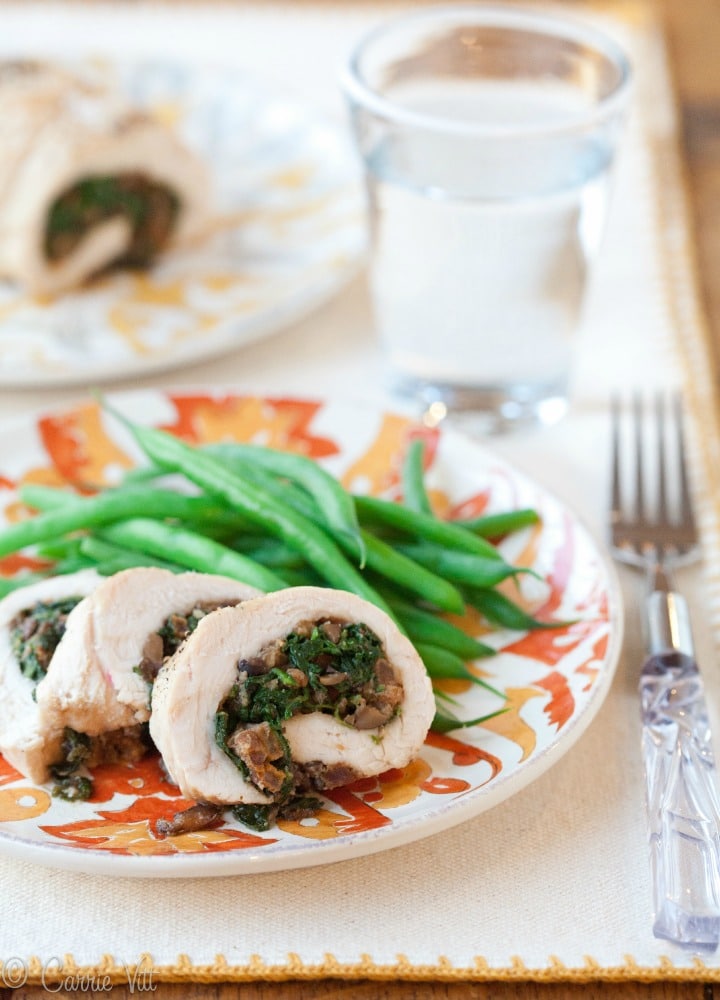 I'm just getting to all of my Christmas shopping and thought I'd share with you some of my favorite gifts for the season.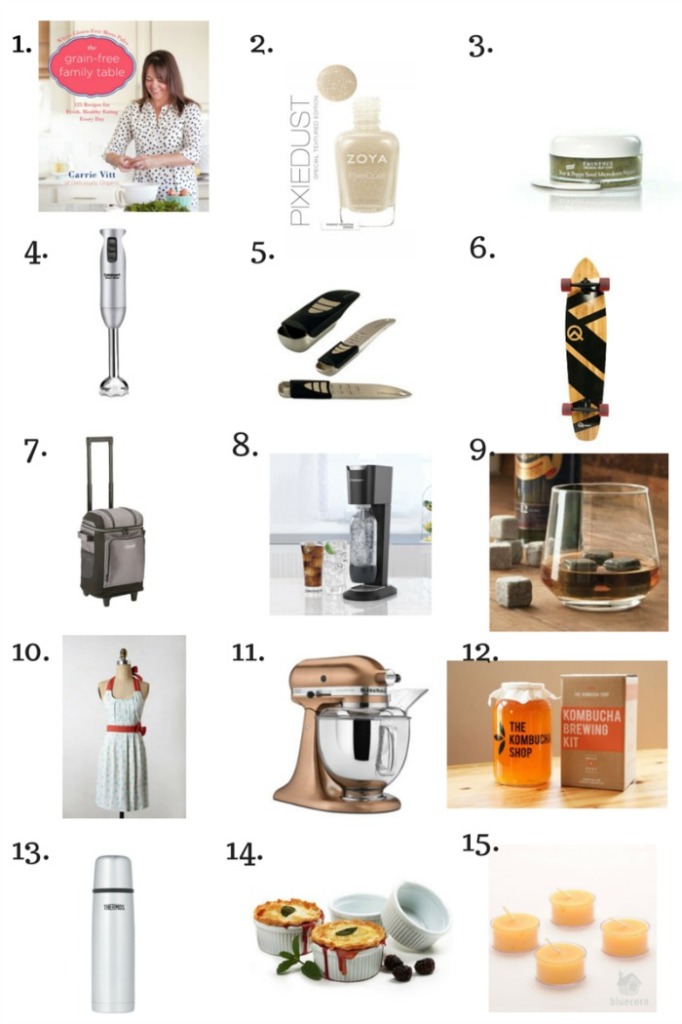 1. The Grain-Free Family Table – Over 125 grain-free, Paleo recipes! I'm a bit biased, but I think it makes for a fantastic gift!
2. Pixie Dust Nail Polish – I like using Zoya polish because they eliminate toluene, camphor, formaldehyde, formaldehyde resin and DBP from its polishes. This color is lovely for the holidays!
3. Eminence Poppy Seed Scrub -This is my favorite organic polisher. All-natural ingredients!
4. Hand Immulsion Blender -This tool is incredibly helpful for pureeing soups or making a quick smoothie.
5. Adjustable Measuring Spoons – A great stocking stuffer! These are very compact and easy to clean.
6. Longboard – A new take on the traditional skateboard (longer and easier!). My kids have this on their Christmas list.
7. Insulated Wheeled Soft Cooler – This is ideal for those who shop at the farmer's market. It keeps your produce cold and easy to transport.
8. Soda Stream – My kids love this at-home "sparkler" (that's their name for it). It's a super fun gadget! We don't use the flavor packets, but instead make up our own combinations.
9. 100% Soapstone Whiskey Chilling Rocks – These rocks keep your drink at an even 50 degrees. A nice bottle of scotch and these rocks would make for a fabulous gift.
10. Polka Dots Pleats Apron – I love having a cute (and clean!) apron to pop on when guests come over as I finish prepping the food. Anthropologie has dozens of cute options.
11. Kitchen Aid Copper Mixer – A Kitchen Aid mixer lasts for decades (I've had mine for 16 years and it's still going strong!). This color is simply stunning!
12. Kombucha Starter Kit – I've given this kit to many friends who were intimidated to make their first batch of kombucha. It comes with everything you need to get your first batch going and comes with clear and simple instructions.
13. Thermos Insulated Beverage – I can't say enough about this container. It keeps liquids hot for up to 12 hours (and I mean piping hot!). If you know someone who commutes, or likes to have a warm beverage on hand, this is the perfect gift!
14. Porcelain Ramekins – These little containers are so versatile. You can make individual cobblers, pot pies (see the recipe in my new cookbook!), soufflés, etc. I keep one next to my stove filled with Celtic sea salt so I can season the food as I cook.
15. Beeswax Votive Candles – No petroleum or soy lingering in the air. Pure beeswax actually helps clean the air and the smell is subtle and sweet.

Print
Turkey Roulade
You can also make this with a skin-on turkey breast. Pound the breast and then increase the cooking time to about 1 1/4 – 1 1/2 hours, until cooked through.
Prep Time:

30

Cook Time:

40

Total Time:

1 hour 10 minutes

Category:

Main Dish

Diet:

Gluten Free
6

pieces bacon, chopped

1/2

red onion, chopped

5

ounces

white mushrooms, chopped

3

cloves garlic, chopped

8

ounces

spinach leaves

2 teaspoons

coconut flour

1 teaspoon

Celtic sea salt

2

turkey tenderloins, pounded thin

2 tablespoons

ghee or palm shortening, melted
Sea salt and freshly ground black pepper
Instructions
Place bacon in a large skillet over medium heat. Cook bacon until crispy. Remove bacon from pan with a slotted spoon (leave the bacon fat in the pan). Saute onion in bacon fat until just turning golden brown on the edges, about 5 minutes. Add mushrooms and cook until they release their moisture, about 5 minutes. Stir in garlic and cook for 30 seconds. Add spinach and cook until wilted and the spinach has released its moisture, about 3-4 minutes. Stir in cooked bacon. Stir in coconut flour (this helps absorb any excess moisture). Season with sea salt.
Pound turkey with a meat pounder (or the back of a big, sturdy pot) until about 1/4″ thick. Spread half of the spinach mixture over the turkey and then carefully roll the turkey. Set turkey seam-side down in a baking dish lined with parchment paper. Tie turkey together with kitchen twine every few inches down the roulade. Repeat with remaining turkey and filling. Brush both roulades with melted ghee and season with sea salt and pepper.
Bake at 350F for 25-30 minutes until turkey is cooked through. Let turkey rest for 10 minutes before slicing.