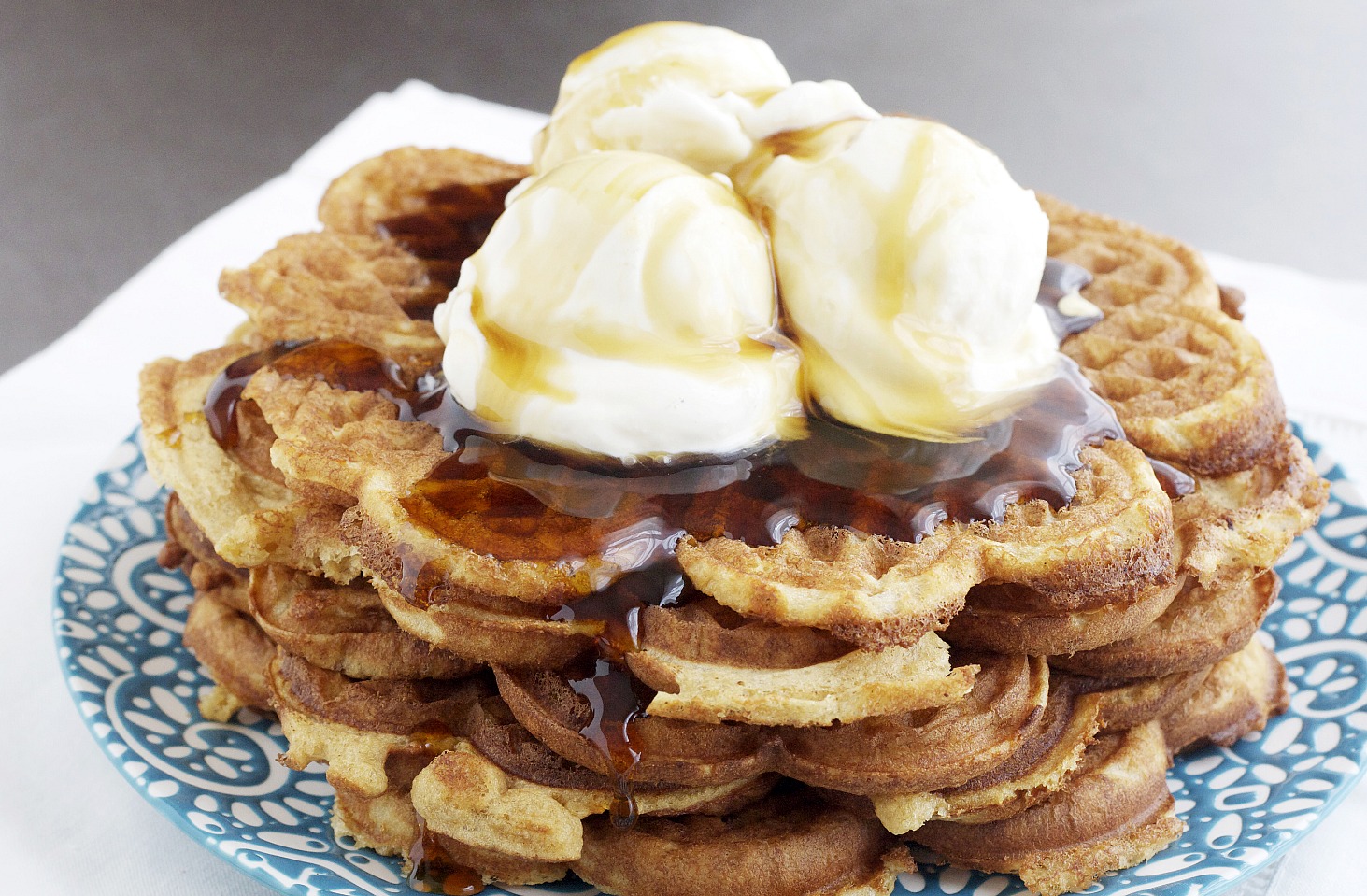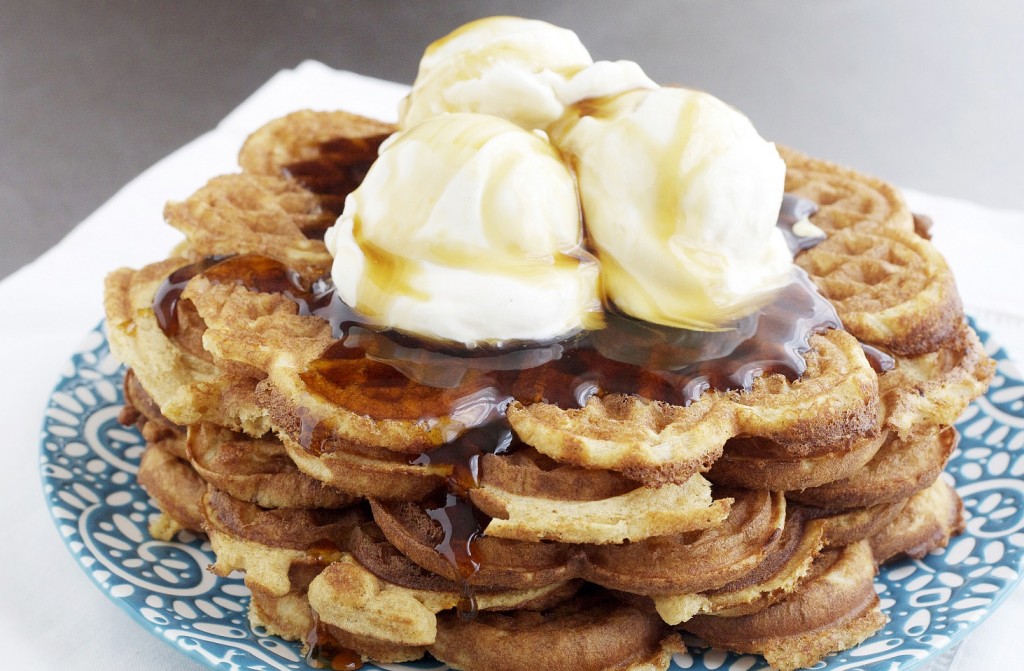 I was never very interested in history as a kid. I don't know if it was the teachers or simple lack of interest, but what did fascinate me was the history of food (no surprise there!). My favorite story was about the origin of the ice cream cone. The legend goes that Ernest Hamwi had a waffle booth at the 1904 St. Louis World's Fair. Arnold Fornachou ran an ice cream stand in the booth next to him, but he ran out of bowls. Ernest rolled a waffle around some ice cream and right there, the first waffle cone was born.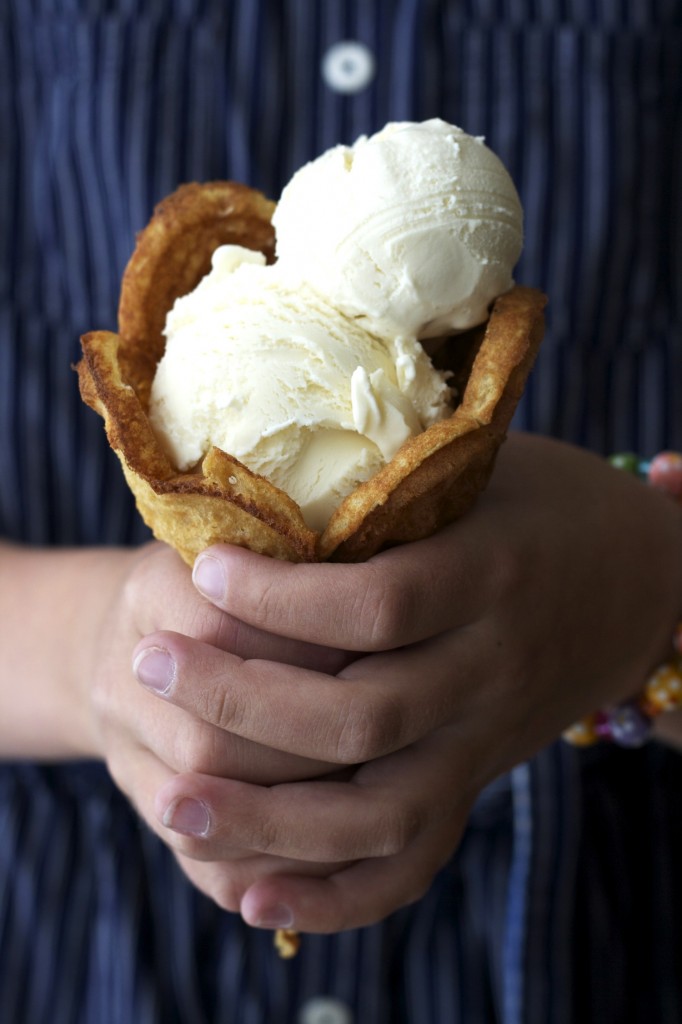 I would dream about being there at the World's Fair and eating sugar-crusted waffles filled with ice cream. I imagined the sun beating down and the sweet cream running down to my elbows.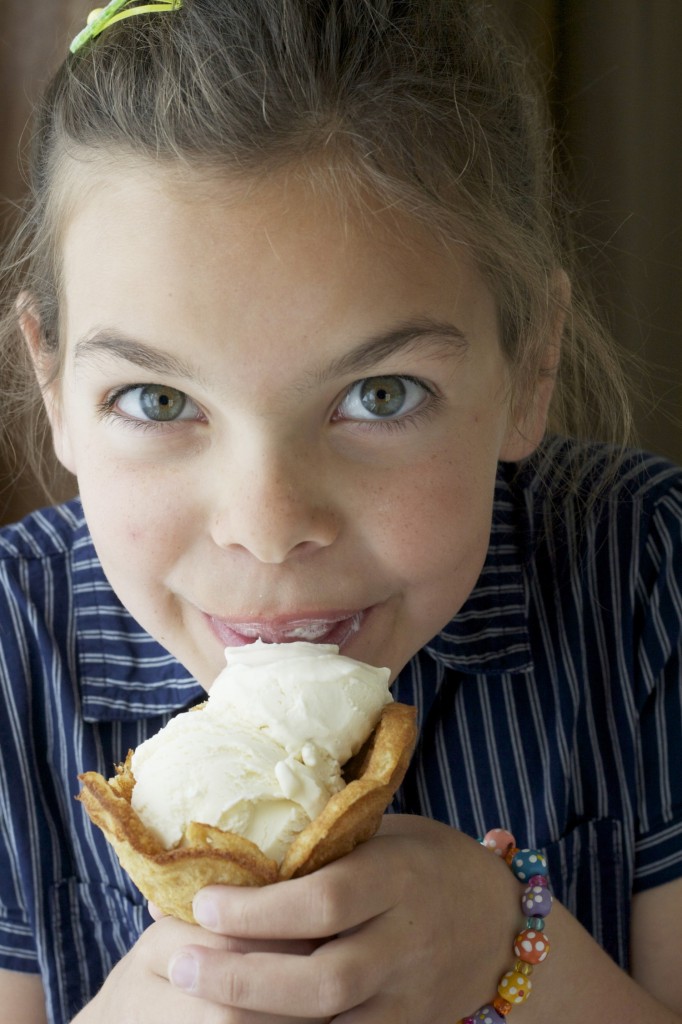 I had never actually made waffles and ice cream until yesterday. The kids came home from school and were more than happy to help me with the photos. H held the waffles filled with ice cream while A held the white reflective board. They were both giddy, waiting for their chance to dig in. They each had a serving we piled up the rest high on a plate and delivered it to the neighbors. Squeals arose as soon as the door opened. As my daughter said, "It can not get any better than that."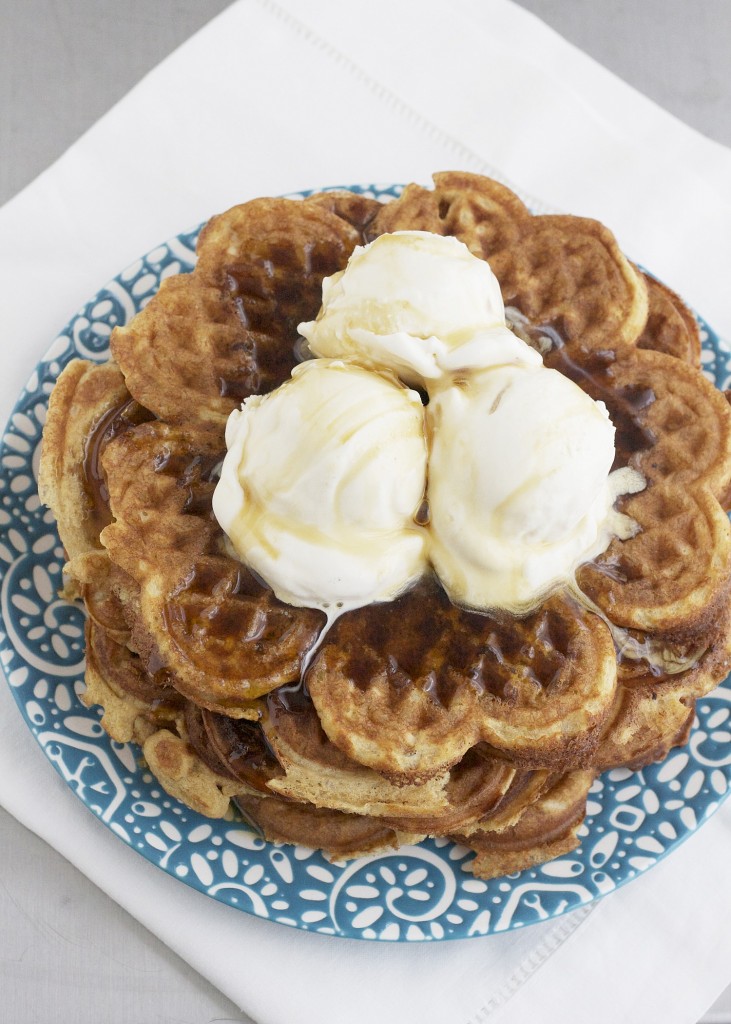 Serves: Makes 6 large waffles
Waffles and Ice Cream
Ingredients
1/2 teaspoon gelatin
1/2 cup sprouted oat flour (make sure it's gluten free)
1/4 cup arrowroot
1/4 cup sprouted sorghum flour
1/4 cup sprouted rice flour
1/2 cup maple sugar
2 teaspoons baking powder
1/2 teaspoon sea salt
4 tablespoons unsalted butter, melted and cooled
3 large eggs
1 cup whole milk
1 teaspoon vanilla extract
2 pints vanilla ice cream
Maple syrup (I prefer Grade B for its deeper flavor)
Instructions
Preheat the waffle iron. Stir together gelatin and 1 teaspoon water in a small bowl. Set aside. Whisk together the oat flour, arrowroot, sorghum, rice flour, maple sugar, baking powder and salt. Pour the melted butter, eggs, milk, vanilla, and gelatin in the bowl of a food processor. Pulse until smooth, about 10 seconds. Add the dry ingredients and pulse to combine, about 5 1-second pulses.
Using a ladle, spread an appropriate amount of batter onto the hot waffle iron. Cook waffle until golden brown (make sure to read the manufacturer's instructions). Transfer the waffle to a plate and top with ice cream and maple syrup. Repeat process until you've cooked all the waffles.
If you'd like to serve all the waffles at once, try keeping them warm on a wire rack set in the oven at 200ºF for up to 10 minutes.
7.8.1.2
3387
https://deliciouslyorganic.net/waffles-and-ice-cream-recipe/
Copyright 2016 Deliciously Organic