After three years of cooking, testing recipes, writing, and sending out proposals, I'm elated to tell you that I have signed a book deal and I'm celebrating with this whole wheat chocolate cake! My cookbook, 
Deliciously Organic,
will be coming out in the fall of 2010! AND, as if it couldn't get any better, Helen from
Tartelette
will be doing the photography! I can't even tell you how thrilled I am to work with her.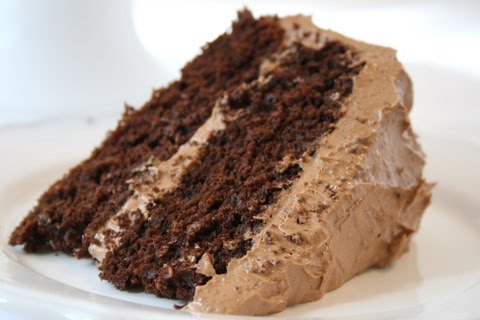 To celebrate, I thought it fitting to whip up a chocolate cake with dreamy, light as air, chocolate frosting. The cake is moist, dense, full of rich chocolate, and topped with the dreamiest chocolate buttercream frosting. It's the kind of cake you'll want to eat alone, so you can close your eyes and enjoy every little morsel.
Whole Wheat Chocolate Cake with Chocolate Buttercream Frosting
Adapted from "The Barefoot Contessa Cookbook" by Ina Garten. This recipe was posted before I began only featuring grain-free recipes on my site. Click here for a fantastic grain-free chocolate cake.
Ingredients
For the batter:

2 cups sprouted white whole flour
1 cup cocao powder
1 1/2 teaspoons baking soda
1/4 teaspoon sea salt
1 cup buttermilk
1/2 cup sour cream
2 tablespoons brewed herbal coffee
3/4 cup butter at room temperature
2/3 cup organic whole cane sugar or sucanat
2/3 cup muscovado sugar
2 large eggs, room temperature
2 teaspoons vanilla extract

For the Frosting:
Instructions
Preheat the oven to 350 degrees. Butter two 9-inch cake pans and then dust with flour, knocking out any excess. In a medium bowl sift the flour, cocao, baking soda and salt. (There will be about 2 tablespoons of bran left in the sifter, discard.) In a small bowl mix together buttermilk, sour cream and herbal coffee, set aside. In bowl of mixer with paddle attachment cream the butter, whole cane sugar and muscovado. Start on low speed and then increase to high. Beat for about 5 minutes, until light. Add the eggs and vanilla and mix on low speed until just incorporated. Scrape down bowl. With mixer on low speed add a 1/3 of the buttermilk mixture followed by 1/3 of the flour mixture. Repeat twice ending with the flour mixture. Mix until just incorporated.
Pour batter into prepared pans and bake for 25 minutes, or until a cake tester comes out clean. Cool on a cooling rack, for about 10 minutes, and then remove from pans and cool completely.

To assemble:

Place one cake layer on cake stand and top with about 3/4 cup of icing. Place second layer on top and front the top and sides.
7.8.1.2
36
https://deliciouslyorganic.net/a-chocolate-cake-to-celebrate/
Copyright 2016 Deliciously Organic