I tinkered around in the kitchen the other night and came up with these positively perfect gluten free popovers.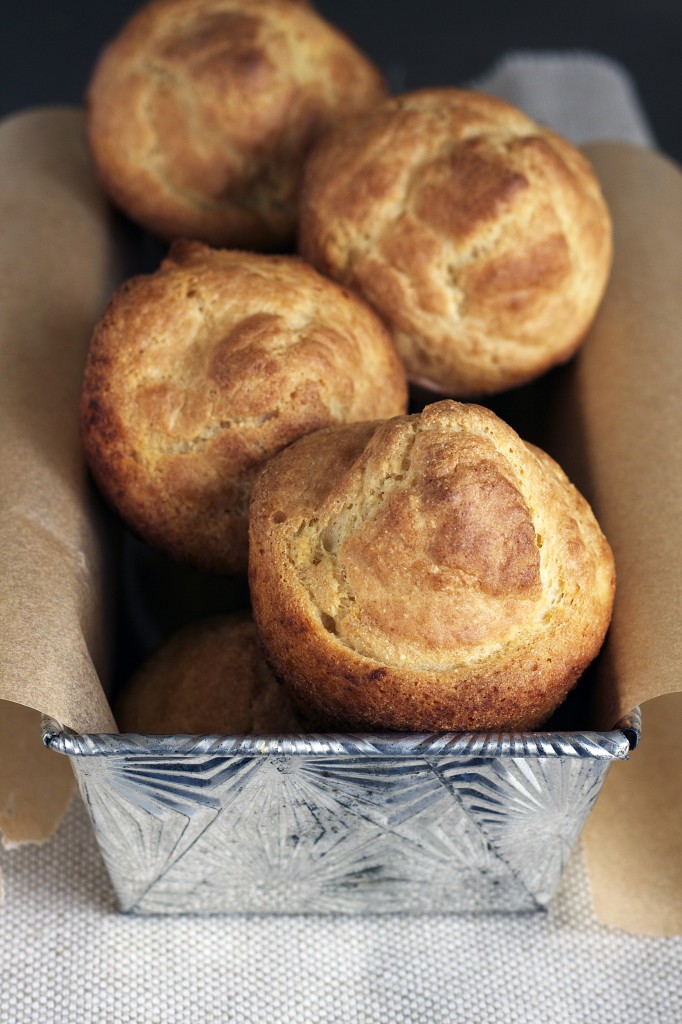 The crisp outside wraps an eggy, buttery inside. The easy to prepare batter provides a "no big deal" recipe when you've got loads of other dishes to make for Thanksgiving. Most of us don't own a popover pan, so I tested the recipe in a standard-size muffin pan and they turned out beautifully. Served with a pat of butter, these will even please your gluten-eating friends. I promise, they'll never know the difference.
Serves: Makes 12 popovers
Gluten Free Popovers
Ingredients
1/2 cup sweet rice flour
1/4 cup millet flour
1/4 cup arrowroot
1/4 cup oat flour (make sure the oat flour is gluten free)
1/2 teaspoon xanthan gum
1 teaspoon sea salt
2 large eggs, slightly beaten
1 1/4 cups whole milk
2 tablespoons unsalted butter, melted
Instructions
Whisk together rice flour, millet flour, arrowroot, oat flour, xanthan gum, and sea salt in a large mixing bowl. Make a well in the center of the bowl and pour in the eggs and 1/2 cup of the milk. Whisk, gradually working in the flour until smooth. Pour in remaining milk and whisk until smooth. Cover the bowl with plastic wrap and refrigerate for 30 minutes.
Preheat oven to 450ºF and adjust rack to middle position. Preheat standard size 12-cup muffin pan or popover pan in the oven for 10 minutes. After 10 minutes, remove the pan from the oven and brush the muffin cups with melted butter. Using a ladle, fill the cups 2/3 full. Bake at 450ºF for 15 minutes. Reduce heat to 350ºF, and bake for an additional 10-12 minutes, until golden brown. Serve hot.
7.8.1.2
3455
https://deliciouslyorganic.net/a-whole-foods-thanksgiving-gluten-free-popovers/
Copyright 2016 Deliciously Organic