Since I've continued eating a grain-free diet, I wanted to find a way to include dressing on our Thanksgiving table, so today I'm bringing you a grain-free stuffing recipe!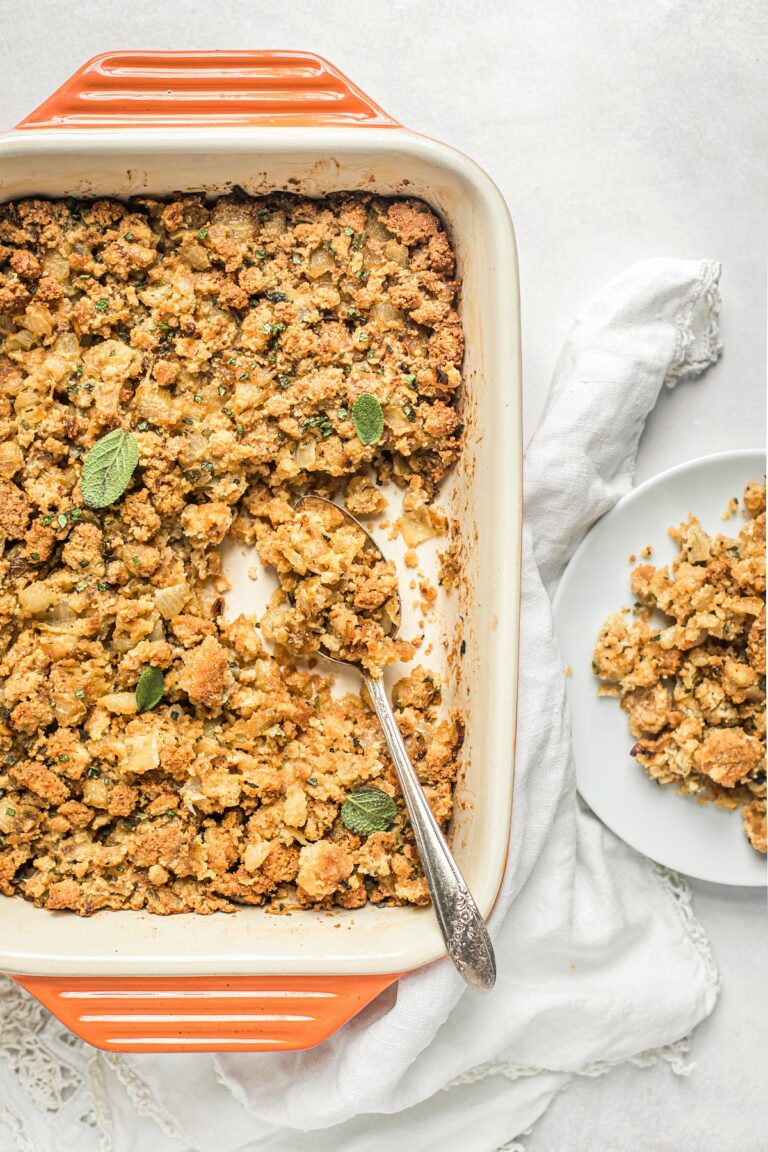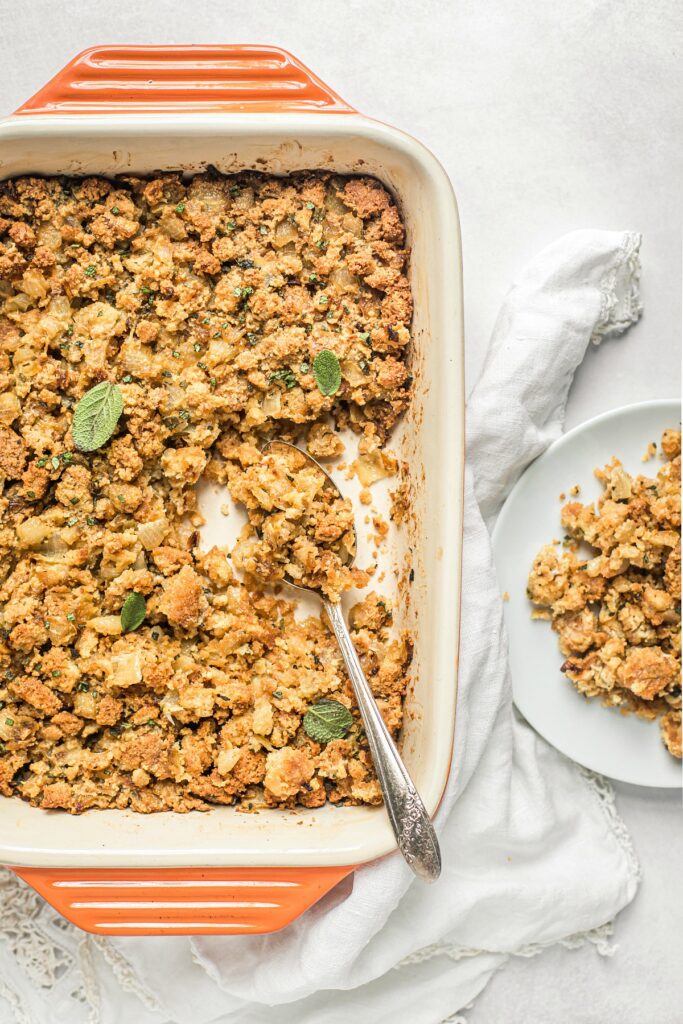 I've also been missing biscuits, so I tested for a few days until I was able to create a biscuit recipe that didn't make me miss grain. Then I combined it with my favorite dressing ingredients. So really you get two for one here. The biscuits are incredible. Buttery, flaky, and absolutely perfect with some butter and jam.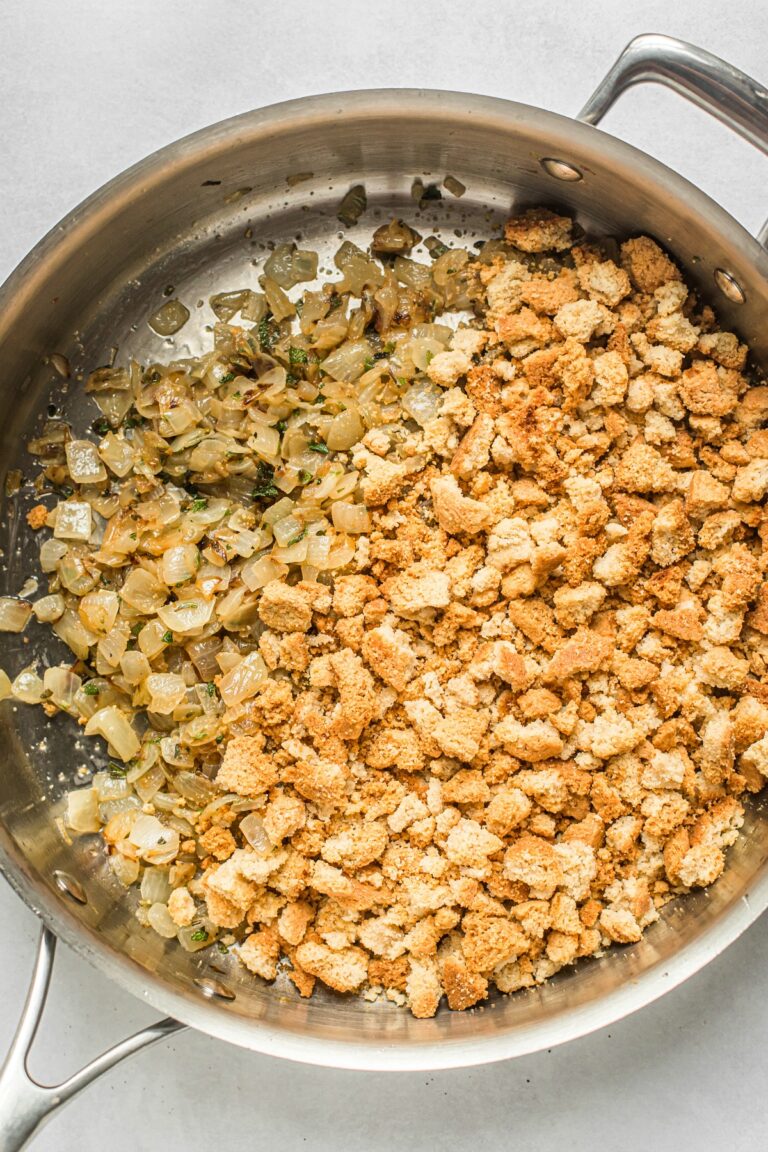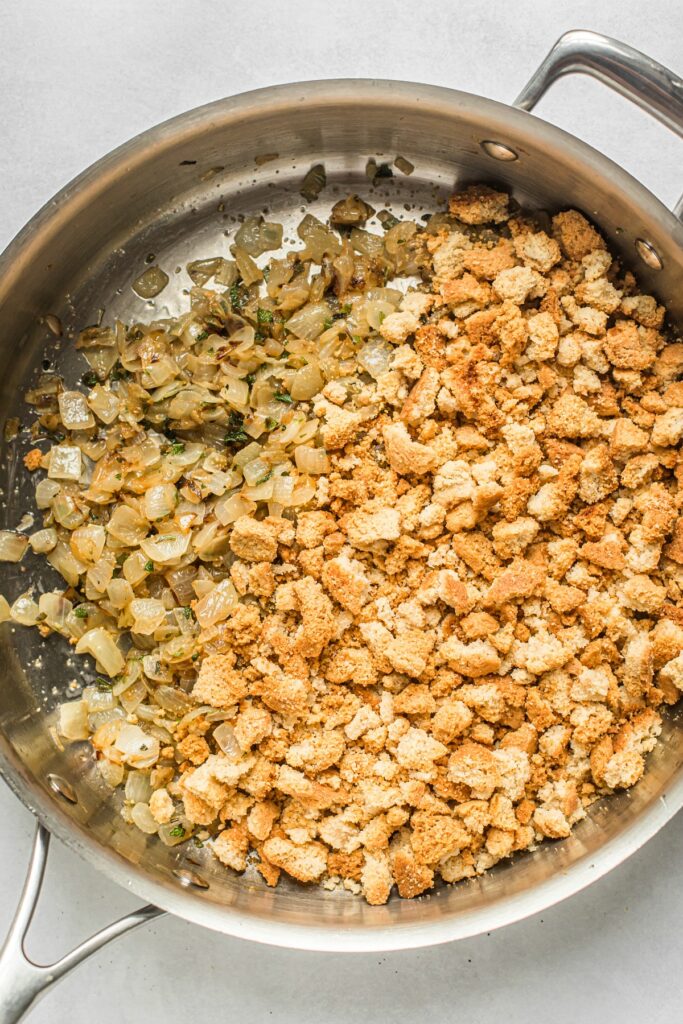 When dried and combined with the onions, sage and butter, you've got a dressing recipe that will meet everyone's expectations!
Print
Grain-Free Stuffing (Paleo)
I prefer to make my own baking powder to ensure that it's grain-free. Here's the recipe: 1 part baking soda + 1 part cream of tartar + 2 parts arrowroot. I make the baking powder in large batches and store it in a glass jar. You can substitute the coconut milk with heavy cream.
3 tablespoons

unsalted butter

2

large yellow onions, chopped

15

fresh sage leaves, chopped

12

stale grain free biscuits, broken into small pieces (see recipe below)

1

large egg

1/4 cup

heavy cream (substitute with coconut milk for Paleo or Gaps)

1/4 cup

chicken stock

1 teaspoon

coarse Celtic sea salt

1/8 teaspoon

freshly ground black pepper
For the Biscuits:
2 1/2 cups

almond flour or meal

1 tablespoon

coconut flour

1/2 teaspoon

Celtic sea salt

1/2 teaspoon

baking soda

2 teaspoons

grain-free baking powder (see above)

5 tablespoons

unsalted butter, cold, cut into tablespoons

1/4 cup

coconut milk (I prefer a canned coconut milk such as Native Forest. It's much thicker than the milk found in a carton and also contains less preservatives)

1/4 cup

water
Instructions
Preheat oven to 350ºF and adjust the rack to the middle position. Melt butter in a large skillet over medium heat. Add onions and stir occasionally until golden brown and caramelized, about 20 minutes. Add sage and stir for about 30 seconds. Remove skillet from the heat. Add biscuit pieces. Whisk together egg, cream and chicken stock, then pour over biscuit mixture. Season with salt and pepper and stir until incorporated. Pour stuffing into a buttered 11 x 7-inch baking dish. Bake for 30 – 40 minutes, until golden brown.
For the Biscuits:
Preheat oven to 350 degrees F and adjust rack to middle position. Place almond flour, coconut flour, salt, baking soda and baking powder in the bowl of a food processor. Pulse 2-3 times to combine. Add butter and pulse, 8-10 times until mixture looks like wet sand with pea-size clumps of butter. Pour mixture into a mixing bowl and stir in the milk and water. The mixture should be tacky, but not loose or runny. If it's too loose, stir in a tablespoon more of almond flour.
Using a 2-inch cookie scoop, scoop dough and place each dough mound on a baking sheet lined with parchment paper. Repeat with remaining dough. Using your fingers, press gently on the tops of the dough mounds to flatten them just a little. Bake for 20-25 minutes, until golden brown on the edges.
To get these ready for the dressing:
Cool biscuits, cut each in half lengthwise and leave out on the counter overnight. (or toast in a 300 degree F oven for 15 minutes until dried out).
Photo Credit: Becky Winkler