Bone broth (otherwise known as Chicken Stock) has become all the rage – and for good reason! It provides a wealth of nutrients, helps heal the gut, is great for the skin and hair and tastes great!
Last month, I was having my daily cup and decided to up the ante a bit. I'm sure you've heard of "bullet proof coffee" and I thought, "Well, why not apply that idea to broth?" So I added some butter, pastured egg yolk, collagen peptides, turmeric and Celtic sea salt, then whizzed it in the blender. I was shocked at how fantastic the combination was!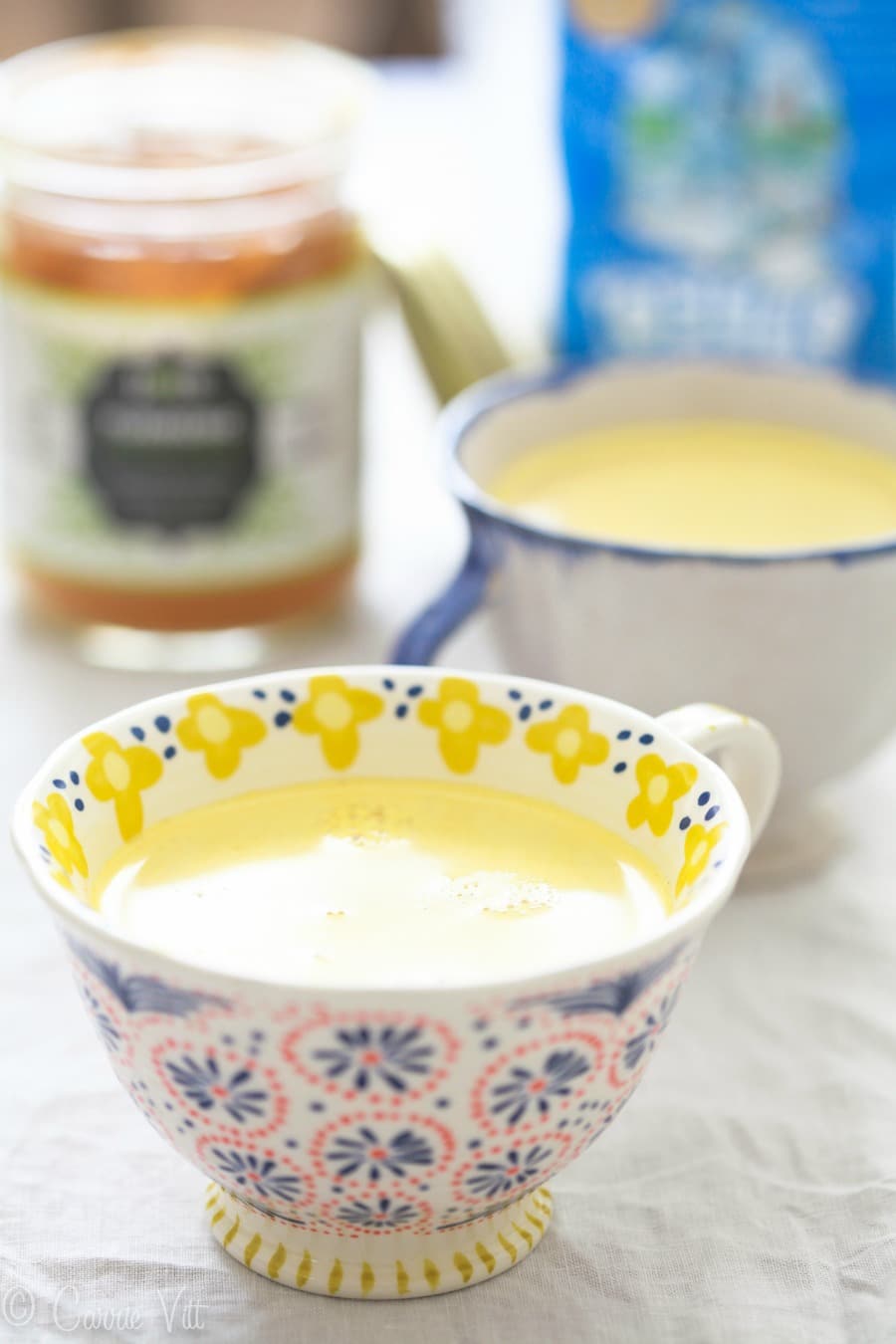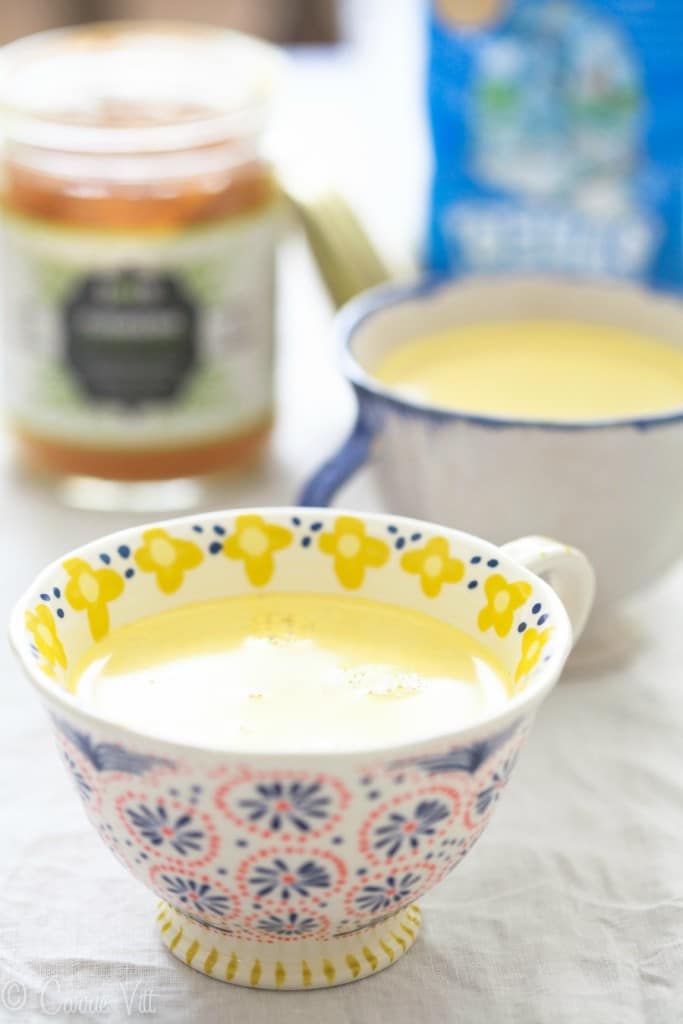 This "bullet-proof broth" can be a meal replacement if needed, or just a nutrient-dense way to get your day going.
Here's why I added the extra ingredients:
1. Butter is a fabulous healthy saturated fat that's great for reducing inflammation, healing the gut, and providing fat-soluble vitamins A, D and K.
2. Mama Natural Collagen – These 100% pure collagen peptides promote youthful skin, healthier hair and stronger nails. They help support joint health and also support the digestive and central nervous system. The peptides dissolve in the liquid and are completely flavorless (I add them to smoothies all the time!).
3. Turmeric Powder – is rich in curcumin and is fantastic for reducing inflammation, protecting against heavy metal toxicity and reducing the risk of Alzheimer's Disease. Evidence points to turmeric providing benefits similar to 14 drugs, including cholesterol medication, antidepressants, aspirin, anti-inflammatories and others.
4. Celtic Sea Salt contains over 80 minerals and helps support the adrenal glands (if you're struggling with thyroid disease, it's also important to support your adrenal function).
5. Pastured egg yolks contain choline, iodine, and omega-3s. They make the beverage taste more creamy while adding extra nutrients.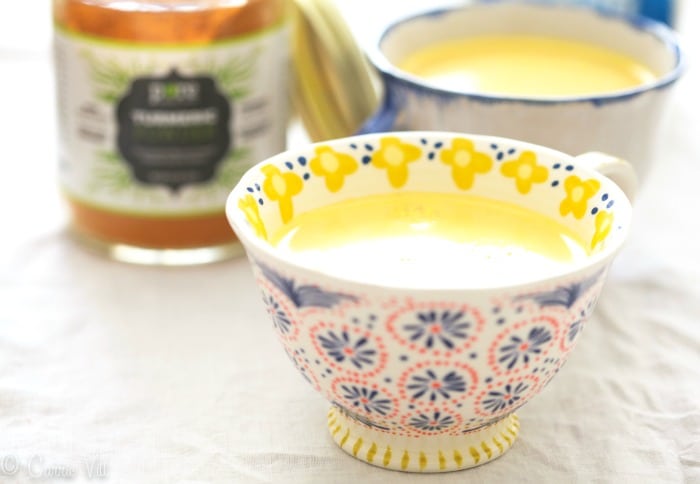 I've also been drinking this turmeric-containing tonic each morning (pictured below). I shared the recipe over on Instagram a few weeks ago.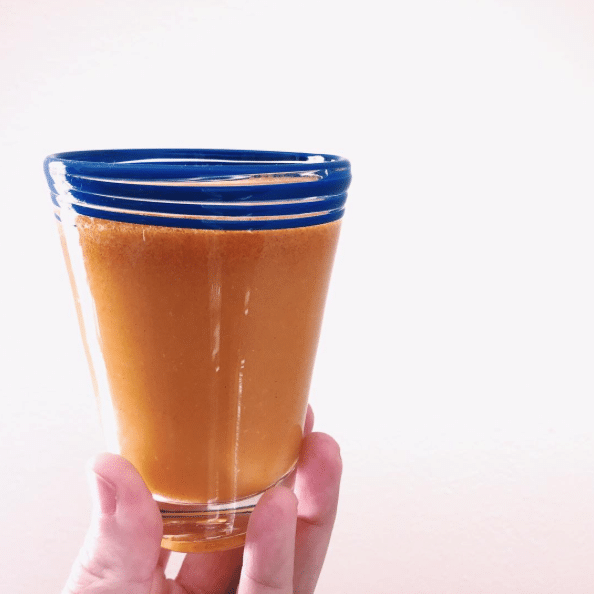 I encourage you to give "bullet-proof broth" a try and even come up with your own combinations to make a delicious, healthy, nutrient-dense drink!
Bullet-Proof Bone Broth
Serves 2
2 cups bone broth (aka chicken stock), warmed
1 teaspoon Turmeric 
1/2 teaspoon Celtic sea salt
1 1/2 tablespoons unsalted butter (such as Kerrygold or Organic Valley)
1 scoop grass-fed collagen peptides 
2 pastured egg yolks
1 teaspoon green powder (I prefer Dr. Cowan's threefold greens – also optional)
Place all ingredients in a blender and blend until combined. While the blender is on, add the egg yolks (to prevent scrambling). Serve immediately.
Note: I only test the recipes on my site with the listed ingredients and measurements. If you would like to try a substitution, you are welcome to share what you used and how it turned out in the comments below. Thanks!