Caramel apples are icons of fall. I remember going to the Texas State Fair with my dad each October, saying "hi" to Big Tex and eating a big caramel apple (along with assorted exotic deep-fried foods). The other day when I looked around for a caramel apple recipe, I only found ones with corn syrup and/or white sugar so I decided to develop my own recipe using whole cane sugar and maple syrup instead of the refined sweeteners. The result? Ooey, gooey caramel with deep rich flavor draped around a crisp sweet apple. They really are fantastic.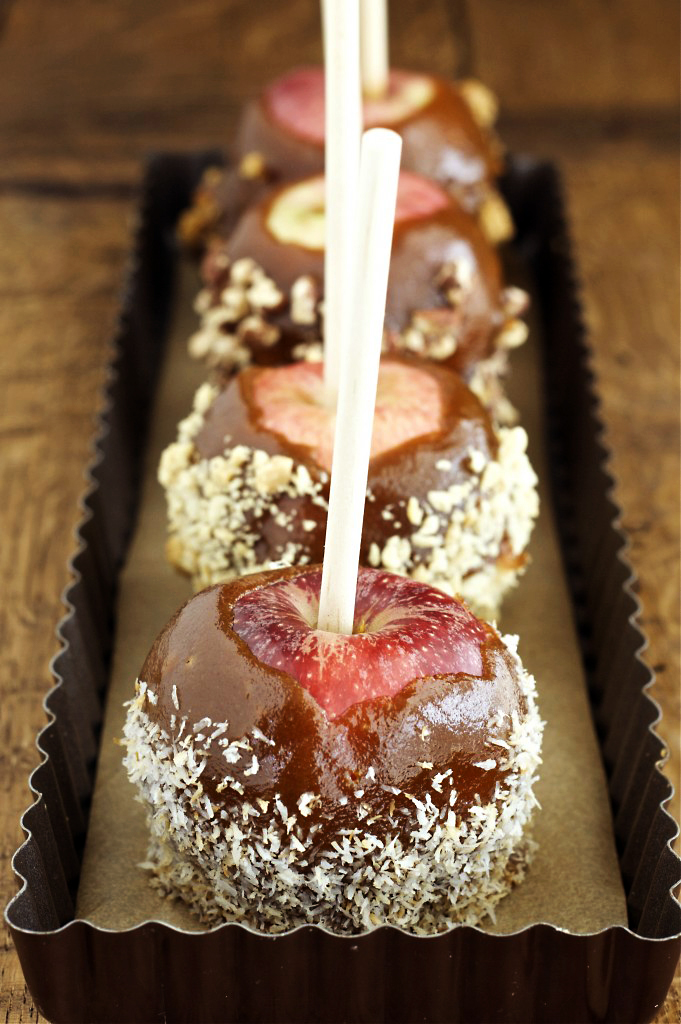 I made the apples with a variety of coatings. If you're a coconut fan, you must try the toasted coconut caramel apple. The flavor combination made me do a little dance around the kitchen. My kids suggested crushed chocolate chip cookies and they were fabulous as well. Maybe someone can take this recipe and start selling organic caramel apples at a fair. I'll be the first in line.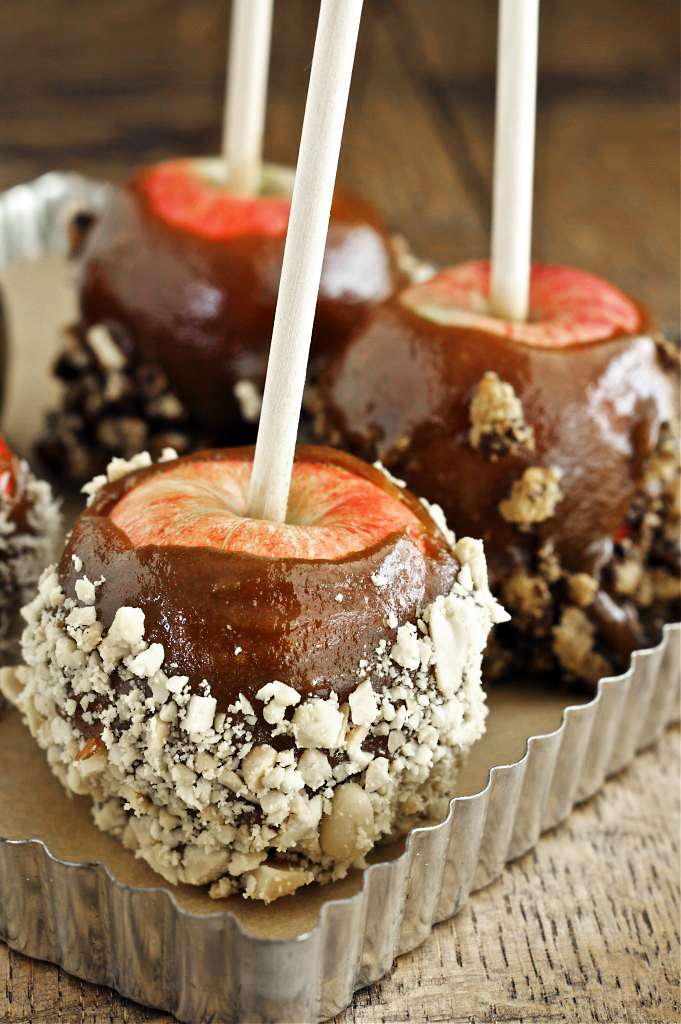 Makes about 10 caramel apples
Caramel Apples
Ingredients
2 cups heavy cream
2 cups organic whole cane sugar or sucanat
1/2 cup maple syrup
2 tablespoons unsalted butter
pinch of sea salt
10 apples, washed and dried
Toppings such as toasted coconut, peanuts, pecans, etc. (optional)
Instructions
Whisk all ingredients together in a large saucepan over medium heat. Simmer until the caramel thickens and reaches 245ºF. While the caramel is cooking, pour toppings into bowls and insert craft sticks into each apple. Line a baking sheet with parchment paper. As soon as the caramel reaches 245ºF remove from heat and begin quickly dipping apples into the caramel (and then toppings, if desired) and placing them on the parchment lined baking sheet. It's important to work quickly because the caramel will harden as it cools. Cool caramel apples for at least 15 minutes before serving. Best eaten within a few hours of preparation.
7.8.1.2
3398
https://deliciouslyorganic.net/caramel-apples/
Copyright 2016 Deliciously Organic