I've got another nutrient-dense Thanksgiving side dish for you! Easy-to-make Creamed Kale with Shallots provides a delicious complement and allows a dairy-free adaptation.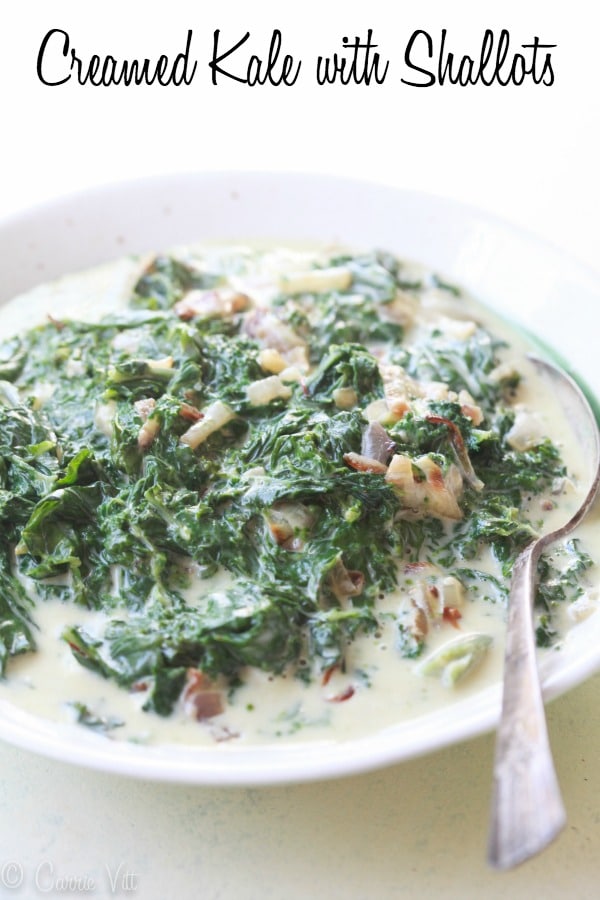 Last week I finished Nutritional Therapy School, so as we move along you'll see more health-related articles, especially ones focused on thyroid health.
Many of you have asked me about the program, what I think, how much time it takes, etc. so I'm taking some time to give you my honest feedback.
I received my Nutritional Therapy Practitioner certification via The Nutritional Therapy Association. The school teaches the importance of properly prepared whole foods for nourishing the body and restoring health. They respect the bio-individuality of each person and teach how to tailor diets and whole food supplements (when needed) for each person based on their specific needs.
The course is broken down into 15 modules, takes 9 months to complete and covers in-depth topics like: digestion, detox, the immune system, the cardiovascular system, autoimmune disease, blood sugar balance, essential fatty acids, mineral balance, whole food supplementation, functional evaluation, the endocrine system, and much, much more.
I appreciated the scientific approach to nutrition and the tools they provided for looking at a client's symptoms and producing a nutritional protocol focusing on root issues.
A nutritional therapist works alongside other health professionals to help a client reach their specific health goals. We do not prescribe medications or diagnose – we simply focus on using a traditional food approach to wellness.
The required reading is quite extensive, and I saved a lot of time by reading the books even before my class started. On average, most students spend about 20 hours a week completing the coursework, studying and practicing their functional evaluation skills. 

There are also three long weekends where students are required to travel for in-class lectures, hands-on functional training and exams. I enjoyed the classroom environment and was excited to make new like-minded friends.
Now, I can't give an honest review without a few criticisms. One of the things I didn't like was the length of the video and audio lectures – some were almost two hours. If they'd been broken into smaller lectures, it would have been more helpful for learning. I also think they should spend more time during one of the workshop weekends to help graduating students understand how to start a nutritional therapy business. Many of my classmates were bursting with business questions and didn't feel those were well discussed.
Overall, I found the program very educational and I highly recommend the program if you're interested in nutritional therapy!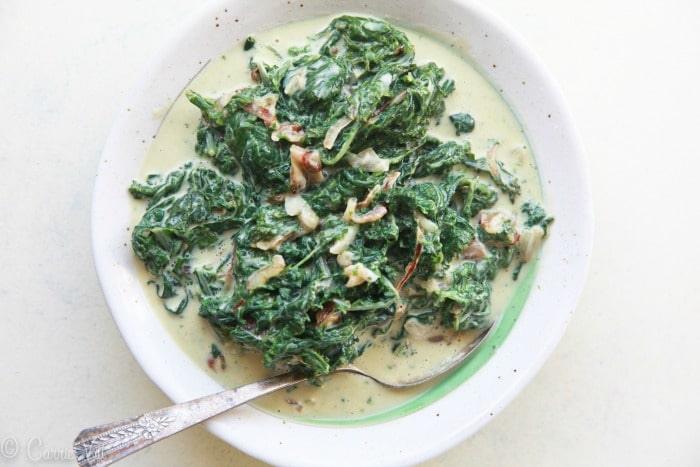 Now, back to the recipe . . . Boil the kale for 8 minutes before sautéing to reduce the goitrogens in the greens. This is an important step as goitrogens can inhibit the uptake of iodine in the thyroid, and the body depends on iodine to produce thyroid hormones. So, don't skip this step.
The kale is then sautéed in an animal fat (this time I chose butter, but you could also use duck fat or lard) because animal fat contains fat-soluble vitamin activators. These are important because vitamins A, D, E and K in fruits and vegetables cannot be used by the body unless there is a fat-soluble vitamin activator present. This is why it's very important to consume some type of animal fat each day. Otherwise, your body can't utilize all of those good nutrients in your food!
This side dish adds a nice touch of green to the Thanksgiving table – I can say from personal experience, the leftovers are worth fighting for!
Print
Creamed Kale with Shallots
Cook Time:

30

Total Time:

30 minutes

Category:

Side Dish

Diet:

Gluten Free
1 1/2

pounds

kale, fibrous stems removed, chopped

2

large shallots, sliced (about

1/2 cup

)

1

clove garlic, finely chopped

1 tablespoon

arrowroot flour

1/2

cup

whole milk (or 3/4 cup coconut milk for dairy-free)

1/2

cup

heavy cream (or 1/4 cup coconut cream for dairy-free)
Pinch saffron (optional)

1 teaspoon

Celtic sea salt

1/4 teaspoon

freshly ground black pepper
Instructions
Bring a large pot of water to boil. Place kale in the boiling water and continue to boil for 8 minutes. Drain and squeeze excess moisture out of kale (this can be done a day or two ahead and time. Just store the kale in the fridge until ready to continue with the recipe).
Melt the butter in a large sauté pan over medium heat. Add the shallots and cook, stirring frequently until just turning brown on the edges, about 10 minutes. Stir in the garlic and cook for about 30 seconds. Stir in the arrowroot flour and then the milk and cream. Continue to cook, stirring constantly, until the mixture begins to thicken, about 2-3 minutes. Add the crumbled saffron (if desired), and then stir in the kale until it's coated with the creamy milk mixture. Continue cooking until the kale is heated through. Stir in the salt and pepper. If the mixture is too thick, you can thin it with a little milk. Taste and see if kale needs a bit more salt or pepper. Serve.
Keywords: creamed kale with shallots