My family found a new favorite weeknight recipe! Chicken Parmesan meatballs have all the flavors of a classic Chicken Parmesan rolled into one bite.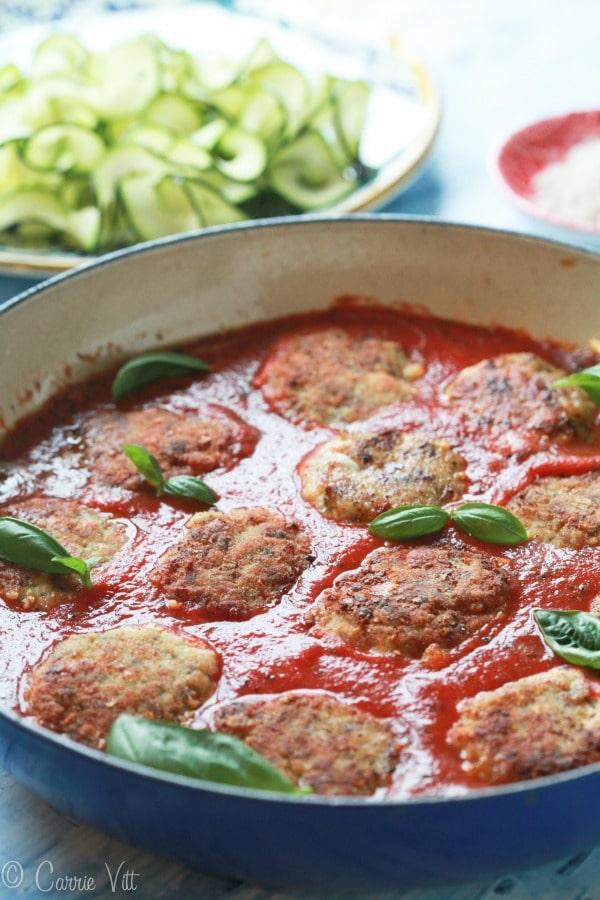 I had my eye on this recipe for quite a while and then took some time to adapt it to be grain-free. I'm thrilled with the result!
There are a couple of different ways you can make this:
1. You can follow the recipe exactly.
2. If you have a dairy allergy, simply omit the parmesan and mozzarella balls.
3. If you have a nut allergy, then omit rolling the meatballs in the flour mixture.
4. And if you'd like to make things really simple skip the last step of dredging the meatballs in the flour, place them in the skillet with the marinara and increase the baking time to 20 minutes.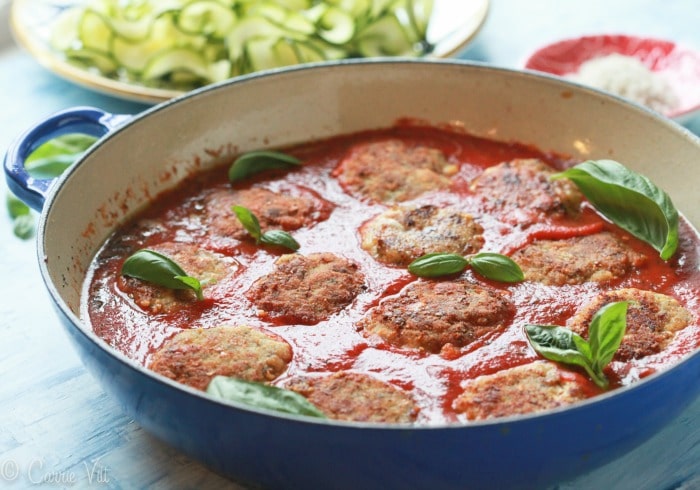 I don't recommend cooking with olive oil because it has a low smoking point and will begin to break down when used for cooking. So, I recommend using palm shortening or duck fat. They both have very little flavor so they won't compete with the rest of the dish.
Even with just one pound of chicken, this dish will serve six people. You can serve it over spiralized zucchini or alongside a fresh salad.
Carrie Vitt
Makes about 18-20 meatballs
Chicken Parmesan Meatballs (Grain-free)
30 minPrep Time
15 minCook Time
45 minTotal Time
Ingredients
For the meatballs:
1 pound ground organic chicken
1/2 cup shredded parmesan cheese
1/2 cup crushed plantain chips
2 large eggs, beaten
3/4 teaspoon Celtic sea salt
1/4 teaspoon freshly ground black pepper
1 tablespoon Italian seasoning blend
1 tablespoon coconut flour
For the flour coating:
1/2 cup almond flour
1 teaspoon coconut flour
4 tablespoons palm shortening or duck fat
10 Bocconcini mozzarella balls, each cut in half
1 recipe marinara
Instructions
Preheat oven to 350ºF and adjust the rack to the middle position. Combine the ground chicken, parmesan cheese, plantain chips, eggs, sea salt, black pepper, Italian seasoning, and 1 tablespoon coconut flour in a bowl until incorporated.
Combine almond flour and 1 teaspoon coconut flour in a small bowl.
Spoon about 2 tablespoons of meat mixture (I used an ice cream scoop so each meatball was the same size) and place in your hand. Flatten the meat mixture in your palm. Place 1/2 a bocconcini ball on the meat and carefully mold the meat around the cheese making sure you close any gaps. Roll the meatball in the flour mixture and set on a baking sheet or large plate. Repeat with remaining meat mixture and mozzarella balls.
Heat the palm shortening or duck fat in a large skillet over medium heat for 1 minute. Add half of the meatballs to the pan and cook on each side until golden brown, about 3 minutes per side. Transfer the meat balls to a plate. Cook remaining meat balls.
Pour the marinara into the now-empty skillet and place meatballs on top of sauce. Bake for 10 minutes until meatballs are cooked through. Serve.
7.8.1.2
4561
https://deliciouslyorganic.net/chicken-parmesan-meatballs-grain-free/
Copyright 2016 Deliciously Organic