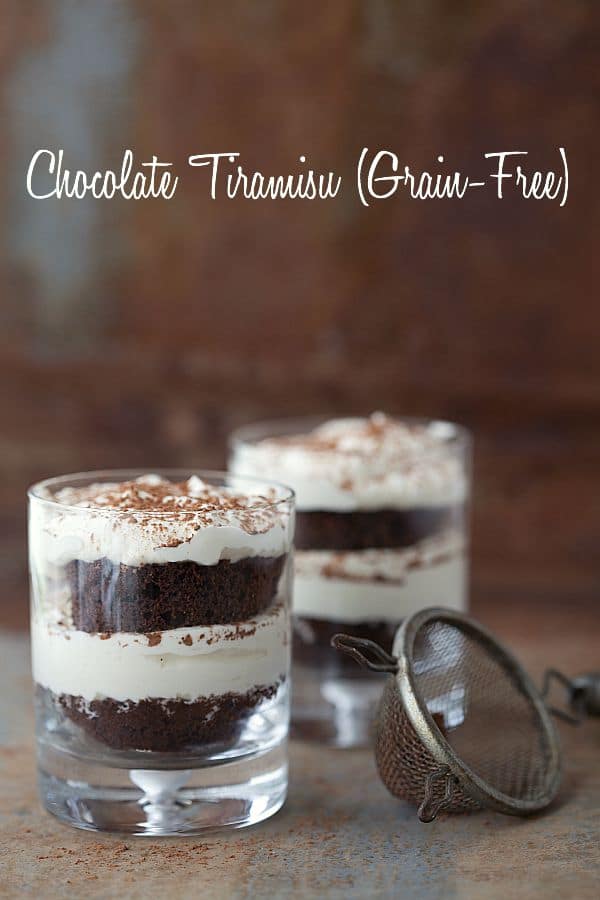 Tiramisu – that delightful, classic, coffee-flavored dessert – often takes a while to make. I'm all for taking short-cuts when able and this recipe provides several.
For this chocolate tiramisu recipe, I used nut-free chocolate cake in place of the ladyfingers then added whipped cream, cocoa powder and coffee to make a simple and beautiful dessert.
If you'd like to take things up a notch, you could whip in some mascarpone cheese with the cream. If you want to serve the dessert in the traditional squares, layer the ingredients in an 8 x 8 – inch baking dish, chill in the fridge for about an hour to help it solidify, then slice and serve.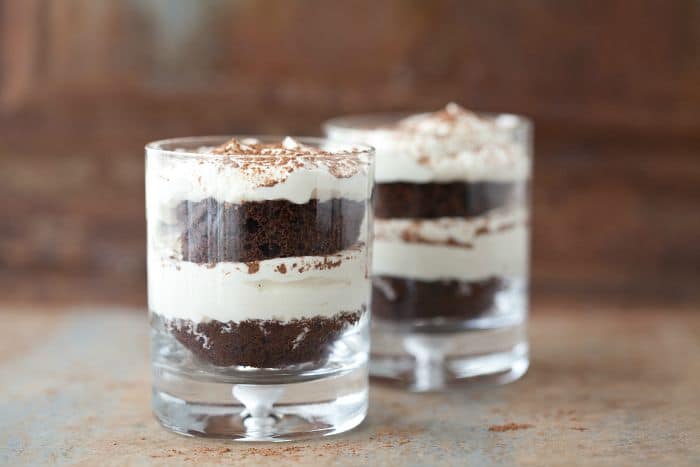 Chocolate Tiramisu (Grain-Free)
Ingredients
Instructions
Preheat the oven to 350ºF and adjust the rack to the middle position. Oil a 18 x 26 - inch baking sheet. Place a piece of parchment paper (that exactly fits the dimensions of the baking sheet) on the pan. Brush again with oil or butter.
Pour the chocolate cake batter on the prepared baking sheet and spread evenly. Bake for 20-23 minutes until a cake tester inserted in the center comes out clean. Cool completely.
Using a pastry brush, brush the entire cake with coffee.
Pour the heavy cream and maple syrup in the bowl of a standing mixer. Whisk on medium-high until soft peaks form.
If serving in round glasses then take one of the glasses as a cookie-cutter and cut rounds out of the chocolate cake. Then, take a knife and trim the each circle just a little bit (this will enable the cake circles to easily slide into the glasses). Place a round of cake on the bottom of a glass. Place a nice spoonful of whipped cream on top of the cake round and spread evenly. Dust with cocoa powder. Repeat with another layer of cake, whipped cream and cocoa. Serve.
7.8.1.2
789
https://deliciouslyorganic.net/chocolate-tiramisu-grain-free-paleo/
Copyright 2016 Deliciously Organic