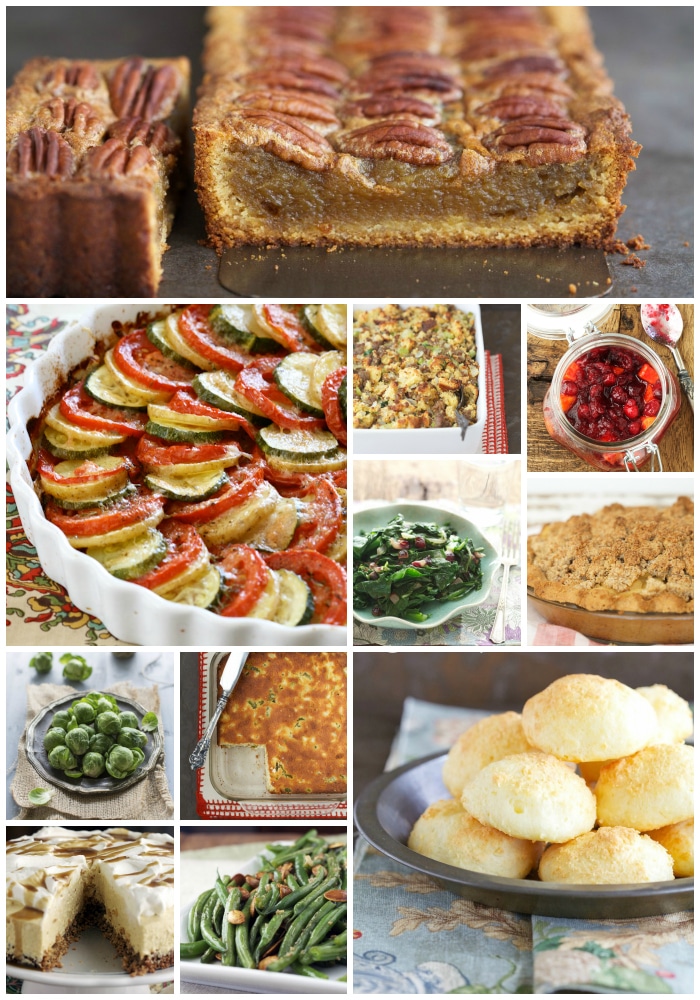 When it comes to Thanksgiving recipes, I've got you covered! Here's a round-up of my favorite grain-free Thanksgiving recipes for you and your family to enjoy:
Grain-Free "White" Dinner Rolls – The family is head-over-heels for these rolls. They asked me to make a double batch for Thanksgiving this year.
"Cornbread" and Sausage Stuffing – Homemade grain-free "corn" bread, sautéed onions, celery, sausage, chicken stock, eggs and herbs make for a nutrient dense and healthy addition to the holiday table.
Apple Pie – My favorite apple pie delivers a flaky crust, soft sweet cinnamon-wrapped apples and a lovely crunchy topping with just a touch of sea salt to balance out the sweetness.
Kale Salad with Cranberry Vinaigrette and Walnuts – Whether you're celebrating Thanksgiving, a dinner party, or Christmas dinner, a bit of bright green and red adds a fresh touch to the plate.
Cheesy Jalapeño "Cornbread" – A revised old-time favorite in our family.
Mashed Cauliflower – Maybe not a fancy dish, but a welcome one. Creamy and buttery, but without all the carbs.
Sweet Potato Casserole – This version isn't too sweet, but you can add additional honey if you want. Use either cream or coconut milk depending on your dietary needs.
Pumpkin Pie – This pumpkin pie is subtly sweet and has a nice custard-like filling – nothing too thick.
Pecan Pie (without corn syrup!) – Pecan pie is the epitome of Thanksgiving for me. After a savory meal, I get a cup of coffee, a slice of pecan pie and enjoy the conversation.
Sautéed Leafy Greens – A powerhouse of nutrients in just a few bites! It pairs well with turkey or ham.
Vegetable Tian – A layering of vegetables makes for a colorful and nutritious side-dish.
Grain-Free Stuffing – An all-time favorite here at Deliciously Organic. I've had many readers comment and say their family devoured it and had no idea it was grain-free! The buttery grain-free biscuits are dried and combined with the onions, sage and butter, you've got a dressing recipe that will meet everyone's expectations!
Pumpkin Cheesecake – You can take out the pumpkin and spices and add cocoa for a mocha flavor, lemon juice and some zest for a citrus cheesecake, or leave out the pumpkin all together for a maple cheesecake.
Cranberry-Persimmon Sauce – While cranberry sauce is generally cooked with loads of sugar, I replaced the sugar with a mild clover honey and threw in a few whole cloves. The result is a sophisticated cranberry sauce with sweet-tart persimmons, a hint of wine,and a touch of spice.
Green Beans with Brown Butter and Pepitas – I love the simplicity of these green beans blanched and tossed with brown butter.
Do you have any Thanksgiving baking or cooking questions? Please ask, as I'd love to help make your Thanksgiving dinner a success!