A serving of grain-free Chilaquiles totally feels like cheating! It's kinda like enjoying fancy nachos for breakfast – perfect for a lazy weekend morning.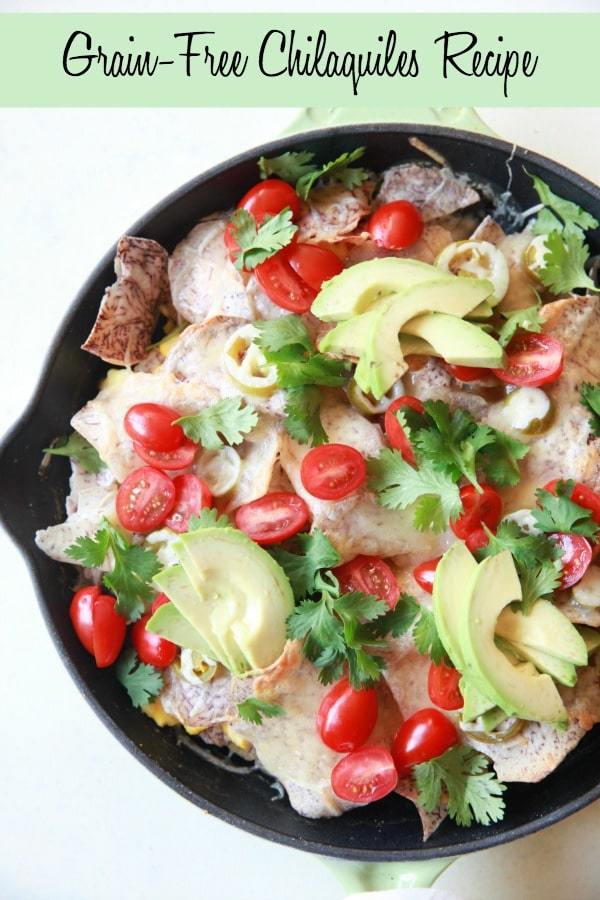 Chilaquiles traditionally uses corn chips, so to keep this recipe grain-free I tested the recipe with both taro and plantain chips and the entire family loved it. This recipe is pretty versatile, so you can use whatever grain-free chip you prefer.
Print
Grain-Free Chilaquiles
You can make this recipe with either a red or green enchilada sauce, so I gave options for both. If you need to avoid nightshades, then omit the sauce (and the recipe will still taste fantastic!). As I mentioned in the post, I tested this recipe with taro and plantain chips, but you can use whichever grain-free chip you prefer!
Instructions
Preheat oven to 400ºF. Place butter or ghee in a large oven-safe skillet and melt over medium heat. Beat the eggs, pour them into the skillet and cook, stirring occasionally until scrambled. Season with sea salt. Spoon the eggs into a bowl and set aside. Place half of the chips in the the skillet, pour sauce over (if using) and toss until heated. Place the eggs and half of the cheese on top of the chip mixture. Add the remaining chips on top and then add the remaining cheese and jalapenos. Place in the oven and bake for about 10 minutes – until the cheese is melted. Place avocado slices, salsa and cilantro on top and serve.