A grain-free chocolate chip cookie ice cream sandwich is such a fun way to end a meal!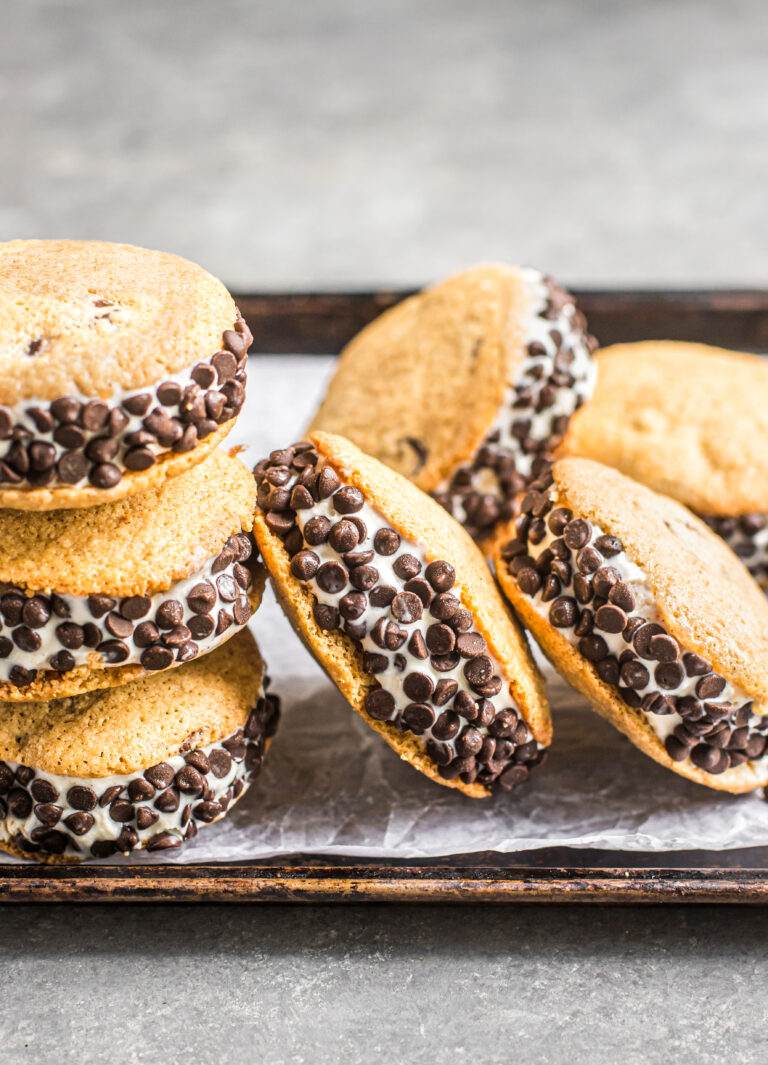 Thanks to Cook's Illustrated, I discovered that when making cookies for ice cream sandwiches, additional water is needed to help the cookie maintain a chewiness when it's frozen. I would have thought that adding water would make it more crunchy, but they were right! So, make sure to add those extra tablespoons of water to the dough.
I always try and use as little sweetener in my dessert recipes as possible. But, when food is  food is frozen it tastes less sweet, so this is why there is 1/2 cup of sugar (vs. using less sugar).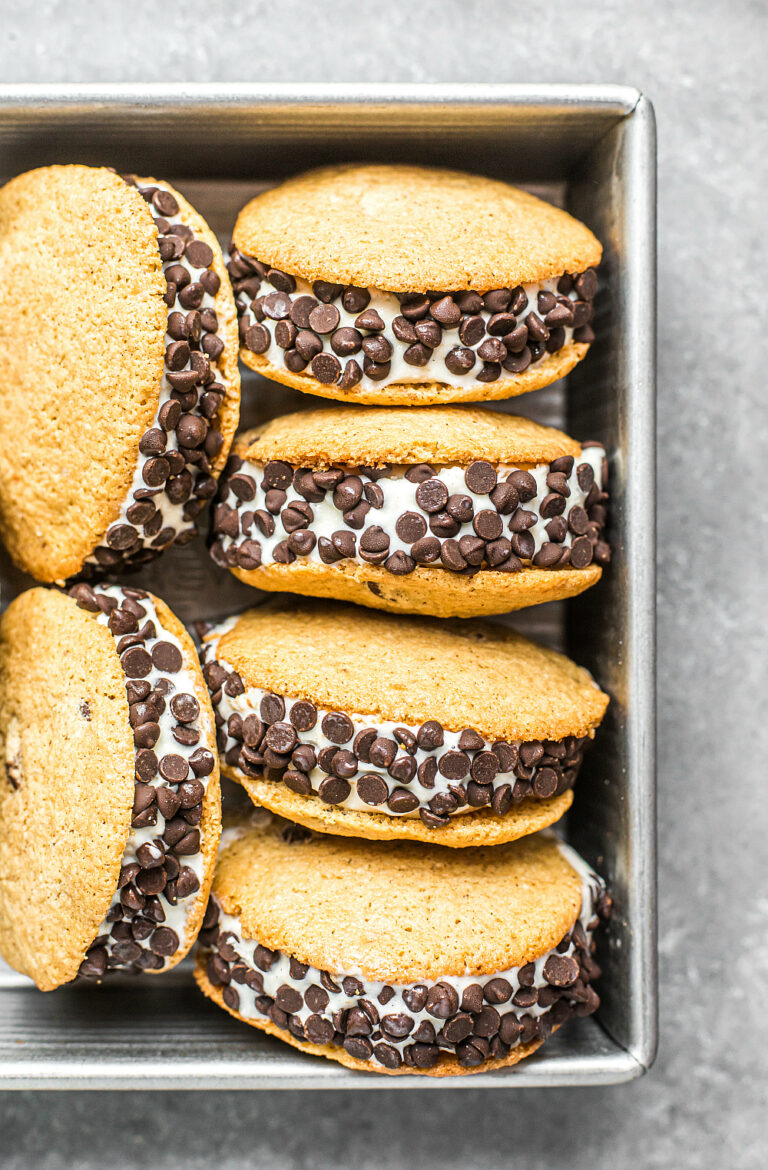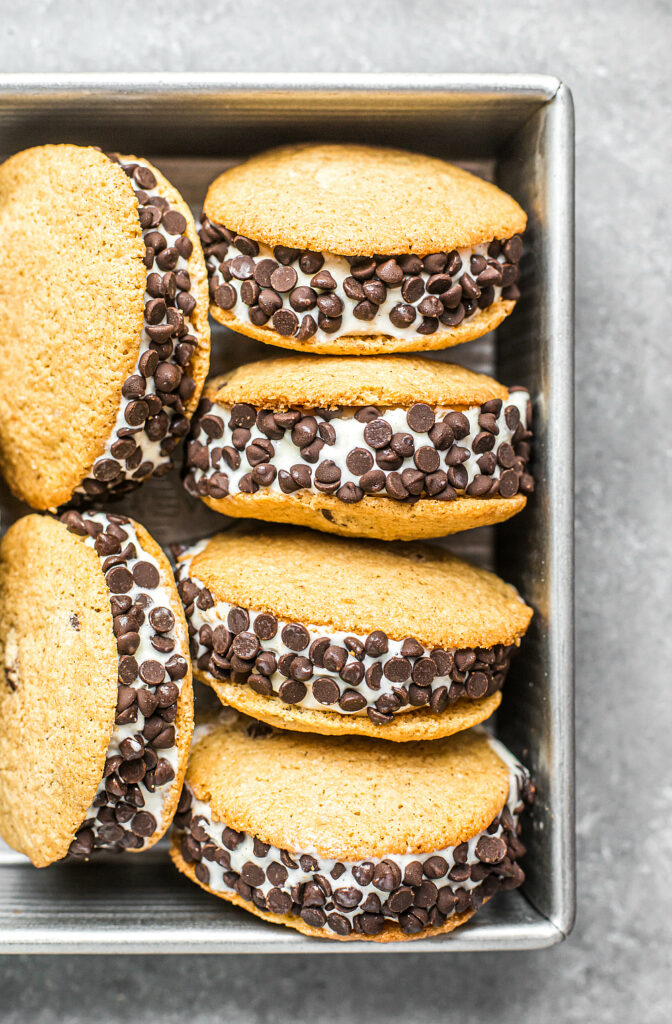 You can use any kind of ice cream you'd like in-between the cookies. A homemade vanilla or chocolate are good choices!
Print
Grain-Free Chocolate Chip Cookie Ice Cream Sandwich
Yield:

Makes 12 sandwiches
10 tablespoons

unsalted butter

1/2 cup

organic brown sugar

3/4 teaspoon

Celtic Sea Salt

1/3 cup

coconut flour plus 1 tablespoon

1/3 cup

tapioca flour plus 1 tablespoon

1/3 cup

arrowroot flour plus 2 tablespoons

1/4 teaspoon

baking soda

1

large egg

2 tablespoons

water

2 teaspoons

vanilla extract

1/2 cup

chocolate chips (I used Enjoy Life)

3 pints

ice cream

1/2 cup

mini chocolate chips (optional)
Instructions
Preheat the oven to 325ºF and adjust the rack to the middle position. Place the butter in a small saucepan over low heat and cook until butter is browned, about 10 minutes. Pour the browned butter in a medium mixing bowl and stir in brown sugar and salt. Let cool for 10 minutes.
Combine the flours, and baking soda in a small mixing bowl. Whisk the egg, water and vanilla into the cooled butter mixture. Using a wooden spoon, stir in the flour mixture until combined. Stir in the chocolate chips.
Using a 1 tablespoon cookie scoop, scoop 12 mounds of dough onto a baking sheet lined with parchment paper. Bake cookies for about 9-11 minutes, until the edges are golden brown. Repeat with remaining cookie dough.
Let the cookies cool on the baking sheet for about 45 minutes, and then put into the freezer.
To assemble: Place 5 of the cookies upside down and top with a scoop of ice cream. Top with a second cookie and gently press down until the ice cream spreads to the edges of the cookies. Dip one edge into the chocolate chips (optional). Place the sandwiches in the freezer and repeat with remaining cookies and ice cream. Serve frozen.
Photo Credit: Becky Winkler