As family rolls in this week, help stay stress-free by having some loaves of pumpkin bread and easy-to-fix items in the kitchen.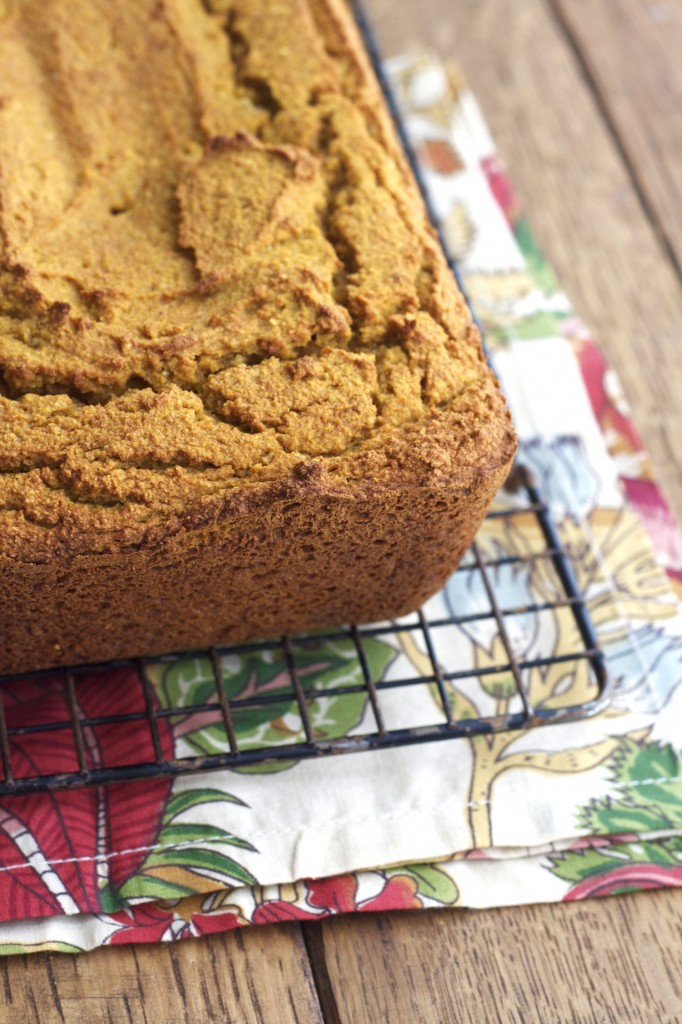 You can bake this bread over the weekend, put it in the freezer, thaw overnight, and toast slices for breakfast. It also keeps well on the counter for a couple of days.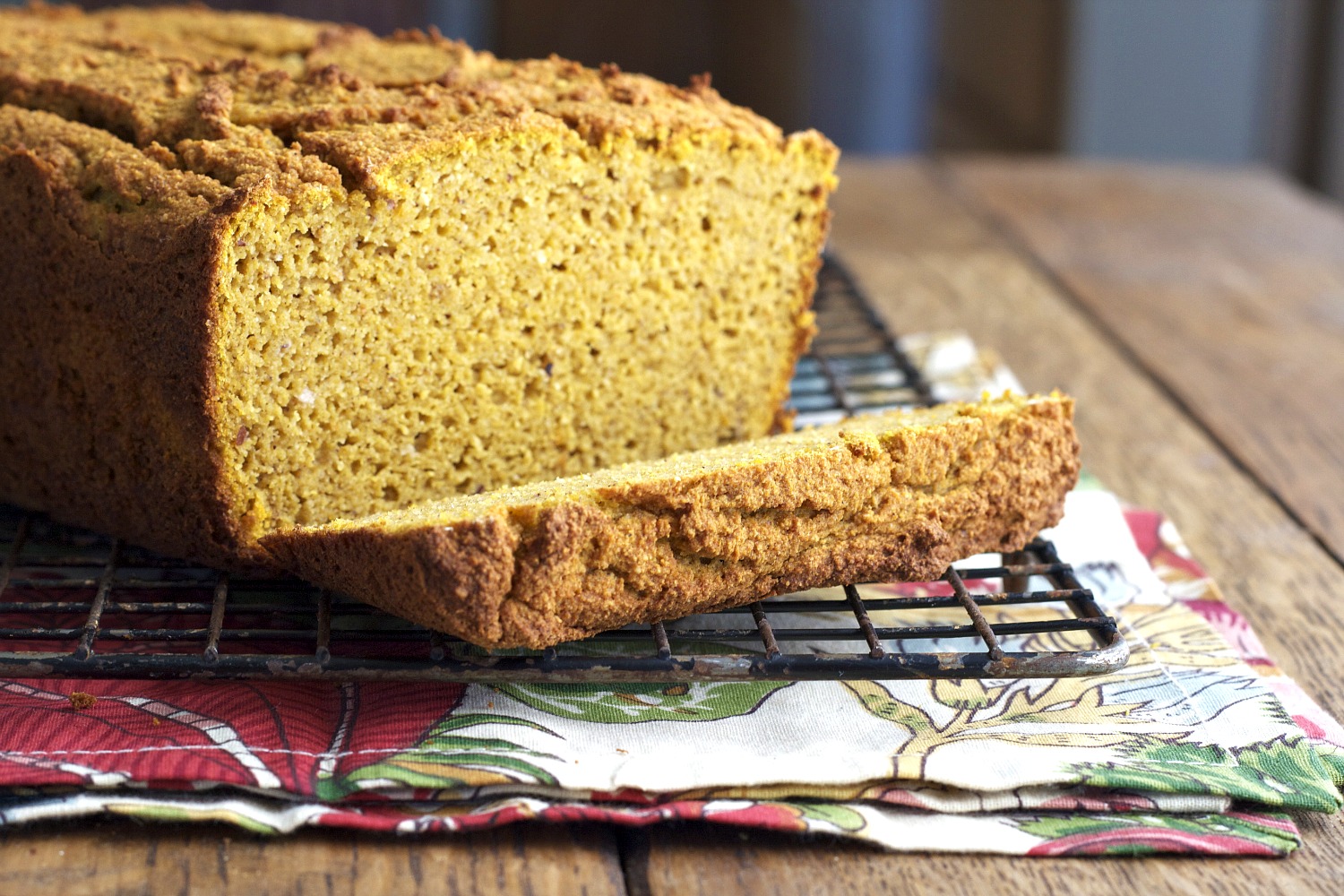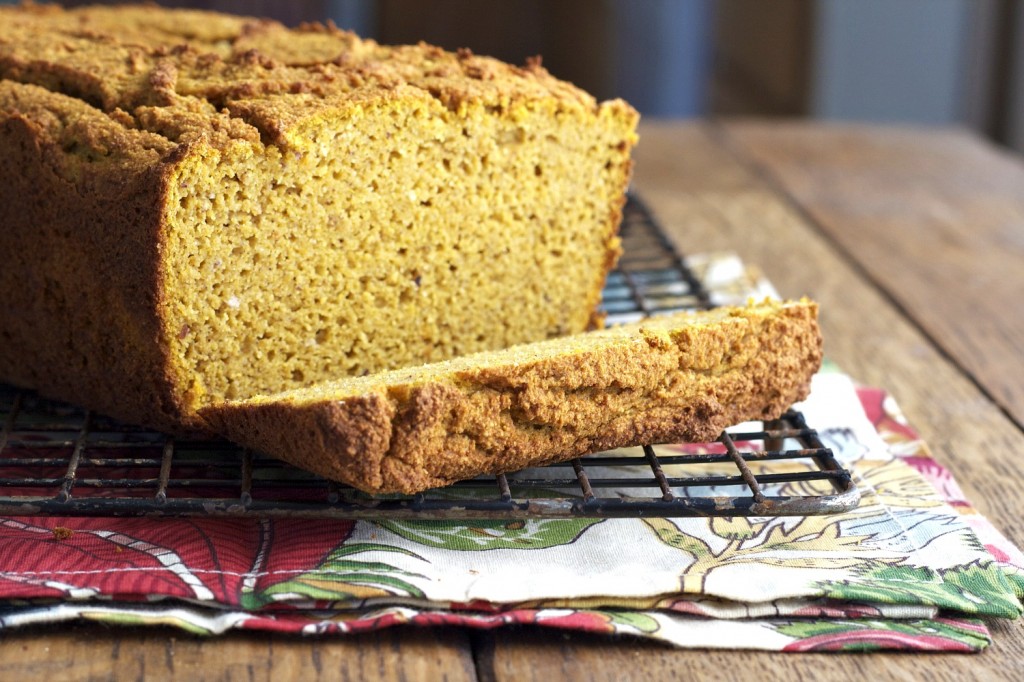 Pumpkin Bread (Grain Free, Paleo, Primal, Gaps)
I prefer to make my own baking powder to ensure that it's grain-free. Here's the recipe: 1 part baking soda + 1 part cream of tartar + 2 parts arrowroot. I make the baking powder in large batches and store it in a glass jar.
Ingredients
For the Batter:

6 large eggs
1/3 cup heavy cream (or coconut milk)
1/2 cup organic whole cane sugar or sucanat (or 1/4 cup honey)
1 teaspoon vanilla extract
1 stick (8 tablespoons) unsalted butter, melted
3/4 cup coconut flour
1/2 cup almond flour
2 teaspoons grain-free baking powder (see above)
1 teaspoon baking soda
1/2 teaspoon Celtic sea salt
1 1/2 teaspoons pumpkin pie spice
1 cup cooked and pureed pumpkin
Instructions
Preheat oven to 400 degrees F and adjust rack to middle position. Whisk eggs, cream, sucanat, vanilla and butter in a large mixing bowl. Sift coconut flour, almond flour, baking powder, baking soda, sea salt and pumpkin pie spice over a medium mixing bowl. Add dry ingredients to wet and whisk until no lumps remain. Fold in pumpkin. Spoon batter into an oiled standard-size loaf pan. Bake for 35-45 minutes, until golden brown on top and a cake tester inserted in the middle of the loaf comes out clean. Cool for 15 minutes and then invert bread out of pan onto a serving plate. Store at room temperature for up to 3 days.
7.8.1.2
3211
https://deliciouslyorganic.net/grain-free-gluten-free-pumpkin-bread-recipe/
Copyright 2016 Deliciously Organic