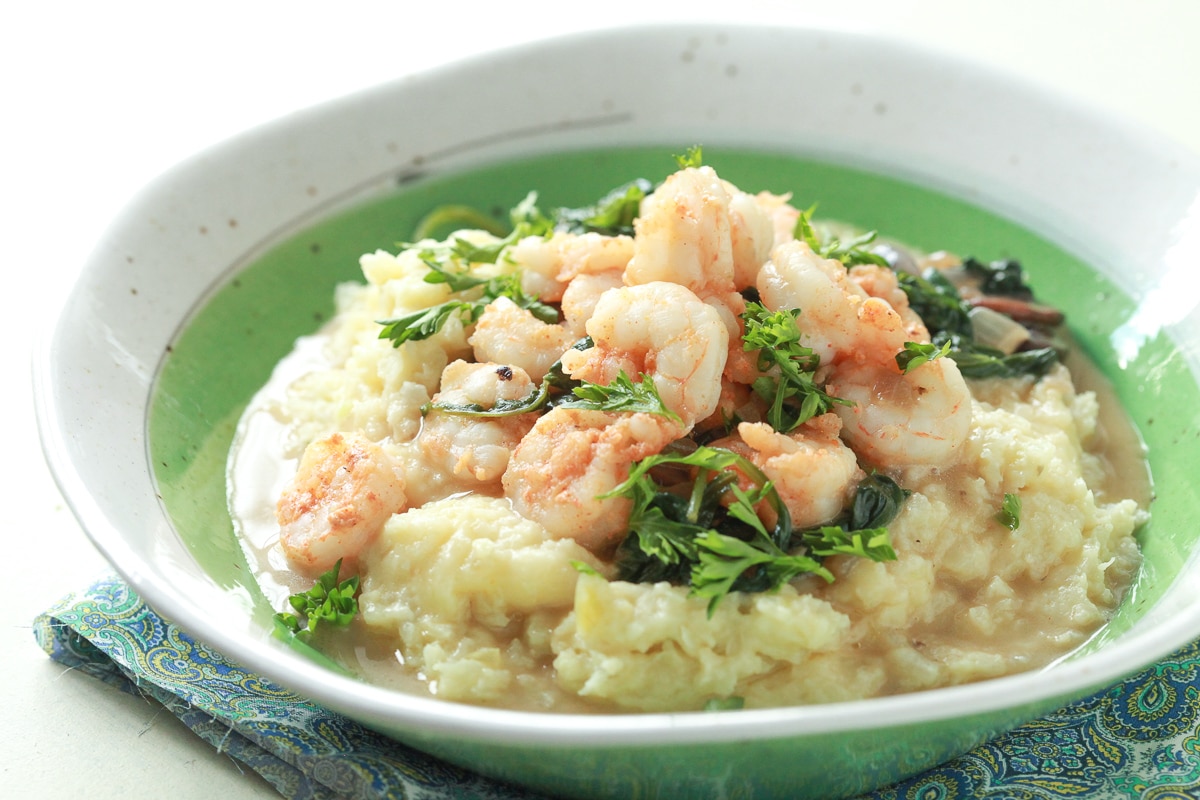 My mom grew up in Louisiana and learned how to cook all of the Southern and Cajun classics, so dishes like Crawfish Etouffee, Gumbo, Jambalaya and Shrimp and Grits were served up often. I'm so thankful she taught me how to make all of the classics so I can now pass those recipes on to my daughters. 
Shrimp and Grits has always been a favorite of mine, and I've really missed it since I still avoid corn. So, I decided to get in the kitchen and cook up my version of Grain-Free Shrimp and Grits. 
I first tried simmering the cauliflower, but the grits came out way too watery. So, that's why in this recipe we start with sautéed "riced" cauliflower and then add the liquid afterwards. While it's still not a corn-based grits dish, it comes pretty darn close!
Print
Shrimp and Grits (Grain-Free, Paleo)
Author: Carrie Vitt
Prep Time:

10 minutes

Cook Time:

25 minutes

Total Time:

35 minutes
For the grits:
4 tablespoons

unsalted butter (or

3 tablespoons

tallow or palm shortening for dairy-free)

1

head cauliflower, riced

1/2 cup

onions, chopped

3

heads garlic, chopped

1/2 teaspoon

Celtic sea salt

2 tablespoons

raw cream or coconut cream
For the Shrimp and Sauce:
2 tablespoons

unsalted butter (or

1 tablespoon

tallow or palm shortening for dairy-free)

1/2 cup

chopped onions

8 ounces

mushrooms, chopped

2 cups

spinach

1 cup

chicken broth

2 tablespoons

heavy cream or coconut cream

1

pound wild shrimp, peeled and deveined

1/2 teaspoon

Herbamare

1/4 teaspoon

paprika
Dash of cayenne

1/2 teaspoon

garlic powder
Instructions
Melt the butter over medium heat in a large skillet and add the cauliflower, onions, garlic and sea salt. Sauté for about 10 minutes until the cauliflower is softened. Pour the cauliflower mixture into a food processor and add the cream. Pulse for ten 1-second pulses, until the mixture is the consistency of grits.
Wipe out the skillet that was used for the grits, and melt 2 tablespoons of butter over medium heat. Add the onions and mushrooms and cook for 10 minutes, until softened and just turning golden brown on the edges. Add the spinach and cook until wilted, about 3-4 minutes. Add the broth and cream and simmer until the sauce reduces by half and begins to thicken.
Toss the shrimp, herbamare, paprika, cayenne and garlic powder in a small bowl. Add the seasoned shrimp to the mushroom sauce. Cook for 5-7 minutes until shrimp is cooked through, stirring occasionally.
To serve, spoon some of the grits into a bowl and top with the shrimp and mushroom sauce.