I adore Lucy Lean. She's funny, vibrant, humble, and so generous. Lucy has a book coming out today! It's titled, Made in America and I'm so excited to finally  have it in my hands. It's a beautiful book, full of light, beautiful photos (all taken by Lucy) and featuring over 100 favorite old-fashioned recipes given a modern makeover by some of the nation's finest chefs. The recipes are ones we're all familiar with, taken up a notch, but accessible enough for the home cook. The book features recipes like: Huckleberry's Blueberry Bran Muffins, Roast Beef Hash with Fried Eggs and Crispy Onions, French Onion Soup, and Bananas Foster. Since we can't all get together to celebrate Lucy's new book release, she asked some of us to gather virtually for a Made in America dinner where we share our favorite comfort foods and a story. So here it goes. . .
I'm blessed and grateful to be part of a line of wonderful cooks going back generations in Louisiana. I come from a food-loving family of cooks, bakers, recipe creators, tweakers and eaters. It was also common for the women in my family to parlay their love of cooking into both creative and moneymaking enterprises.
My great-grandmother, Mrs. Ellis, was an incredible cook who taught herself how to bake pies that she sold at a Baton Rouge country club to bring in extra money during the Depression. Because she was blessed to live 100 years, I had the privilege of spending time with her when I was a child.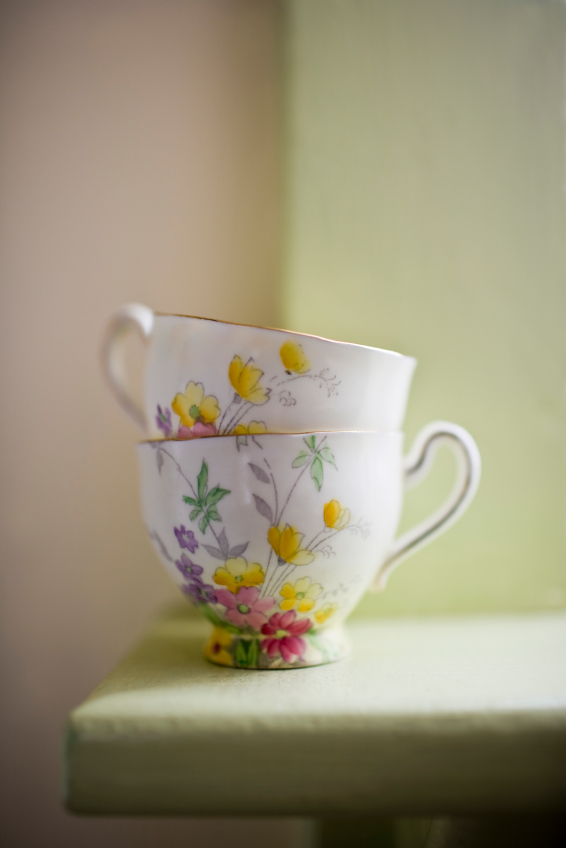 Her gas stove fascinated me. I'd never seen another stove like it, with those blue flames that for so many decades had brought forth wonderful treats. To this day, when I smell the gas from a lit stove I think of her. I was also enamored by her large curio cabinet filled with teacups that sat in the corner of her living room. I stared at those teacups for hours. When I was ten, she let me pick out a few cups and saucers to keep. I chose three demitasse cups, never dreaming that one day I would have two daughters and that the three of us would use those precious cups during our occasional afternoon teas.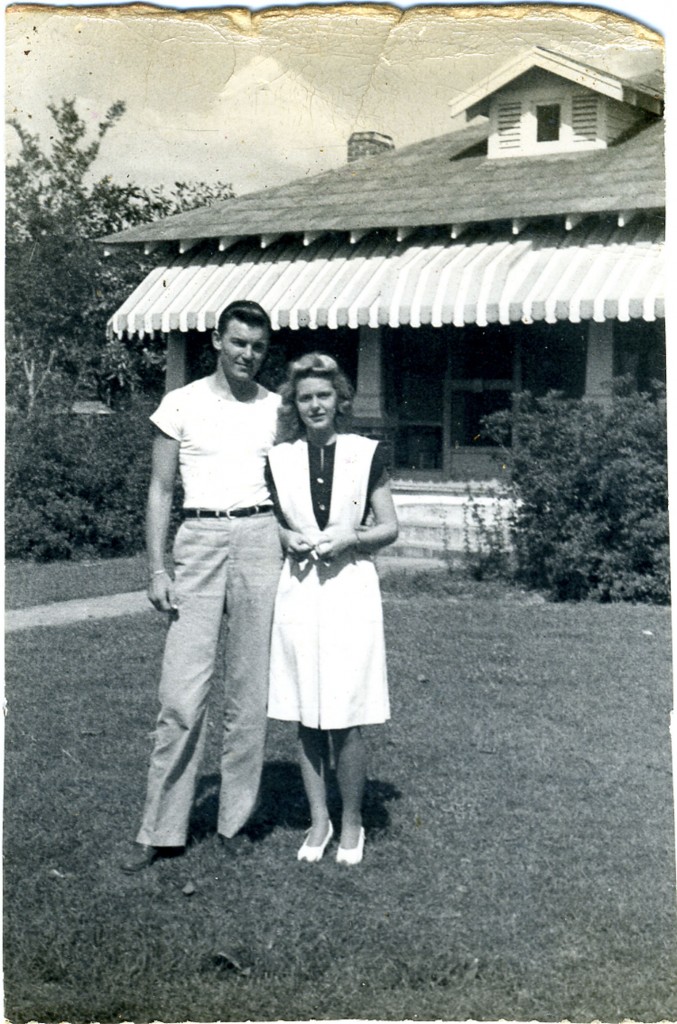 Grandma and Grandpa 1945
My Grandma is the daughter of my great-grandmother. A remarkable Cajun cook and the wife of a Baptist minister, she's had the opportunity to cook for hundreds (maybe thousands) of church functions. When we visited my grandparents during my childhood, loads of gumbo, étouffée, and other Cajun treats awaited our arrival. Although they led a modest lifestyle, Grandma's cupboards and pantry overflowed with enough food to feed the entire family for a month! She even compiled two cookbooks with church parishioners books that are still among my main resources. Whenever I need some good Southern ideas, I turn to the a yellow and a green books, as we call them. Grandma's cookbooks are a family treasure and some of the last few pristine copies were recently passed to my brothers' wives as wedding gifts.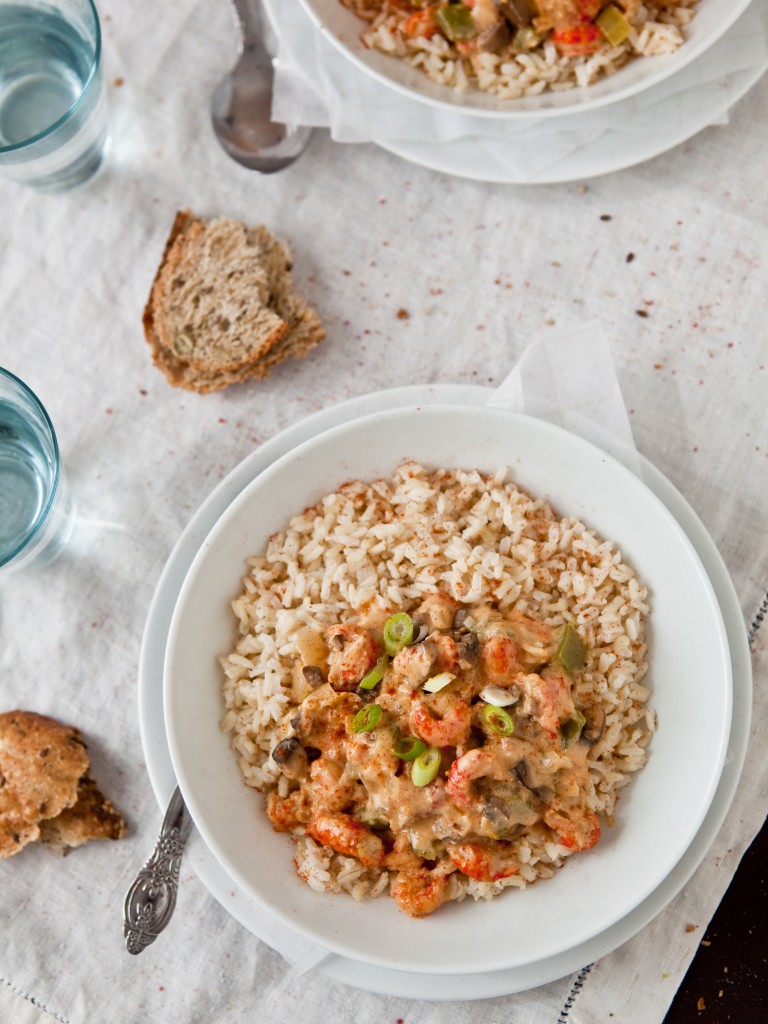 Photo taken by Helene Dujardin. Used with permission.
Whenever we come into town, Grandma and Grandpa invite us to their home for a grand meal, usually full of Cajun dishes. One of my favorites is her crawfish étouffée. Creamy, full of spices and warmth. When the 50's came along and everyone was using the latest and greatest convenience foods, Grandma started making it with canned cream of mushroom soup. A few years ago, I took her recipe and adapted it using a quick stove-top cream of mushroom soup. As soon as the first gust of fall arrives, I spend an afternoon chopping, stirring and cooking her étouffée. The aromas fills the kitchen and I'm taken back once again to Grandma's home in Baton Rouge running around with my cousins, listening to Aunts and Uncles catching up, and anxiously awaiting some of Grandma's famous Cajun cookin'.
Crawfish Etouffee
Serve without rice for a comforting grain-free meal. If fresh crawfish isn't available, then frozen crawfish or shrimp make great substitutes.
Ingredients
For the etouffee:

1 3/4 sticks plus 3 tablespoons unsalted butter, divided
2 medium yellow onions, chopped
1 green pepper, chopped
1 rib celery, chopped
6 tablespoons chopped garlic, divided
2 pounds crawfish tails
1 pound cremini mushrooms, chopped
3/4 teaspoons Celtic sea salt , plus more to taste
1/8 teaspoon freshly ground black pepper plus more to taste
3 tablespoon whole wheat flour (or 1 tablespoon arrowroot for a grain-free/Paleo option)
1 1/2 cups chicken stock
1 1/2 cups cream (or 1 cup canned coconut milk for a Paleo option)
1 teaspoon paprika
2-3 dashes cayenne pepper
1/2 cup green onions
Instructions
Melt 1 3/4 sticks butter in a large pot over medium heat. When foaming subsides, add onion, pepper, and celery. Sauté until vegetables are softened, 6-8 minutes. Stir in 3 tablespoons garlic and cook for 1 minute. Add 1 cup of water and the crawfish tails. Lower heat to medium-low and cook for 10 minutes, until crawfish is cooked through.
While crawfish is cooking, melt remaining 3 tablespoons of butter in a medium saucepan. Stir in mushrooms, remaining 3 tablespoons garlic, salt, and pepper. Cook until mushrooms have released their moisture, about 5-7 minutes. Add flour (or arrowroot) while continuously stirring and cook for about 30 seconds. Stir in stock and cream and simmer until sauce is thick and reduced, about 12 minutes.
Add creamed mushrooms to crawfish. Add paprika and cayenne pepper and stir. Season to taste with salt and pepper.
Serve étouffée over a bed of brown rice (or omit for grain-free) and garnish with green onions.
7.8.1.2
3167
https://deliciouslyorganic.net/crawfish-etouffee-made-in-america/
Copyright 2016 Deliciously Organic
SaveSave