Memorial Day weekend arrives in just a few days, which means lots of summertime road trips and homemade beef jerky!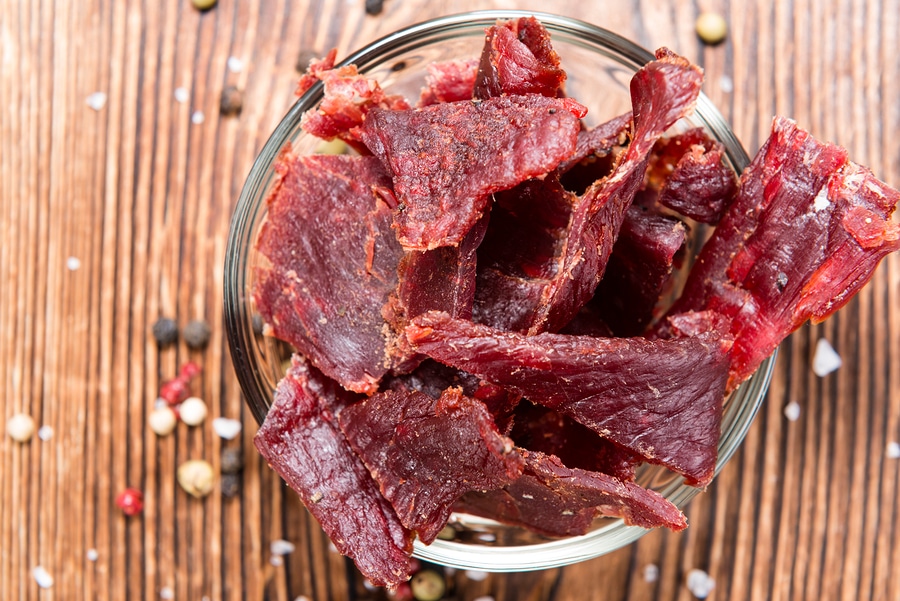 Kids are getting out of school, so summer vacations can't be far behind. In our family, we like to take road trips. We pack a trip bag full of books, games, a camera, binoculars (the kids especially love these) and of course, lots of good food. I have my mainstays like homemade Larabars, hard-boiled eggs, fruit, cheese, homemade crackers, and graham crackers. This week I decided to test some homemade beef jerky for our upcoming trip. It's so easy, I don't know why I haven't made it before. You simply slice up some meat, marinate, and dehydrate in the oven.
Like it spicy? Add some black pepper or cayenne. Sweet? Add some extra honey. Ginger, garlic, lime – the possibilities are endless. Now all you need is a destination.
Serves: Makes 1 pound of jerky. About 25 pieces.
Homemade Beef Jerky (Grain Free, Paleo)
This recipe is very mild and kid-friendly. If you like it spicier you can season the meat with extra black pepper before putting it in the oven.
Ingredients
For the meat:

1 pound brisket, skirt steak, or bottom round

For the marinade:

1/4 cup fermented tamari or coconut aminos
3 tablespoons raw honey
3/4 teaspoon garlic powder
3/4 teaspoon ground ginger
1/2 teaspoon freshly ground black pepper
Instructions
Place the meat in the freezer for 30 minutes (to make it easier to slice). Remove the steak from the freezer and slice into 1/4-inch thick slices. Place the meat slices in a large baking dish (such as 11x7-inch). Whisk tamari, honey, garlic, ginger, and black pepper in a small bowl. Pour sauce over meat, cover and marinate in the refrigerator for 6-8 hours.
Preheat oven to 200ºF and adjust rack to middle position. Set 2 cooling racks on top of 2 large, rimmed baking sheets. Remove the beef from marinade and pat dry. Arrange the beef on the racks, leaving 1/4-inch between slices. Bake for about 4 hours, until jerky is firm and almost completely dry but still chewy. Cool completely. Store in the fridge for up to 2 weeks.
7.8.1.2
3483
https://deliciouslyorganic.net/homemade-beef-jerky-recipe/
Copyright 2016 Deliciously Organic